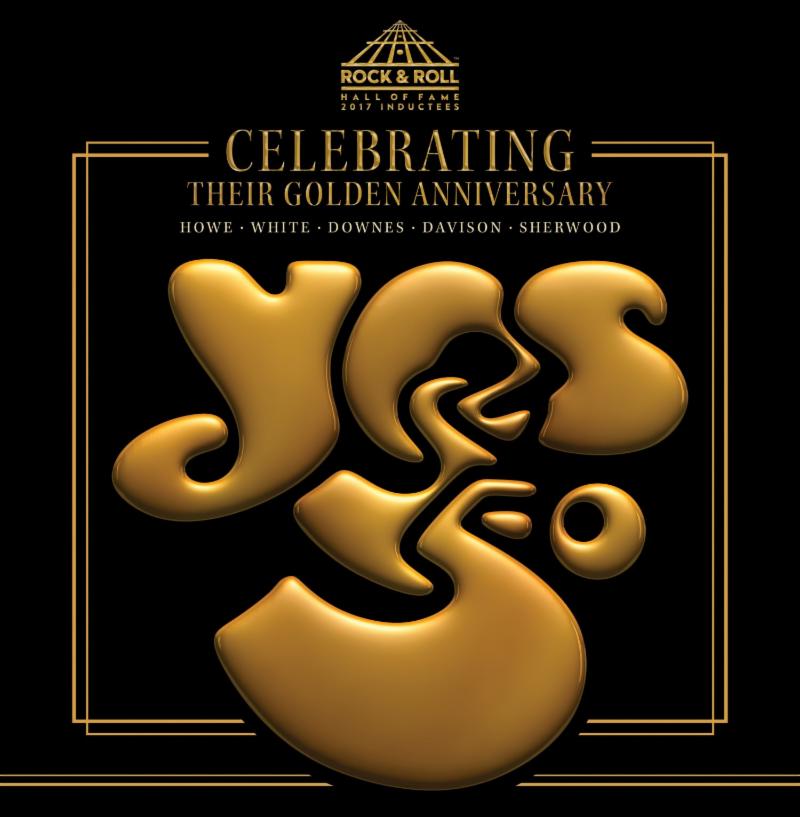 Yes is heading to Denver! We caught up with Yes keyboardist Geoff Downes this week over the phone for a short Q & A.
Congrats to you on your Rock & Roll Hall of Fame induction last year and on this year's 50th Anniversary of YES. What was that process like?
Well it was really good. The fact was that they only inducted 8 members, the original line up. I was at the event which was very exciting and I think it was good stuff. The band had long since deserved to go in to that; eventually it was nice, particularly right before the 50th anniversary.
You first joined in 1980. How did you end up joining Yes?
Originally it was due to having the same management company as the Buggles with Trevor Horn. We were managed by the same management company as Yes. We got talking to the guys one day in the office and they asked us if we wanted to write some songs with them. We went into a rehearsal room and started throwing some ideas about. They eventually asked if we wanted to join up. It was just straightforward as that.
What are some of your greatest memories from your earlier days with YES?
It was such an amazing experience. Trevor Horn and myself were big Yes fans and all of a sudden we found ourselves in the band. I remember the very first show that we did with them. I'd never done anything like that before. It was in Toronto at the Maple Leaf Gardens. I was just blown away by the experience. It was incredible; 18,000 people there.  It showed me what an incredible band Yes was and still is.
How are things on tour, in the studio, different now from when you first joined YES?
Nothing really changed. Obviously, it was very sad when we lost Chris Squire a couple of years ago, because he was such a big feature of Yes over the years from the very beginning. I think the music lives on and certainly Yes' music is something that has proved to be timeless. The fact that the band is still going 50 years later is pretty incredible. That is an achievement in itself. We are looking forward to this tour particularly and going through the Yes catalog and picking out a nice set list of songs.
How do you go about deciding on the set list? 
I think it more falls into place than anything else, certainly for this particular tour. I think we have all fundamental players that have been there for many years, such as Steve (Howe) and Alan (White). It falls into place with them more than anything. They said we'd like to play this one and not play this one for a little while, or something like that. It's a fairly natural selection.
There have been many members of the band over the years.  Are you planning on any former members taking the stage with Yes over the course of the tour?
We have Tony Kaye who is coming to join us on keyboards on some material, particularly on the stuff he played on.
What are that biggest challenges as a band?
I think that Yes music is very challenging in itself. I think that if you look at over the years, it is a very, very varied catalog of music. It is very challenging to play with a lot of tricky parts and a lot of dynamic shifts in music, so it's not something you can just step into and start playing. We have to be very careful how we put it altogether as you would with a symphony orchestra. Putting together all of the elements is quite complex.
What role does YES play in the world of music?
I think Yes is a very original idea that doesn't really have a parallel to anything else. The fact that the music is so different and has a different sound to a lot of stuff. Yes is very identifiable. It has a unique spot in the history of music.
Is there one song you find the most representative of the music of YES?
It's difficult to say because the whole generation changed when Trevor Horn and myself joined. That changed the direction in some ways and Yes became quite a different band in the 80s from what they were in the 70s. And I think that has really been the case over the years; that it is constantly evolving. I would say that's really the way Yes goes forward. It's a constantly evolving machine.
Will there be any new music for Yes?
Yes, I think it's very important for a band to continue to have a creative output of new material. Certainly this tour will be focusing on the history of Yes, so there won't be any new music for this tour.  We're talking about going in the studio in the fall. There are a lot of ideas floating about and hopefully we'll be able to put those to good use and come up with a new album for next year.
How does playing in the UK compare to the US?
The audiences are a little bit more quiet in the UK. There is still the enthusiasm levels and still a lot of passion in the fans, and I think Yes instills that. The American audiences are generally a little bit more rowdy, but also there are moments when they respect the silence and the quieter moments in Yes music. There's not a huge amount of difference to be honest.
Are you still working with Asia, do you still have plans to work together as a group?
Yes, we are on hold for the moment because Carl (Palmer) is off doing some stuff and I am working on the Yes 50 stuff at the moment. Certainly it was a big blow when we lost John (Wetton) 18 months ago, but we have toured since then. I think we gave a good account of ourselves. It's nice that the music of Asia continues to be heard. We made some great music together and that would be a shame if that was not put forward again. We are going to carry on again and do stuff maybe later this year or next year. We're not sure yet.
What keeps you busy when you're not playing or writing music?
I like walking on the beach and just getting away from it all really. It's difficult to say because your mind is always in music. If you've lived music all your life, then it's very hard to step out of it and say I'll go do something completely different. I love watching sports, and I like to support my local football team, and generally do things that normal people do. Certainly music is such a big part of my life that a piano or keyboard isn't too far away.
What do you want your fans in Denver to know for your upcoming stop?
I think Denver has been a great musical town, and fans expect to see a good presentation of Yes' music over the years, and that's what they're going to get. Denver is a great city with a great atmosphere and we are looking forward to getting out there.
One last question. How did the Guinness World record come about (playing 28 keyboards on stage at one time)?
I think someone put me in for it. That's as far as I know. I didn't get a certificate or anything like that. I know I was put forward for it and I don't think anyone has superseded that record as far as I know.
Read more about Yes and their 50 year anniversary tour, #YES50.