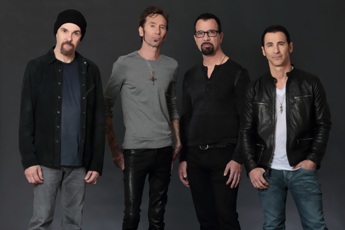 Godsmack is heading to Denver to play at the Pepsi Center with Shinedown on July 31. We caught up with Shannon Larkin for a quick conversation. 
How did you end up joining Godsmack in 2002?
I knew Sully since literally 1986. We met around that time. I was playing for a band called Wrathchild, and he had left Boston and went down to North Carolina to be with this band called Lex Luther. and they happened to get an opening slot for Wrathchild at this place called, The Attic, I think. I saw Sully play, and at the time, both bands were doing a mixture of covers and originals. Sully played. They did a Metallica song and he played it perfectly, so he and I ended up partying and forming a friendship that lasted all the way up until '98 when Godsmack was coming up. At the time, Joe D'arco was the drummer and they didn't have Tommy Stewart yet. All the big labels were coming around. and Sully called me. I was in California at the time. He's like,"Dude, we have all these labels sniffing around. I'm the singer now. I dropped the stick and picked up the mic, man." I had just signed a record deal with this punk band. I was in Amen with Ross Robertson and Roadrunner Records. And I told him I couldn't leave. He said that was cool. We remained friends and then when Tommy didn't work out, I got the call. Incidentally, Amen, that band I was with, I had left the band two weeks before Sully called. It was fate, you know what I mean. It was a really cool thing, because we were friends way before that. An interesting thing, it wasn't an audition either. Sully said to come up and play with us and if you get along with Tony and Robbie, then you're in. I was just praying on that flight that Tony and Robbie were cool guys. And it turns out, that now 16 years later these guys are two of my dearest friends on the planet.
Who were your biggest influences?
Neil Peart and John Bonham. I was 8 or 9 years old and getting these black records. They were K-tel records back then, and you'd see a commercial on tv, and I'd beg my mom and dad to order me these records. I was loving music even at that age. My sister, who was older than me, heard me jamming these songs, these records. And she comes in and says how that music sucks and to listen to this, and it was Rush, Hemispheres. I thought holy hell and soon as I heard the great Neil Peart play, oh my god, it spoke to me. I fell in love. I wore that record out, went back to my sister's room and told her she was right and that my music is whack, this is the best, and asked her what else she had.  She gave me Led Zeppelin II. Both those records, by the way, I still have to this day, with her name on the record sleeve. That's what you did back then because you'd take them to parties and stuff. After Led Zeppelin II, as soon as I heard that, that's when I went sort of begging to my parents for a drum set. I had to wait until that Christmas to get my drum set.
Any interactions with Vinnie Paul?
Yeah, I knew Vinnie Paul through my first band, Wrathchild. on Atlantic records. It was a heavy thrash, kind of metal, band. We toured with Pantera. But the reason we toured with Pantera because we were already, six years before we got signed, we were just touring across the country in a band, just playing clubs. And we went through Dallas, and that's before Phillip was in the band and we met Dime and Vince at a club that we played and formed a friendship. I was 16 years old. I am 51 now. I met Dime and Vince way, way, way back in the day, stayed at their house, with their parents, all that kind of stuff, man. When those bands got signed, Wrathchild and Pantera, we both signed to Atlantic. They were on Atco, but Atlantic, you know. Atlantic put us out on tour. So Pantera's first tour of America, as well as Wrathchild's, was Wrathchild and Pantera. Of course, their record was called Cowboys from Hell and we had a single on our record called Surrounded by Idiots, so the tour was The Cowboys and Idiots Tour, and we were the Idiots. I miss Vince and Dime and now the pain is so fresh with Vince. It's just mind-boggling, man.
How has Godsmack progressed musically from the early days to now?
Wow. 20 years later. Sully is our guy. He hand-picked each one of us. He's the visionary guy. He's the creative genius of the band. One of his theories was that we don't want to keep making the same record over and over again. Since we put records out 4 years apart, we have plenty of time for him to realize and see new visions, so each record has changed slightly. Like the Faceless record, when I joined, was very militant, very metal, David Bottrill produced it. The next record, IV record was very bluesy, went a whole different way, Andy Johns produced that one, who worked with Zeppelin, The Who, and The Stones, on and on, all the way up to the new one where for the first time, we included a ballad and outside writers and these producers stepped into this modern production of synth lines under the basses and stuff like that, that we never explored before. It's all Sully trying to age gracefully and mature this band. We are all in our 50s now. We're not young men full of angst, vinegar, and piss, anymore. We don't want to look like a bunch of old farts, pretending. Fans are smart. Rock fans are smart, and they can tell if something is real and when it's not. As we age, we'll mellow a bit, but I think we kept the essence and toughness and the Godsmack sound, even with the bigger production.         
Can you talk a little bit about the co-headlining tour with Shinedown?
We came out 10 years before Shinedown. We took them on tour when their very first record came out. Sully had heard them and we get a list when we're going on tour, of any bands that would want to play and open for us. Sully heard Shinedown and fell in love with them, and said we're taking this band. That was their very first record. Over the years, we've watched their meteoric rise and watched them develop into this great, headlining band. We feel like the proud, older brothers. It's full circle, now we're doing a co-headlining tour with these guys. They are just cool humans, man. We're very honored and proud to be out.
What's the best part about touring? What's the worst?
The worst part is the obvious thing, it's being away from home. Some of us have wives, dogs, and kids, and our pillows and beds, our couch, our tv. whatever.  You miss the creature comforts of home. But the best part is the shows every night. That's what we live for. That's where you get the reward for all that hard work is when you're on the stage, and you get to play your instrument and you doing that for your living and getting paid for what is a hobby for 99% of people. We're extremely blessed and that's the reward and that's what we do it for. An hour and a half, two hours, whatever time limit they give us, that's what we do it for.   
What does the band still want to do that it hasn't done yet?
We'd like to play stadiums, headline stadiums, and have a Learjet. You know what I mean, we're in our fifties. That would be the only place to go. We don't really care so much, I mean it's great to get accolades and number one songs and gold and platinum records on our walls, that's great. They are awards that you're given for your success. But the thing that we're really proud of, more than any of all that stuff, is longevity. It's so hard. So many thousands of bands a year, are just trying to even get a record deal. Let alone, get signed. Then let alone, have success, and then for twenty years. That's our greatest accomplishment. What's next for us, I would say, is to see how long we can continue to be successful and happy in the music business.      
What's something a new fan should know about Godsmack?
We mean business and don't use a lot of tracks. We don't play to a lot of clicks. Some of the new material, we do. We are proud of our live thing. We pride ourselves. We're a blue-collar rock band. We pride ourselves on being very tight. The four of us together. After all these years, we have a chemistry that a lot of people don't understand what that is. You can take the greatest drummer, the greatest singer, the greatest guitar player, the greatest bass player and put them together and the band is shit, because the chemistry isn't there. My point is Godsmack, if you come see us live, I guarantee we'll play our hearts out and you'll have a great time and you'll see people who care on the stage.   
What's your favorite song to play from the new album, When Legends Rise?
Legends Rise. I love it. It's just a nasty sounding middle 8, and I love the tribal beat in the beginning of the song, and it goes into the verses, with a cool Somba side stick in to a tom part. That's the funnest one for sure, for me.  This album isn't about us, When Legends Rise. We are not talking about ourselves as being legends rising after 20 years. It feels like a catharsis for the band. It's about rebirth. You cannot change until you've lost yourself. You have to lose the old to bring in the new. The theme throughout the album is rebirth.
How much fun was making video for Bulletproof?
That was a blast, man. Funnest video ever. We'd never done anything like that either. Some kind of funny shit. Man, that was fun. Usually when you make rock videos, I'll have to play that song. I'll have to play every time. Even if they need shots of just Tony, I need to be playing because I'll be in the background. I'm playing those songs on the video shoots, sometimes 20-25 times all day, and that's a drag. You're playing along to a tape and whatever. This one, we only played that song maybe four times. We got all the live footage of the band we needed because it was centralized on the comedy aspect. For the rest of the day, instead of having to play the song twenty times, we were putting on make-up and a big fake beard in one scene, so it was really fun and funny.   
What other projects are the members of Godsmack involved in?
Sully does a solo thing. He has his second one out there. And then the guitar player Tony and myself have a Blues band. It's called Apocalypse Blues Revue. Godsmack is not so much of a lead oriented band. Tony is a riff man and we're a riff and drum oriented band. Tony takes a few solos where he can show a little bit of his God-given talent in Godsmack, but the Apocalypse Blues Revue is a heavy Blues band, and it gives Tony this opportunity to be the star. And I gotta tell everyone who is reading this, that if you like Tony Rombola, check out Apocalypse Blues Revue. He is mind-blowing.      
What are you most looking forward to in Denver as you get ready to arrive?
Legal weed, man. (laughter) No, man, I have dear friends in Denver that I've known since back in the 80s and the Wrathchild days and several of them I haven't seen for many years. I'm looking very forward to coming out to Denver, Colorado. The crowds have always been great there. I even like the thin air. I love it, man. We are stoked.   
See you soon.
Read more about Godsmack and their upcoming show with Shinedown at Pepsi Center on July 31.