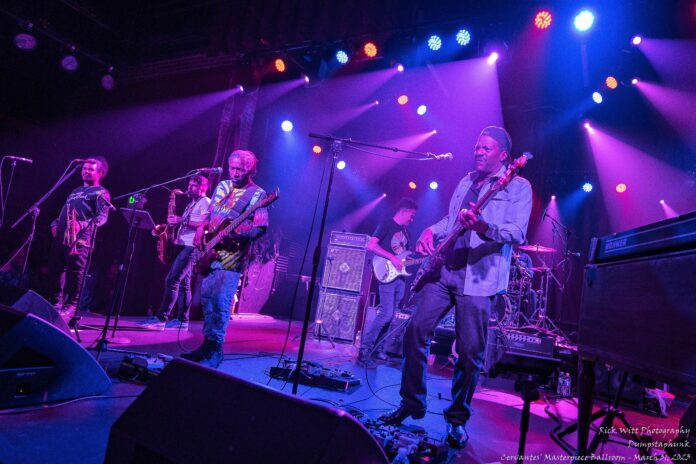 When you're in the mood to get your funk on, nothing does the trick any better than a funky groove line on a bass guitar. Imagine, for a minute, how much funkier things might get if you had two bass players, both cranking out that funky groove, at the same time.
If you were in the crowd at Cervantes' Masterpiece Ballroom two nights ago, you didn't have to imagine. Dumpstaphunk was in the house.  A big part of Dumpstaphunk's signature sound comes from having two bass players – Tony Hall and Nick Daniels – playing together. These dueling basslines work to generate a groove that forces the listener to their feet.
Friday night was the second time I've seen and covered Dumpstaphunk is the past year.  Last March they were the opening act for Boulder's Fox Theatre's 30th anniversary celebration, featuring George Porter, Jr.  They played an abbreviated, nine-song set on their own, then returned to the stage as Porter's backup band to celebrate the music of Porter's old band, The Meters.  Their opening set that night was terrific.  But seeing them as headliners, and getting to see and hear them for a full 13-song, hour and 40-minute set, was something supremely special.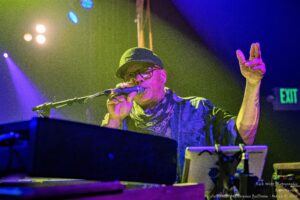 Originally formed by Ivan Neville in 2003 to perform a solo gig at the New Orleans Jazz & Heritage Festival, Dumpstaphunk has been a New Orleans music scene institution for two decades. Three albums and extensive touring built the band a loyal following through 2013. But it would be almost eight more years, and the release of the band's fourth album, Where Do We Go From Here, before the band really caught the ear of a broader audience.
The band has been in near constant touring mode since the release of Where Do We Go From Here, almost two years ago to the day.  They're no strangers to gigs in Colorado, having played here at least three times since the release of that album, including Denver's Levitt Pavilion in June of 2021, Boulder's Fox Theatre in March of 2022, and Red Rocks in June of 2022.
If Friday's crowd was looking for a night of high-octane funk, they got everything they bargained for.  The show opened with just Hall and Daniels on stage, jamming together for close to three minutes before the rest of band joined them, setting the tone for the night.  From the opening "Dancin To The Truth" to the closing "Street Parade", there wasn't a moment of "let's slow things down a bit" to be found.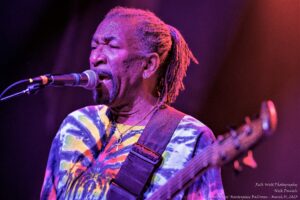 Nearly half of the set – six of the 13 songs – came from Where Do We Go From Here. The night's back to back openers (the aforementioned "Dancin To The Truth" and "I Wish You Would") came from the 2013 album Dirty Word. The set was filled out with covers paying homage to the O'Jays ("When The World's At Peace"), the Meters ("No More Okay Doke"), Link Wray ("Fire & Brimstone"), and Earl King ("Street Parade").  And as a special treat, the band played "The Greatest Place On Earth", from keyboard player Ivan Neville's upcoming solo album, Touch My Soul (release date April 21).
In addition to Hall and Daniels, the band consists of founder Ivan Neville (vocals and keyboards), Ian Neville (guitar), Deven Trusclair (drums), and a two-piece horn section comprised of Brad Walker (saxophone) and Ashlin Parker (trumpet).  And let's not short change Hall or Daniels by crediting them only with bass playing duties.  Both contribute lead vocals, and Hall plays pretty much as much guitar as he does bass.
This is an exceptionally tight group, that are clearly in synch with one another, and just as clearly enjoy playing together. Ivan Neville assumes most of the "front man" duties, deferring part-time to Hall. Hall is the most animated of the players, stepping out front for both guitar and bass solos that whip the crowd into a frenzy. (He's also been very playful with me, as a photographer, both times when I've covered the band, and found myself standing in front of him.)
The horn section is sometimes understated in their recorded material, but on stage they tear it up. Walker and Parker crank out jam solo after jam solo. They were especially impressive on the closing song "Street Party", creating a true New Orleans street jam vibe.
I can certainly break down the evening's performance by referencing the various solo opportunities, and high points within the overall set. But when I think back on the show, the thing that keeps resonating with me is how much the crowd was moving. When you get down to it, isn't that the true measure of a band playing this kind of music?  Do they get the crowd moving?
Given that as the barometer, Dumpstaphunk absolutely killed it. Musically, they are exceptional. As performers, they are off the chain. But what they really do – and do supremely well – is create an atmosphere of pure, unadulterated bliss, where the listener can just let go of their inhibitions and become one with the groove.
The guy standing next to me for a good part of the night – an older guy who told me he was in his early sixties – is a case in point. He was jumping up and down like his pants were on fire. And having one hell of a great time.
Story and photos by Rick Witt     www.rickwittphotography.com