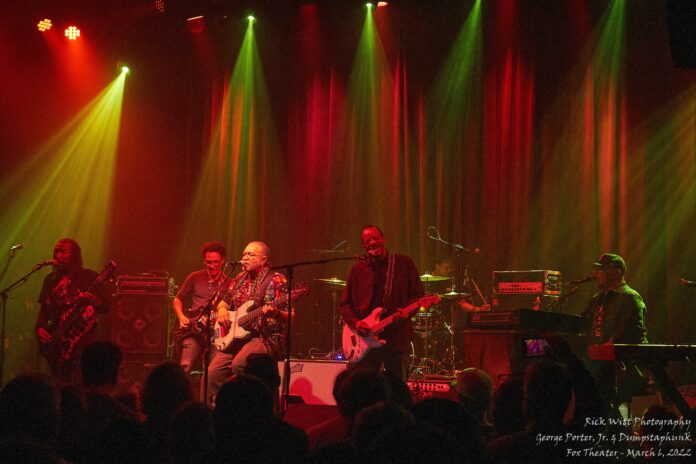 Something extremely cool happened last night in Boulder. No, not the late Winter storm that rolled through the area and dropped temperatures by almost 50 degrees from what they were just three days prior. Something WAY cooler than that.
Boulder's Fox Theater celebrated its 30th anniversary in a very special way… by bringing back the past.
It was 30 years ago to the day that The Fox opened its doors for the first time. The band that night was The Meters, a New Orleans-based band considered to be one of the originators of American funk music.
Thirty years later, original Meters bassist George Porter, Jr. brought the music of The Meters back to the Fox, this time backed by New Orleans funk powerhouse Dumpstaphunk. On this night it wasn't original keyboard player Art Neville on stage with Porter, but it was still a family affair. Dumpstaphunk guitarist Ian Neville is Art's son, and keyboardist Ivan Neville is the son of Art's brother Aaron.
Last night's show featured two sets. Dumpstaphunk took the stage first and played a nine-song set of (mostly) their own material. After an extended break (Porter's flight into Denver was delayed due to weather, and there was temporary concern he wasn't going to make the show at all), the band returned to the stage with Porter, to perform a 14-song set of Meter's material.
Originally formed by Ivan Neville in 2003 to perform a solo gig at the New Orleans Jazz & Heritage Festival, Dumpstaphunk has been a New Orleans music scene institution for nearly two decades. Three albums and extensive touring built the band a loyal following through 2013. But it would be almost eight more years, and the release of the band's fourth album, Where Do We Go From Here, before the band really caught the ear of a broader audience.
Dumpstaphunk opened last night's set with Fire & Brimstone, a Link Wray cover they regularly use to open their shows. They then moved into I Wish You Would, from their 2013 album Dirty Word. By the time they moved into their third song, Let's Get At It from their Where Do We Go From Here album, the packed crowd was in full groove mode. Let's Get At It has one of the catchiest choruses you'll ever hear, and the crowd was belting it out along with the band. By the time they played United Nations Stomp, the band owned the building.
Part of Dumpstaphunk's signature sound comes from having two bass players – Tony Hall and Nick Daniels – playing together. These dueling basslines provide the band with possibly the baddest rhythm section on the planet. And while their horn section is sometimes understated in their recorded material, on stage they tear it up. Alex Wasily (trombone) and Ashlin Parker (trumpet) cranked out jam solo after jam solo, and Wasily, in particular, was constantly animated, dancing and imploring the crowd to clap their hands, dance, and sing along.
After the aforementioned delay, Dumpstaphunk returned to the stage with George Porter, Jr. At 74 years of age, Porter is still an active producer and session musician. As a bandleader, he tours with his latest project, the Runnin' Pardners. But this night was all about the music he and Zigaboo Modeliste, Leo Nocentelli, and Art Neville recorded as The Meters between 1969 and 1977.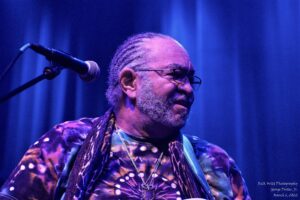 Porter sat on a stool between guitarists Tony Hall and Ian Neville, as the group worked through a barrage of Meters standards, beginning with Here Comes The Meter Man, from their 1969 debut album, The Meters. The set included extended jams of Meters classics like Look Ka Py Py, Hey Pocky a-Way, Just Kissed My Baby, and People Say. Those jams gave everyone on stage their moments to shine, especially Ivan Neville on keys, Ian Neville on guitar, and Deven Trusclair on drums. Vocal duties were shared between Porter, Daniels, Hall, and Ivan Neville.
Throughout the evening the crowd was energetic, animated, and vocal. From an age standpoint, it was an extremely diverse group, ranging from the early '20s to the '70s. At one point during the set, Porter asked the crowd who had attended that original Meters show in 1992. He then asked who in the crowd hadn't even been born by 1992. The reaction of the second group was a bit less than the reaction from the first, but not by much. This cross-generational appeal speaks to the purity and authenticity of the music itself. Whether you want to call it funk, or R&B, or fusion, it's all about daring the listener not to move. And on a cold March evening in Boulder, the packed house at the Fox was doing a lot of moving.