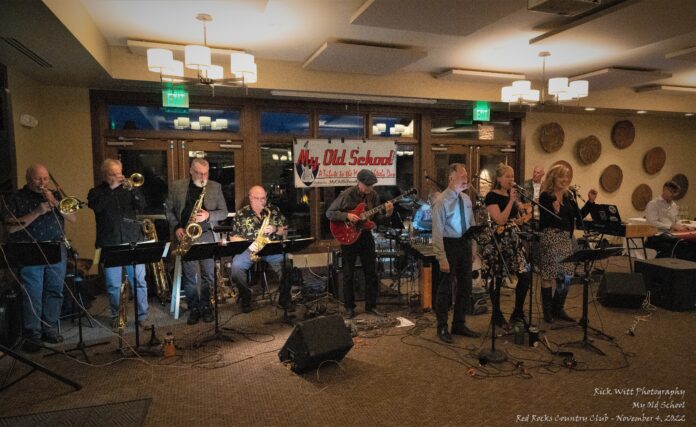 The Classic Rock era of the late 1960's through the late 1970's produced some of the most enduring and iconic music ever laid down on vinyl.  And one of the most unique, innovative, and groundbreaking acts to come out of that era was Steely Dan.  The Walter Becker and Donald Fagen fronted act, which for the most part really was just Becker and Fagen joined by a rotating cast of session musicians, released seven albums between 1972 and 1980.  Fifty years later, songs like "Do It Again", "Reelin' In The Years", and "Dirty Work" are as fresh and immediate as they were when they appeared on the duo's debut album, Can't Buy A Thrill.  Their music just doesn't get old.
Denver area fans of Steely Dan's musical legacy are fortunate to have an exceptional Steely Dan tribute band in our own backyard.  Borrowing their name from the outstanding tune from the Countdown to Ecstasy album (which, by the way, was recorded at Caribou Ranch in Nederland), My Old School is a collection of eleven superbly talented singers and musicians dedicated to perpetuating that legacy.
I've seen My Old School perform several times over the past few years, and decided to feature them as part of my Local Talent Spotlight series after attending their gig a couple of weeks ago at the Red Rocks Country Club.  On that particular night they played three sets over a three-hour period, covering a total of 28 songs.  (Their website lists a total of 46 songs in their repertoire.) And while they go to great lengths to perform these songs as faithfully to the originals as possible, there's plenty of opportunities for the members of the band to showcase their musical chops via excellent solos and vocal arrangements.
I sat down with eight of the members of the band following their RRCC show, to get the lowdown on the origins of the band, to find out more about the individual players, and to delve into the challenges tied to keeping eleven very different personalities moving in the same direction.  Participating in the discussion were Tom Bartling (guitar), Mike Schreiber (trumpet), Jim Bartley (bass), Tom McMillen (lead vocals and percussion), Kent Verbal (drums), Laurie Verbal (vocals), Erin Sears (vocals), and Zach Nover (keyboards).
Members of the band who weren't able to make our group chat session included Scott Unruh (saxophones), Steve Campbell (saxophones), and Doug Wardlow (trombone).
Two things jumped off the page at me when I was talking with the band.  The first is the respect – no, let's call it what it is – the reverence they all have for Steely Dan. The second is the humility of each member of the band, and the respect they have for their fellow bandmates.
To a person they all agree that one of the things that makes covering Steely Dan so rewarding is the fact that it's such complex music to faithfully reproduce.  Becker and Fagen were renowned for their passionate – frequently obsessive – professionalism.  Anybody who is going to try to cover their work has to commit themselves to work toward that same bar.  It's a big part of the Steely Dan mystique, and a prime reason their music has aged so well.  Doing this music justice is an enormous challenge, but one this group relishes.
When I say "to a person" I mean it literally.  Even Erin Sears, the newest member of the band and a person who wasn't even born when Steely Dan recorded this music, refers to herself as a "crazed Steely Dan fan" who literally begged for the opportunity to try out for the band, if they ever needed an additional singer.  (She described her behavior in pursuit of that opportunity as "not chill and very creepy".)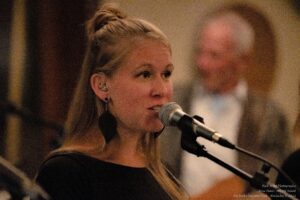 With regard to that second observation, every time one member of the band tried to highlight or make a point (always positive) about another, that other was quick to deflect the credit elsewhere.  It appears to me that every member of this group has willingly checked their egos at the door, and dedicated themselves to the success of the group.  They laugh and joke with each other… it's an uber cool thing to see.  They're not in this for fame or glory, nor for the money.  They're in this because they are members of a community that shares a love of Steely Dan music, and getting to play that music is reward in and of itself.  And I'll tell you… that comes through loud and clear when you see them perform.
Steve Campbell is unanimously credited with kicking the band off, with initial rehearsals taking place in the basement of his (at that time) Broomfield home.  The band's website lists the year as 2011. Current band members Campbell and Tom Bartling were the original members of the group, with Jim Bartley, Zach Nover and Scott Unruh joining a short time later.  The original band wasn't focused exclusively on Steely Dan music, but by the time Barley and Nover joined, the My Old School name had been picked, and the focus had shifted to Steely Dan and only Steely Dan.
My Old School's first gig, as listed on their website, took place on July 24th, 2012, at Nissi's in Lafayette.  In the decade since, the band has regularly played at venues like Herman's Hideaway, The Soiled Dove, the Little Bear Saloon, Bonacquisti Winery, and numerous festivals and private events.
My Old School live is an extraordinary auditory trip back through time.  As mentioned earlier in this article, they have mastered enough Steely Dan material to easily fill four plus hours on stage.  If you're a Steely Dan fan at all you'll be singing along as they work their way through Becker and Fagen's unbelievably rich catalog.  And you'll even get a surprise here and there.  Case in point, at the RRCC gig the band performed a song called "Second Arrangement", which never appeared on any Steely Dan album.  The song was recorded but accidentally erased, leaving only a cassette demo in existence. This incident so devasted Becker and Fagen that they declined to re-record it.  Vocalist Tom McMillen introduced the song as "the Steely Dan song that never was."  It's too bad, because it was a great tune.
Every member of this band is exceedingly talented.  The four-piece horn section (Campbell, Unruh, Schreiber, and Wardlow) is incredibly tight as a group, and superb individually.  Steely Dan's music presents an endless buffet for horn lovers, and this group delivers, song after song after song.
I can't say enough about the trio of vocalists.  Tom McMillen is listed as the lead, and I suppose that's technically true.  But don't dismiss Laurie Verbal and Erin Sears as simply backup singers.  Each takes their respective turns at lead, and the three lay down some exceptional harmony arrangements.  Both McMillen and Sears credit Verbal as the person who more or less drives the arrangements, but she quickly pushes back, noting that it's 100% a group effort.
The rhythm section of Jim Bartley on bass and Kent Verbal (yes, Kent and Laurie are husband and wife) are as solid as they come.  Bartley plays it relatively low key – in fact, during our group interview I learned that the band had to pretty much force him to step out front for a solo.  In Jim's words, "I don't take any solos, as there are no bass solos in Steely Dan's music!"  Verbal is a monster on the drums, particularly on "Aja", where he brings the house down. As a failed drummer myself, I get more than a few chills listening to him tear that song apart.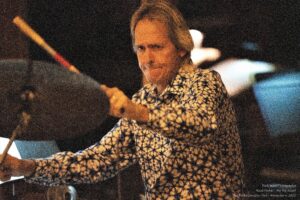 That leave us with Tom Bartling and Zach Nover, channeling (respectively) Becker on guitar and Fagen on keyboards.  Well, that's not 100% accurate.  Both Becker and Fagen acknowledged that they weren't good enough musicians to pull off many of the guitar and keyboard parts that appeared on their albums.  From early on they brought in more accomplished musicians to play many of the more complicated parts.  But whether it was actually Becker and Fagen, or (for example) Elliot Randall (who played the solo on "Reelin' In The Years"), Bartling and Nover effortlessly (or so it seems) take you back to those original recordings.  They are both truly gifted.
As you can probably imagine, coordinating a group of eleven people, most of whom have full-time jobs, and all of whom have lives outside the band, can be an enormous challenge.  The band has gone through a fair number of personnel changes over the years, but has remained pretty much intact since before the COVID events of 2020.  That level of continuity has been really important, because finding replacements when members leave can be daunting.  In the words of Zach Nover, "There are only so many players (and vocalists) who want or are able to take on such a challenging project. Auditions have been by turns entertaining and exhausting."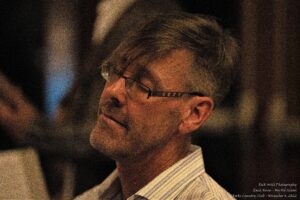 My Old School is available for gigs beginning in the new year and are available for private party bookings, as well as nightclubs and festivals. Check their website (http://myoldschool.biz/) for new shows as they are scheduled, and/or for contact information for booking.
Story and photos by Rick Witt    www.rickwittphotography.com