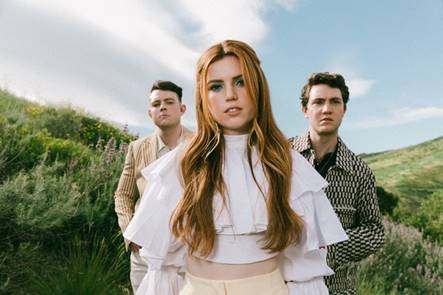 Multi-platinum alt-pop band Echosmith will be bringing their Fall headline tour to Denver, CO on 11/8 at Marquis. The band kicked off a new era with their single "Hang Around" and also today released a brand new, reimagined version of their triple-platinum hit "Cool Kids." PRESS HERE to listen to "Cool Kids (our version)." The band also recently filmed a live performance of the song at Billboard.
The timing of how "Cool Kids (our version)" came to be is serendipitous because Echosmith has been reflecting on how far they have come as a band, as a family, and as individuals and were preparing to launch a new era of music, creative freedom and independence when "Cool Kids" began trending on TikTok.  More than 1.3 million videos were made by people using the original song to look back at their younger selves and appreciate how far they've come, including Demi Lovato, Drew Barrymore, Lindsay Lohan, Addison Rae and Hayley Kiyoko. After recently kicking off their next musical chapter with the release of their single "Hang Around," it was only fitting that the band recreated a version of "Cool Kids" that reflects where they are today, both musically and in their lives.
The new bridge is also starting to trend on TikTok HERE, already racking up more than 6 million views.
It's powerful to revisit the song's message of self-acceptance and self-love almost 10 years later, as the band and so many that grew up with "Cool Kids" have had more life experience and the perspective to see that individuality is what makes you cool, not "fitting in." And in today's culture of Instagram filters and social media, "Cool Kids" is still the perfect anthem of self-acceptance.
Re-discovering the joy of making music together as siblings and inspired by their life experiences over the past few years that have brought personal growth and newfound independence, the band will release more music in 2022.
MORE ON ECHOSMITH
Multi-platinum alt-pop trio Echosmith's stardom skyrocketed as they came of age together as both a family and a band. Siblings Sydney, Noah, and Graham Sierota cemented themselves as an inescapable presence in music and pop culture with their triple-platinum hit "Cool Kids" and their double-platinum single "Bright" as their full-length debut, Talking Dreams, went gold. Simultaneously, Sydney stood out as a positive cultural force, whether acting as a brand ambassador for Coach or duetting on stage with Taylor Swift. They scored another hit with their bold, synth-driven single "Over My Head," joined for King & Country on the powerful hit "God Only Knows (Timbaland Remix)," and released their acclaimed sophomore album Lonely Generation in 2020. Along the way, the trio has garnered over 1 billion streams, captivated crowds worldwide, toured with twenty one pilots and collaborated with twenty one pilots, Steve Aoki, Zedd, For King & Country, Audien, Hunter Hayes, Mat Kearney and more, earned major media praise, and performed on numerous national TV shows including Live with Kelly & Ryan, The Tonight Show Starring Jimmy Fallon, The Ellen DeGeneres Show, TODAY, Late Night with Seth Meyers, The Late Late Show with James Corden and Artists Den.