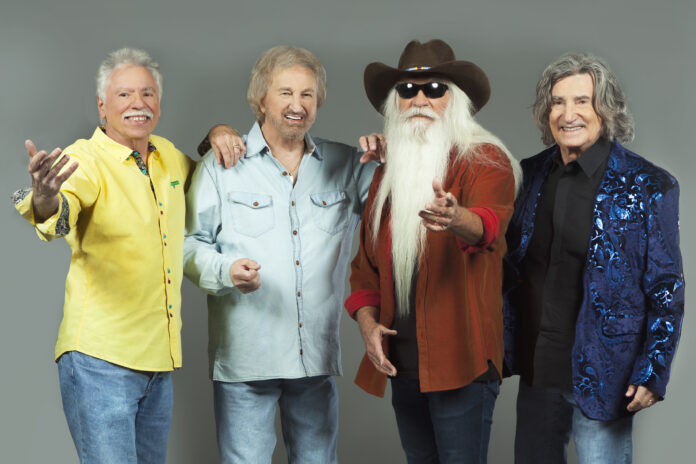 BUY TICKETS HERE (Ticketmaster)
A Piece of History
Theirs is one of the most distinctive and recognizable sounds in the music industry. The four-part harmonies and upbeat songs of The Oak Ridge Boys have spawned dozens of Country hits and a Number One Pop smash, earned them Grammy, Dove, CMA, and ACM awards and garnered a host of other industry and fan accolades. Every time they step before an audience, the Oaks bring four decades of charted singles, and 50 years of tradition, to a stage show widely acknowledged as among the most exciting anywhere. And each remains as enthusiastic about the process as they have ever been.
"When I go on stage, I get the same feeling I had the first time I sang with The Oak Ridge Boys," says lead singer Duane Allen. "This is the only job I've ever wanted to have."
"Like everyone else in the group," adds bass singer extraordinaire, Richard Sterban, "I was a fan of the Oaks before I became a member. I'm still a fan of the group today. Being in The Oak Ridge Boys is the fulfillment of a lifelong dream."
The two, along with tenor Joe Bonsall and baritone William Lee Golden, comprise one of Country's truly legendary acts. Their string of hits includes the Country-Pop chart-topper Elvira, as well as Bobbie Sue, Dream On, Thank God For Kids, American Made, I Guess It Never Hurts To Hurt Sometimes, Fancy Free, Gonna Take A Lot Of River and many others. In 2009, they covered a White Stripes song, receiving accolades from Rock reviewers. In 2011, they rerecorded a thirtieth anniversary version of Elvira for a Cracker Barrel Old Country Store project.
The group has scored 12 gold, three platinum, and one double platinum album—plus one double platinum single—and had more than a dozen national Number One singles and over 30 Top Ten hits.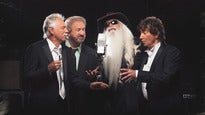 Country Music Hall of Fame Modern Era Inductees 2015
Few Country Music groups have had the enduring popularity, cultural significance or crossover success of The Oak Ridge Boys, a vocal harmony quartet that started out in traditional country and gospel during World War II and evolved with the times to help popularize and modernize Country Music far beyond traditional genre and regional lines.
The group went through numerous lineup changes in its early decades before Duane Allen, Joe Bonsall, William Lee Golden, and Richard Sterban took control in the 1960s and early 1970s and turned it into a dynamic Country Music force. The alignment focused on high-energy vocal harmonies that brought crowds to their feet with increasingly secular music and a look and attitude that more accurately reflected the times, characterized by Golden's still-magnificent flowing beard and fur coats.
The Oaks' contemporary look, and their increasing focus on modern Country suggested by Jim Halsey, who would soon become their career manager, didn't sit well with traditionalists, and the group struggled for a few years in the early 1970s. It wasn't until the release of the 1977 album Y'All Come Back Saloon that the Oaks hit the right formula, and when they did their popularity soared.
They landed their first No. 1, "I'll Be True To You," in 1978 and, perhaps just as significantly, Paul Simon asked the group to sing backup on what would become his hit "Slip Slidin' Away," opening the door to the pop world for them. Simon wasn't the only one to lean on their harmony. They accompanied Brenda Lee on her Grammy Award-nominated "Broken Trust" (1980); George Jones on his Country smash "Same Ole Me" (1982); and they also have harmonized behind Johnny Cash, Ray Charles, Billy Ray Cyrus, Bill Monroe and Leon Russell, among many others.
National audiences learned the joy of the Oaks' harmonies when the
group's biggest hit, 1981's "Elvira," became a crossover pop smash with bass singer Sterban's unforgettable "oom papa oom papa mau mau" refrain. The song brought them one of their five Grammy Awards, went double Platinum and helped bring much-needed fun to a genre that had a reputation for weepers and hard times.
The inescapable "Elvira" propelled the Oaks' 1981 album Fancy Free to double Platinum. They followed a year later with another crossover hit, "Bobbie Sue," and the album of the same title went Gold, as have many others in the group's catalog. Their 1980 and 1984 Greatest Hits albums are Platinum. All in all, the current lineup has scored 17 No. 1 hits, released more than 40 albums, and achieved sales greater than 41 million albums.
The Oaks' classics include "Trying To Love Two Women," "Beautiful You," "Fancy Free," "I Guess It Never Hurts To Hurt Sometimes," "Make My Life With You," "Touch A Hand, Make A Friend," and "It Takes A Little Rain (To Make Love Grow)."
The Oak Ridge Boys' "American Made" became a national ad jingle. Their "Thank God For Kids" is considered a Country standard. And their recording of "Leaving Louisiana In The Broad Daylight" helped launch the songwriting career of Rodney Crowell.
The group also helped open the doors for Country Music on network television, with a number of nationally televised concerts, including HBO and PBS specials, and as hosts and performers on prime time. They hosted their own series, The Oak Ridge Boys Live From Las Vegas, for TNN in the late 1990s.
The quartet is one of the most enduring in music and had a long history and dozens of members before the tenures of Allen (born April 29, 1943 in Taylortown, Texas), Bonsall (born May 18, 1948 in Philadelphia), Golden (born January 12, 1939 in Brewton, Ala.) and Sterban (born April 24, 1943 in Camden, N.J.) began. Founder Wally Fowler started the group in 1943 in Knoxville, Tenn., as part of The Georgia Clodhoppers. They were hired to perform for the restricted staff and their families at the nearby Oak Ridge nuclear research facility. They appeared there so often, they eventually changed their name to the Oak Ridge
Quartet in 1945, the year they began performing on the Grand Ole Opry.
The Oak Ridge Boys – the rebranded group – have received 15 CMA Awards nominations and won two: Vocal Group of the Year in 1978 and Single of the Year in 1981 for "Elvira" (the group's backing band won CMA Instrumental Group of the Year in 1978 and 1986). The Oaks were inducted into the Gospel Music Hall of Fame in 2000. Bonsall and Sterban were inducted into the Philadelphia Music Alliance Walk of Fame in 1994. Golden received the Alabama Music Hall of Fame's Life Work Award for Performing Achievement in 1997. And Duane Allen was honored with induction into the Texas Country Music Hall of Fame last year.
The Oak Ridge Boys have participated in decades of philanthropic endeavors including Feed the Children, the Boy Scouts of America and the National Committee for the Prevention of Child Abuse. ~ Wendy Pearl
BUY TICKETS HERE (Ticketmaster)
Visit OakRidgeBoys.com for more information.