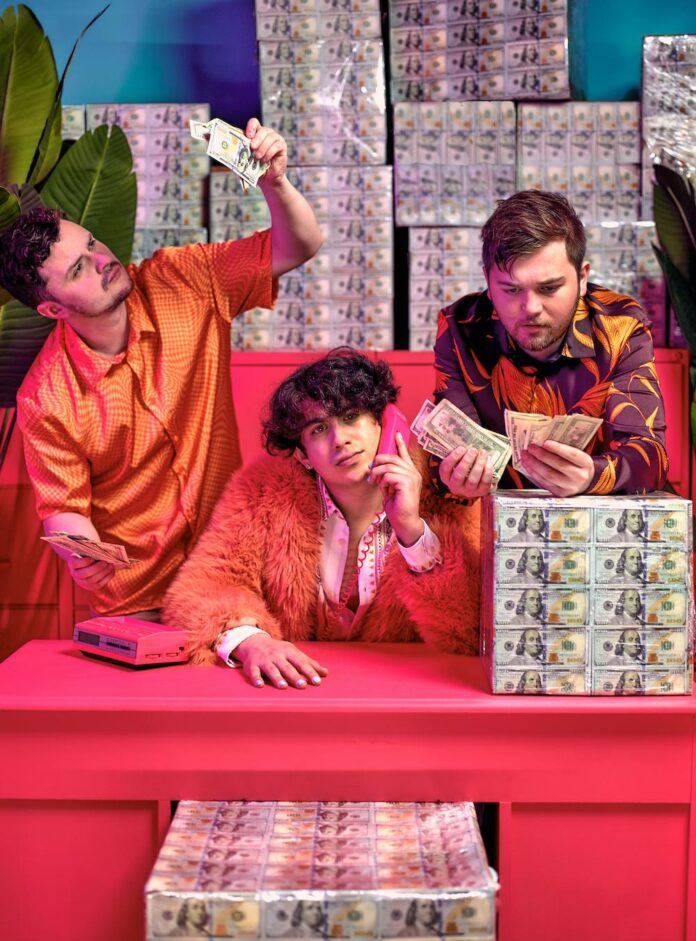 Lively alt/indie-pop trio The Happy Fits share new single "Around And Around" out everywhere now ahead of their highly-anticipated third studio album, Under The Shade of Green, available for pre-order now. In addition to new music, the band will hit the road this fall and winter across the EU and UK, with U.S. dates soon after. Get tickets before they're gone here.
"Around And Around" is the forthcoming album's opening track, one that sets the tone and speaks to how life, in the midst of a pandemic and beyond, can often feel like an endless loop–mirrored by the track's magnetic circular guitar riff written by guitarist Ross Monteith years prior. Explaining how the track came to be, lead vocalist and cellist Calvin Langman says, "It works two-fold to me; during the dog days of the pandemic, it felt like the world was just going around and around and nothing changed. Yet, there'd come months or weeks when it felt like the world was changing so rapidly and violently that I couldn't keep up."
Langman recalls both the online viral trends and the real-life demonstrations that took place in streets across the country that provided inspiration for the song, adding, "One week, millennials were making sourdough bread, and the next we were on the streets taking part in the largest civil rights protest in history for Black Lives Matter. One week, we'd all be binging the next Netflix show, and the next we'd have to internalize a fascist coup." "Around And Around" narrates the days that are impossible to differentiate and offers an escape from monotony in the form of a 2 minute, 34 second high-energy track anchored by a perfect guitar loop and pounding drums.
After overwhelming turnouts at both Napa's BottleRock Festival and Milwaukee's Summerfest, the band will be trotting across the pond to Europe and the UK this fall. The Happy Fits will hit Glasgow, UK on October 17th, Manchester and London the following two days and finish in Berlin on October 22nd. The Happy Fits are quickly gaining traction with over 1.75M monthly listeners on Spotify, 25.6K YouTube subscribers and 9.7M YouTube views. Their 2021 What Could Be Better Tour saw 20+ sold out dates from LA to NYC.
Shortly after, the trio will kick off a lengthy full-length tour through November and half of December stretching from the East, to West, and Southern U.S. Beginning in Burlington, VT on November 8th, the band will head through the Midwest, then across the West including three dates in California, and South including three dates in Texas, before concluding in Philadelphia, PA on December 18. Find a full list of dates below, with tickets on sale now via thehappyfits.com/tour.
The third studio album, Under The Shade of Green, is a moment of processing the last two years for each of the three band members, and invites listeners to join them. In typical Happy Fits fashion, however, the band blends serious subject matter with inescapable hooks and melodies, beaming instrumentation and unparalleled charm.
More than ever, the last two years have exposed colossal systemic failures throughout the world and \ Langman (lead vocals/electric cellist) says the album created space to better understand his role within it. "This album is how I've been processing the trauma of the past two years, from the pandemic, to climate change, to the rise of fascism, to BLM, to finding my place in this broken world. As there aren't many who are left unshaken, I hope everyone can find something dark in here to relate to."
Monteith (guitarist/vocals) adds that in addition to their processing, it offers a place of refuge, healing and cathartic release. "It ranges from small anxieties to existential crises. It was written as a sort of therapeutic way of releasing these emotions that, seemingly, a lot of us have dealt with. It is a reminder for us to stay positive, overcome bad habits, and conquer our fears."
This time, the band's creative process on the album lasted almost six months within the walls of their Brooklyn studio. Together five days a week, they were able to bounce ideas around, work on demos and hone their sound like never before. Luke Davis (drums) says in addition to giving the cello a spotlight in a new way, the band has evolved their sound to fit who they are today. "From the catchy melodies to the insane guitar riffs and cello parts, we have expanded our sound in a way that wouldn't have been possible for us in the past. While still having The Happy Fits feel, a lot of these songs have very driven instrumental melodies."
After the pandemic hit, Langman, like many, deeply struggled both with facing the reality of moving back in with his parents, and with confronting problems within relationships in his life. The track allows Langman to release any excess pain and negativity he had been carrying. Explaining what inspired the track, Langman explains,"There was this overall feeling of disappointment I had for someone I once really respected. Everyone has their empathetic boundaries, and when you reach yours and have to cut off a person, it doesn't feel good any way you slice it. I needed this song to channel all this negative energy into so as to not let it come to a head."
Today's release follows the previously shared "Do Your Worst," a track that aptly concludes the 12 track LP as it is equal parts heavy, emotional and momentous. The cinematic, pineapple-filled video was directed by Joe Lee and Christian Strevy who also worked with the band on their "She Wants Me (To Be Loved)" music video–a four-shot video made at the beginning of the pandemic.
Earlier singles include the irresistible "Dance Alone," and its accompanying video shot at the Cameo Villa, here, and the lead single, "Changes," came along with a whimsical video,
"Around And Around" is out everywhere now ahead of the trio's forthcoming third studio album, Under The Shade of Green, due out August 26, and available for pre-order now. Experience the trio live across the UK and EU, then all across the U.S. this fall and winter. Tickets are on sale now.
Connect with The Happy Fits on Instagram, TikTok and YouTube now, and stay tuned for much more from the ascending band.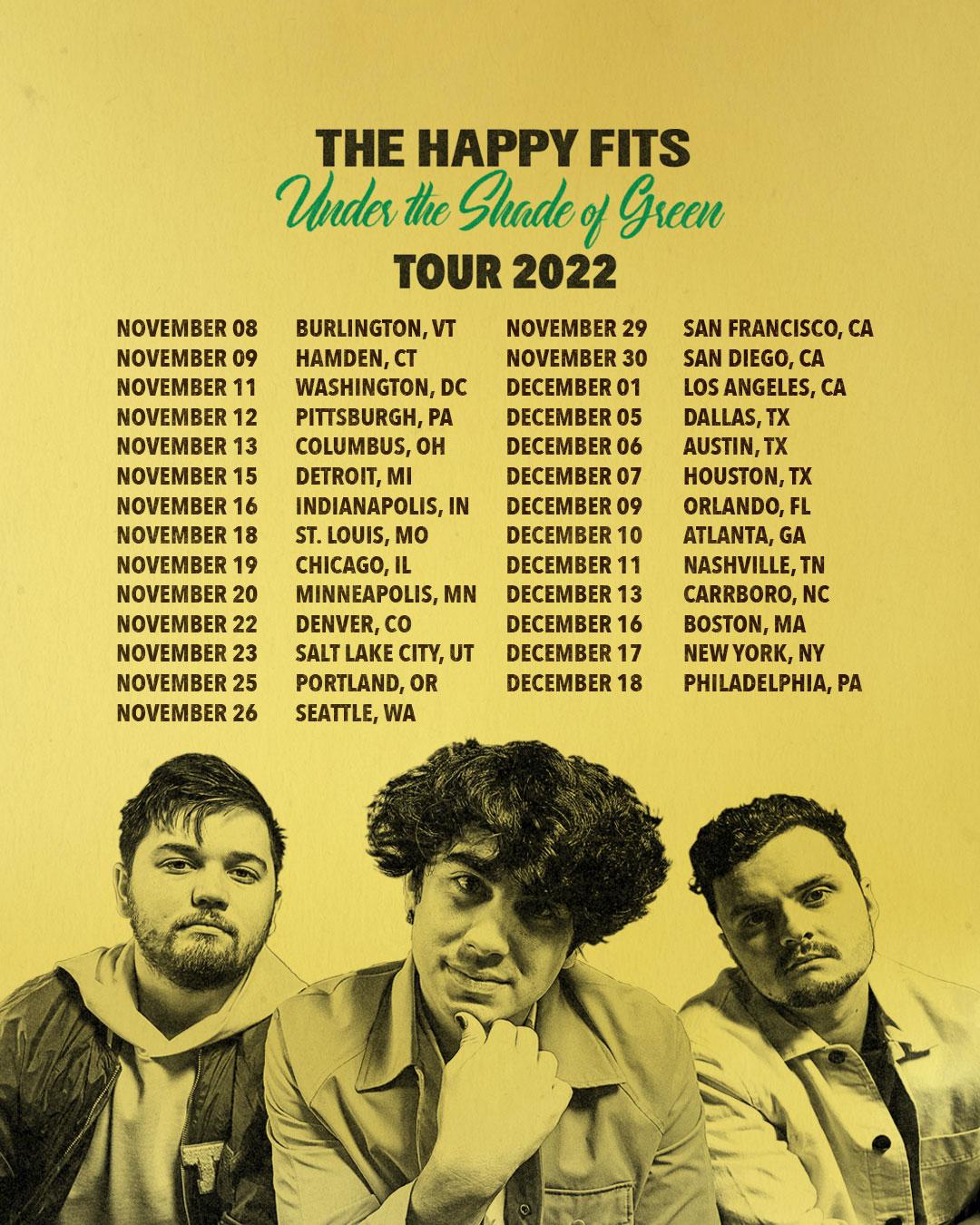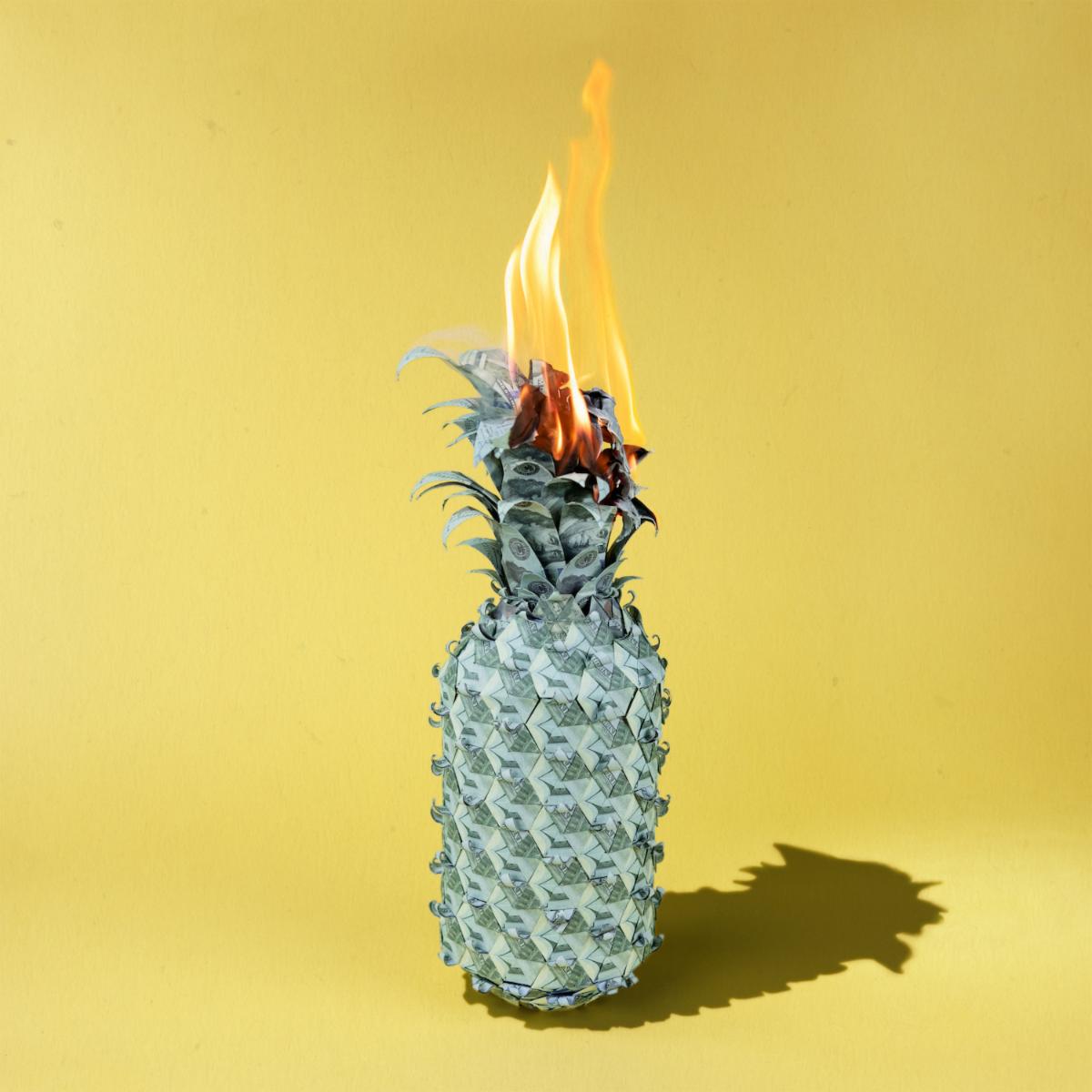 Under The Shade of Green (LP) Tracklisting
01. Around and Around
02. Dance Alone
03. Changes
04. In The Lobby
05. Little One
06. Sweet Things
07. Another Try
08.Cold Turkey
09. I'll Be Somewhere
10. Long Way Down
11. Place in the World
12. Do Your Worst
For more information on The Happy Fits, please visit: