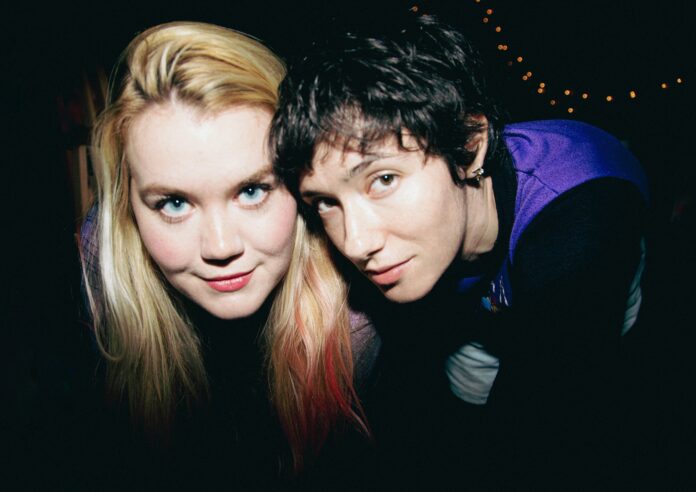 DAISY THE GREAT CALL OUT "LIAR" – LISTEN
NEW SINGLE HERALDS ACCLAIMED INDIE POP DUO'S
EAGERLY AWAITED SOPHOMORE ALBUM
OFFICIAL MUSIC VIDEO STREAMING NOW – WATCH
US TOUR ALONGSIDE THE HAPPY FITS GETS UNDERWAY
NOVEMBER 8 IN SOUTH BURLINGTON, VT
ALL YOU NEED IS TIME ARRIVES VIA S-CURVE/HOLLYWOOD RECORDS
ON FRIDAY, OCTOBER 28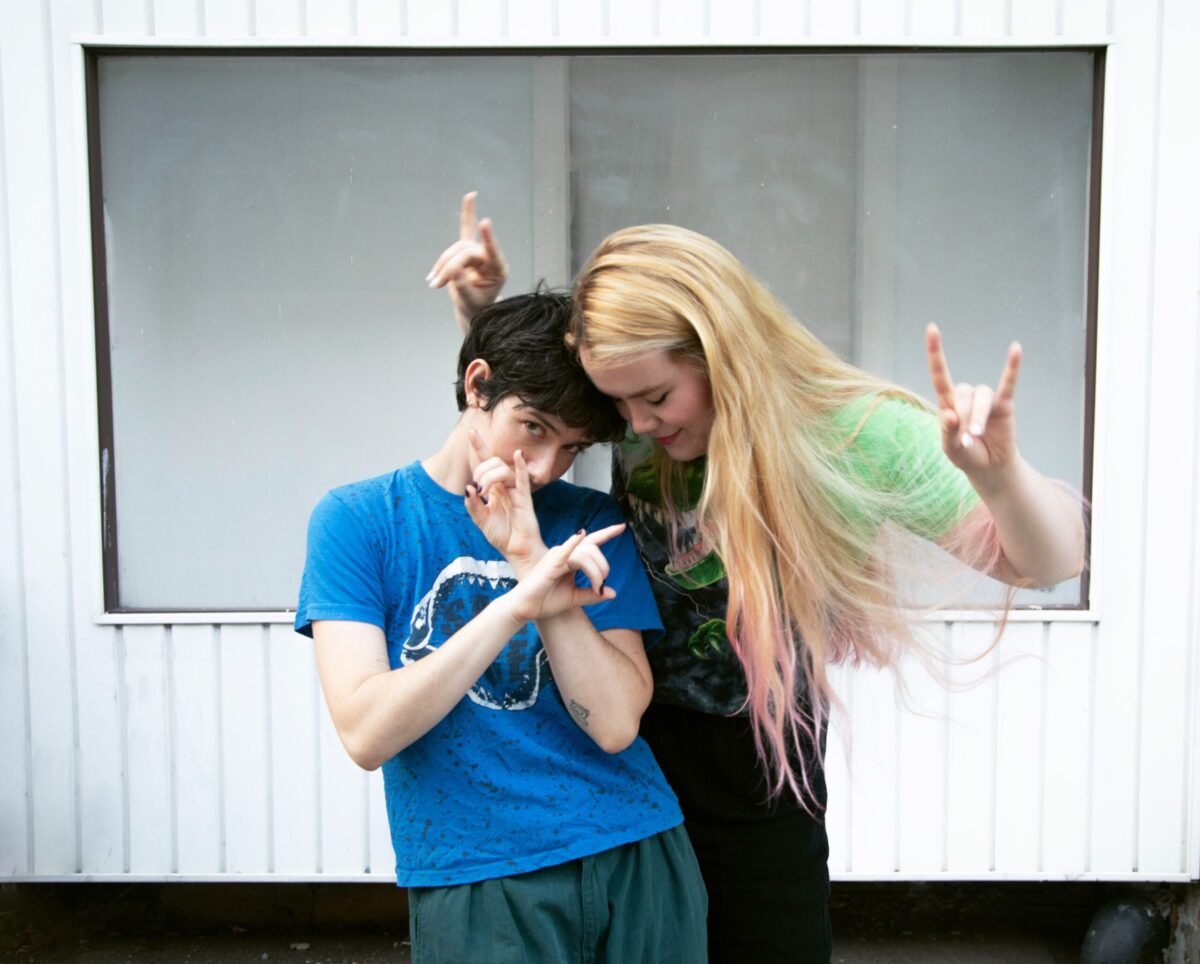 Brooklyn, NY-based indie pop band Daisy the Great have shared their latest single, "Liar," available via S-Curve/Hollywood Records at all DSPs and streaming services HERE. An official music video – co-directed by Daisy the Great and filmmaker Brittany Reeber (Horse Jumper of Love, Parquet Courts, Protomartyr) – is streaming now via YouTube HERE.

"I wrote 'Liar' about four years ago after hanging out with a friend that I had a really close but confusing relationship with," says Daisy the Great's Kelley Nicole Dugan. "'Liar' started as a giant run-on sentence in my notes app on my phone and the song is still basically that sentence. It's about having a crush on a friend but being too scared to address the tension out loud, and how holding on to a secret like that really eats you up inside. I remember writing it all down as a big jumble of feeling frustrated, self-conscious, disingenuous, and ready to move on. We hope the song can give you guts when you need some, whether that means being vulnerable or letting go."

"The music video for 'Liar' takes place on the last day of senior year in high school as a bunch of students are recording camcorder videos to place in a time capsule to open in 10 years," adds Dugan and Daisy the Great co-creator Mina Walker. "It features a ton of our friends, our guitarist Nardo doing some tricks on his rollerblades, Kelley having a mystery crush, and us digging a pretty shallow hole. The video was inspired by SLC Punk, Freaks & Geeks, and the Battle of the bands scene in Freaky Friday."

LISTEN TO "LIAR"

WATCH OFFICIAL MUSIC VIDEO
"Liar" heralds the arrival of Daisy the Great's eagerly awaited new album, ALL YOU NEED IS TIME, available everywhere on Friday, October 28. Pre-saves are available now HERE. Recorded in Brooklyn by rising producer/engineer Torna, with additional production from Gabe Goodman and Daisy the Great drummer Matti Dunietz, ALL YOU NEED IS TIME also includes such emotionally charged singles as "Easy" and the hypnotic "Aluminum," both available now at all DSPs and streaming services. Official music videos are streaming now via YouTube.

PRE-SAVE ALL YOU NEED IS TIME

WATCH "EASY" OFFICIAL MUSIC VIDEO

WATCH "ALUMINUM" OFFICIAL MUSIC VIDEO

Daisy the Great – who have spent much of this summer on the road, lighting up 13 festivals across North America including Lollapalooza, Festival d'été de Québec, Wonderbus, and, most recently, Firefly Music Festival – will celebrate ALL YOU NEED IS TIME with a major US live schedule supporting The Happy Fits' "Under The Shade of Green Tour," set to begin November 8 at South Burlington, VT's Higher Ground and then travel through mid-December. For complete details and ticket availability, please visit www.daisythegreat.com.
DAISY THE GREAT
NORTH AMERICAN TOUR 2022
NOVEMBER
8 – South Burlington, VT – Higher Ground +
9 – Hamden, CT – Space Ballroom +
12 – Pittsburgh, PA – Spirit Hall +
13 – Columbus, OH – Newport Music Hall
15 – Detroit, MI El Club +
16 – Indianapolis, IN – Old National Centre +
18 – St. Louis, MO – Delmar +
19 – Chicago, IL – Metro +
20 – Minneapolis, MN – First Avenue +
22 – Denver, CO Summit +
23 – Salt Lake City, UT – The Complex +
25 – Portland, OR – Wonder Ballroom +
26 – Seattle, WA – Neptune Theatre +
29 – San Francisco, CA – August Hall +
30 – San Diego, CA – House Of Blues +
DECEMBER
1 – Los Angeles, CA – The Fonda Theatre +
5 – Dallas, TX – Trees +
6 – Austin, TX – Scoot Inn +
7– Houston, TX – White Oak Music Hall +
9 – Orlando, FL – The Plaza Live +
10 – Atlanta, GA – The Masquerade (Heaven) +
11 – Nashville, TN – The Basement East
13 –Carrboro, NC – Cat's Cradle +
16 – Boston, MA – Paradise Rock +
17 – New York, NY – Webster Hall +
+ w/ THE HAPPY FITS "UNDER THE SHADE OF GREEN TOUR"
# # #
As Daisy the Great, Kelley Nicole Dugan and Mina Walker make folk-inflected indie rock that spans a multitude of moods, capable of being clever, devastating, or both simultaneously, spanning harmony-laden pop to powerhouse balladry. The pair first met as acting majors at NYU's Tisch School of the Arts where they began co-writing a musical about a fictional band before realizing they could make it happen in real life and set out as Daisy the Great.
2017 saw Daisy the Great make an auspicious debut with "The Record Player Song," which quickly proved an immediate smash now boasting over 20M worldwide streams and multiple viral moments on TikTok. A full-length debut LP, I'm Not Getting Any Taller, arrived in 2019, followed in 2020 by the quarantine-born Soft Songs EP. In 2021, Daisy the Great teamed with acclaimed indie-pop trio AJR for "Record Player," a brand new song inspired by their original 2017 hit, available at all DSPs and streaming services HERE. An official animated video now boasting close to 3M views is streaming via YouTube HERE.
Having now grown into a full six-piece band currently featuring Matt Lau on guitar, Bernardo Ochoa on bass, Matti Dunietz on drums, and Brie Archer on additional vocals, Daisy the Great first heralded ALL YOU NEED IS TIME earlier this year with the dazzling "Glitter," available for streaming and download HERE. Hailed by Atwood Magazine as "a dreamy, inspiring alternative anthem to let our light shine," the track is joined by an official music video – directed and edited by Dugan and Walker – streaming now via YouTube HERE. In addition, an entrancing "Press Play" live performance video can be viewed at the official Recording Academy/GRAMMYs YouTube channel HERE.
Spring 2022 then saw the premiere of the new album's energetic "Cry In The Mirror," available at all DSPs and streaming services HERE. An official music video – directed by San Francisco-based filmmaker Dillon Dowdell (Wallows) – is steaming now at YouTube HERE.
"Our music is generally pretty introspective, and we are often interested in the complexities or ironies we see within ourselves," Dugan says. "That's something we love about writing—you can say something small and delicate and true that maybe feels scary to say, but once you put it out there, it can turn into a comfort for anyone that might also be feeling that way."
# # #
DAISY THE GREAT
ALL YOU NEED IS TIME
(S-Curve/Hollywood Records)
Release Date: Friday, October 28
TRACKLIST
Time Machine
Glitter
I'm Just Another Person Oh God
Aluminum
Cry In The Mirror
Tell Me Have You Been Dancing
Liar
I Don't Wanna Fall
Easy
Routine
Smile Pretty Girl
# # #
CONNECT WITH DAISY THE GREAT
OFFICIAL | FACEBOOK | INSTAGRAM | TIKTOK | TWITTER | YOUTUBE