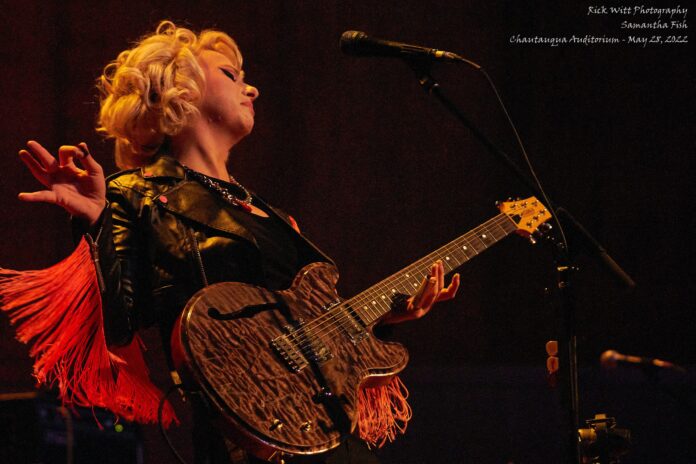 As a general rule blues artists tend to cover a lot of ground when it comes to musical genres.  When you hear that so-and-so plays the blues, it's a pretty good bet that so-and-so's catalog of music contains songs that fall into any combination of traditional blues, contemporary blues, rock, pop, Americana, country, funk, soul, and any number of other styles or genres.  If there's an artist who epitomizes that level of diversity more than Samantha Fish, I'm not sure who it would be.
Just 33 years old, Samantha Fish has released seven solo albums since 2011.  And while she's known to the world as a "blues artist", those seven albums include an amazing range of musical styles.  Her most recent release, last year's Faster, includes elements of many of the styles listed above, and more.  She even throws in a little hip-hop, just to keep things interesting.
In support of the Faster album, Samantha and her band rolled into Boulder's Chautauqua Auditorium last night.  The place might never be the same.
A word about the venue, specifically for those of you who might not have attended a show there. Do it. Get to a show at this terrific venue. Originally built in 1898, but meticulously renovated multiple times since, "The Barn" boasts exceptional acoustics in an intimate (seating capacity of just over 1,300) setting. This was my first visit to the auditorium, but it definitely won't be my last.
Back to the show itself…
The Boulder-area crowd was treated to an incredibly high octane, 14-song set that included selections from five of Fish's seven albums, plus a couple of solo acoustic covers that Fish acknowledged were impromptu.  I love it when an artist goes deep into their catalog in their live performances, as was the case last night.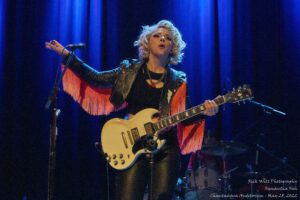 Fish and her backing band (Ron Johnson on bass, Sarah Tomek on drums, and Matt Wade on keyboards) took the stage at straight-up 8:30 pm, setting the tone for the evening with the electrifying "Bulletproof" from the Kill or Be Kind album.  Opening the show playing slide on her signature, customized cigar box guitar is a gutsy move, because it sets the bar for the rest of the set at an extremely high level.
Alternating between blazing blues/rock/pop and gentler ballads, Fish held the crowd captive for 90 straight minutes. Explaining that they were working under a strict time limit, and therefore would "forego the theatrics" of leaving the stage only to return for an encore, they frequently transitioned straight from one song to another.  I particularly loved the transition from "Bitch On The Run" to "So-Called Lover" … it almost seems like those two tunes were written to be presented together.  They obviously weren't – "Bitch On The Run" appeared on the 2015 album Wild Heart, while "So-Called Lover" is from last year's Faster album.
In addition to "So-Called Lover", the set included "All Ice No Whiskey", "Twisted Ambition", and "Better Be Lonely" from the Faster album.  Beyond the opener "Bulletproof", the set included "Kill Or Be Kind", Watch It Die", and "Dream Girl" from 2019's Kill Or Be Kind album.
Fish has extraordinary charisma.  Her banter with the crowd is authentic and fresh, and for a person who notes that she was shy growing up and is still somewhat that way, she completely owns the stage.  Her facial expressions clearly convey how much fun she's having while performing, and her rock star posing confirms that she's completely in control.  And oh, by the way, the girl can shred!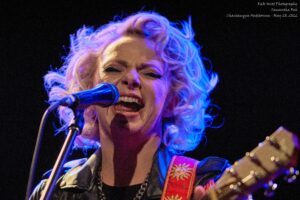 The band is tight, and clearly enjoys each other's company.  In an interview I did with Fish in advance of her show last night, we talked about how important it is to have the continuity of the same group over time.  Tomek on drums is a powerhouse, Johnson on bass is exuberant and animated, and Wade just flat out kills it on keys.  Individually they shine, but it's as a group that they excel.
It's difficult to call out specific highlights from last night's show because it was pretty much a highlight from start to finish.  The rockers were electrifying, and the ballads showcased Fish's strong singing voice. The show ended with the title track from the 2013 album Black Wind Howlin', an extended blues-rock tune that gave Fish one last chance to just rip it up on guitar.  Moving from stage right to stage left and back again, Fish made the guitar scream in this powerhouse of a closer.
Before leaving the stage, both Fish and Johnson pulled the taped-down setlist from the floor and handed them to members of the crowd.  Fish high-fived several people in the front row, then followed the rest of the band off stage, while the crowd showed their appreciation with a boisterous standing ovation.  "The Barn" was still standing, but maybe just barely.
Read the DEH Interview here; Interview: Samantha Fish.