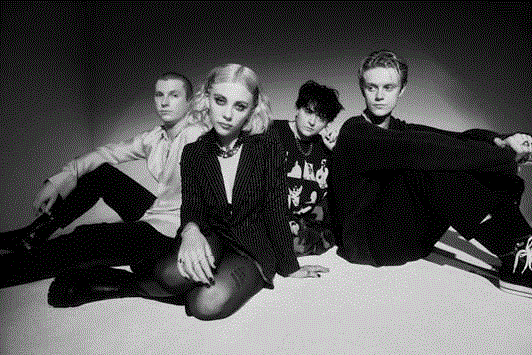 Rising indie stars and one of the hottest bands out of the UK Pale Waves will be opening for 5 Seconds of Summer's North American tour amidst releasing new music ahead of their August album – they come to Denver, CO on 6/22 at Fillmore Auditorium.
Pale Waves have made a name for themselves by inspiring inclusivity and self-discovery and creating an accepting place for their passionate fans looking to find a community – check out this Vanity Fair piece. Their new music is tapping into a fresh tone of defiance. The band's new album Unwanted will be out August 12 on Dirty Hit (home to The 1975, beabadoobee, etc.), featuring lead single "Lies" which premiered on BBC Radio 1 as Hottest Record In The World – PRESS HERE to watch the video for the rebellious pop-punk anthem.
Their 2021 album Who Am I? hit #3 on the UK album charts and received critical acclaim from Pitchfork, Vanity Fair, Billboard, NPR, Wall Street Journal, MTV, Buzzfeed, The FADER, AV Club, Vulture, Consequence, Stereogum, Alternative Press, NYLON, and many more.
Cementing their status as one to watch with sophomore album Who Am I?, Pale Waves flipped the script with Who Am I? to introduce a nostalgic pop-punk sound built on newfound confidence with standout singles  "Change," "Easy," and "She's My Religion" alongside a distinct, guitar-laden alternative energy.
Pale Waves – comprised of front woman Heather Baron-Gracie (she/her); drummer Ciara Doran (they/them); guitarist Huge Silvani (he/him) and bassist Charlie Wood (he/him) – made an immediate splash when they debuted on the music scene with their debut album My Mind Makes Noises, hitting the Top 10 on UK Album Chart, winning the NME Under The Radar award, touring with fellow Dirty Hit label mates and mentors The 1975 as well as Muse and The Cure, performing at Reading, Leeds, Lollapalooza, and SXSW, and appearing on Late Night with Seth Meyers.