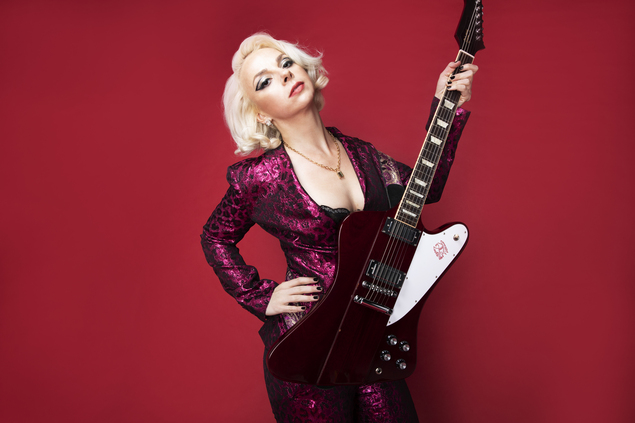 Award-winning singer, songwriter, and guitarist Samantha Fish brings her 2022 tour in support of her latest album Faster to the Chautauqua Auditorium in Boulder on Saturday, May 28.  I recently talked with Samantha via phone from her home in New Orleans, as she was preparing to set out on the next leg of the tour.
Rick: Thank you so much for joining me, Samantha… I greatly appreciate you taking the time.  Where are you now… are you taking a little time off from the road, or getting ready for your next gig?
Samantha: Yeah, I have two days off between… I was in California and I'm going to Virginia tomorrow, but you know two days off isn't much when you're trying to kick off something else.  Its two days off, but it's two really hectic days.
Rick: You're scheduled to play the Chautauqua Auditorium in Boulder on May 28.  You've done a lot of gigs in Colorado over the years, but I wasn't sure if you'd ever played in Boulder before.
Samantha: Colorado has such an amazing music scene that even if I haven't played Boulder before, which I'm pretty sure I have, but if I haven't I've played really close to it.
Rick: Are Sarah (Tomek), Ron (Johnson) and Matt (Wade) with you on this tour, or do you have different backing players?
Samantha: Yeah, I'm going to have them with me.
Rick: I've got to imagine that the continuity of having the same backing band over time is really beneficial when you're up on stage.
Samantha: Absolutely. You know you've got to build this rapport and this relationship on stage. You have to anticipate where everybody's going to go and it just takes time. It's like a relationship – to really get to know people, and how they play.  That's all super important.
Rick: You're generally promoted as a blues artist, but your music crosses a lot of genres.  Does it bother you that people who might not be familiar with you are usually presented only with that blues classification, or does it matter at all?
Samantha: You know, I think that once people come and see the show they'll see that I've never been a traditional, purist type of a blues player. But it's always there, and a cornerstone of my playing and I'm deeply inspired by the blues. It doesn't bother me… it's just a matter of what do people perceive the blues as, and everybody's different.  Some people see it as this sort of cross-genre – they can see all the different sub groups of the blues, and then some people, when they hear "blues music" they think, oh they play a very specific, traditional style.  You're always going to be promoted as something, and I'm happy just to be promoted, first of all. And I love the blues, and I've always considered that to be a major part of what I do. I champion the genre, and I love talking about my heroes within the genre, so I do just as much promotion talking about the blues in my interviews and through my music, so it doesn't bother me.  I just love when people come and listen to it and see that there's more to it and that there's other genres involved. I try to incorporate a lot of rock and roll, and soul, and there's even some Americana in some of my albums, so I'm kind of all over the map.
Rick: You even blended in some hip hop on the new album.
Samantha: Well yeah, and in that song in particular, when we chose to have Tech feature on that song, the song itself was already spanning several different fields and genres to me.  It starts sort of R&B – kind of reminds me of an Irma Thomas New Orleans or R&B sort of progression, it's very lilting in it's feel, and then it goes into this 1970's sort of chord-y rock and roll, and then Tech N9ne busts out of nowhere, and it's kind of cool.  I like crossing genres.  I think it's refreshing, and it's not so much me saying we're going to mix this genre with this other genre, it just kind of what the songs are.  You just sort of write a song, and as an artist it just kinda comes out the way it comes out.
Rick: It just seems like a logical progression.  Over time things just don't stay the same.
Samantha: Exactly. And I like to switch it up album to album.  And again, it's not like a conscious thought that I'm going to go in this direction. It's just sort of where I'm at when I'm writing and when I go in to record.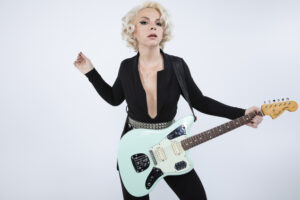 Rick: I have to ask you about your early history with Knuckleheads in Kansas City.  I've seen shows there… it's such an awesome venue.  How important was if for you, when you started working to break into this business, to have a venue like that in your back yard?
Samantha: When I was like, 17, the first time I ever went my dad took me and I saw my first blues act there. I'd already been to a couple of big concerts at that point, but nothing really like that.  It was smaller back then – they hadn't really expanded the venue back then to be what it is today.  It was smaller, and so intimate, and made me feel that it wasn't so far fetched that I could be a musician and work my way up to the place where I want to be because you can play in some of these rooms where you can grow and the venues grow with you. So just to see that was inspiring because I kind of felt like I didn't have a roadmap of how to get where I wanted to go.  Knuckleheads opened my mind a lot, and I started going all of the time.  The venue owner, Frank, and the sound guy, Pete, were really, really kind to me.  They would talk to bands coming through and tell them, "Hey we have this girl, she's young, but can she sit in and play guitar with you guys?" and a lot of times they'd say yes because it's just that kind of place.  And I started cutting my teeth, and going to the open jams, and having that open door and freedom and feeling welcomed and invited, it gave me confidence and helped me hone my skills.  It led me to meet some of my peers… one of them being Mike Zito, who introduced me to Ruf Records, and I ended up on the Girls With Guitars tour, and got my record deal, and a lot of that started right there at Knuckleheads.
Rick: One of the things I love most about covering the blues genre is that it seems to me that blues artists are just natural fits for smaller venues.  It seems that blues artists are so authentic, and really thrive on that close contact with their audience.  Is that the way it's always been, or is that somewhat a byproduct of having to go without touring during the COVID lockdowns?
Samantha: I would say that prior to COVID it was even more. I mean I used to go out and do meet and greets, but with COVID that kind of went away, out of necessity and to keep the tour healthy.  I don't know necessarily what other artists are doing right now as far as that goes, but in a smaller venue, it's so intimate, you're already in a smaller room playing music with people right up close, you might as well go and meet everybody.
Rick: I always like to end my interviews by turning the tables, and asking the person I'm interviewing what question have they never been asked, that they wish they had.  In other words, if you were interviewing yourself, what would you want the people who are going to read this interview know about you, that maybe hasn't come up in an interview before?
Samantha: That's a really tough question because I've fielded all kinds of questions.  I guess maybe more time could be spent on content – lyrical content because I spend a lot of time crafting songs that tell a story.  I didn't get it in this interview, but I definitely get a lot of the "what's it like to be a girl?" questions in a lot of interviews, and I wish we'd spend less time on that because 51% of the population already knows (laugh).  But I guess asking more questions about the art would be nice.  I love when people take the time and have a thoughtful question about a particular song because it gets into specifics.  You answer so many generic questions all of the time, and those are fine, but when you're answering questions more specific to the art, that's where people get some new piece of information.
Rick: Last question… a really important one.  My daughter lives in Kansas City, and every time I visit her we make it a point to try one or two different BBQ joints.  Do you have a personal favorite you would recommend for my next trip there?
Samantha: Okay, so I'm gonna tell ya.  These are my favorites.  Maybe it's because I grew up eating Arthur Bryant's and I grew up eating Gates, that I have such an affinity for those two. I really love the sauce at Arthur Bryant's.  I live in New Orleans, and I'm looking at it right now – I've got it in my kitchen. I love Gates.  They've got one of the best burnt end sandwiches, burnt end on buns – knock your socks off. And there's this place up in Excelsior Springs called Wabash BBQ that's open seasonally, and it's a far drive but we used to play out there and they would give every band member a slab of ribs to take home, and I swear that they are the most tender ribs you'll ever eat in your life.
Samantha Fish, with support from the Cary Morin Duo.  Saturday, May 28, Chautauqua Auditorium, Boulder, CO.  Door open at 6:30 pm, show at 7:30 pm.  Tickets:  https://www.chautauqua.com/event/samantha-fish/
Photos courtesy of Kevin & King