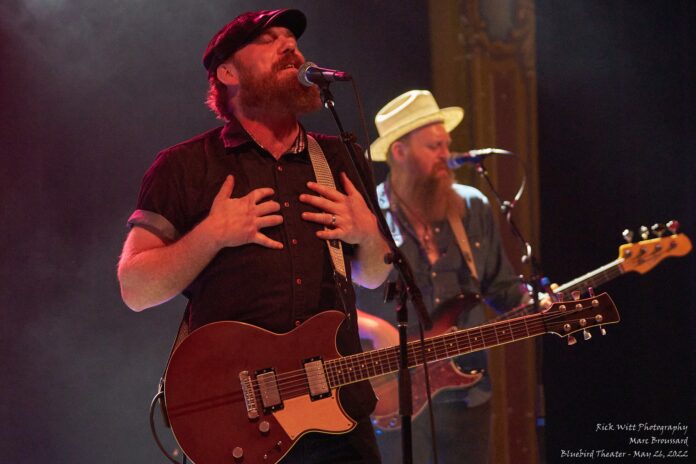 Full Disclosure: While pretty much every artist or group I cover are ones I have been following as a fan for years, Marc Broussard is relatively new to me.  I first became interested in him when I saw him on the artist list for one of Joe Bonamassa's "blues cruises".  Assuming he (Broussard) was primarily a blues artist, I decided to check him out.
A proud native of Louisiana, and the son of Louisiana Hall of Fame guitarist Ted Broussard, Broussard's career spans two decades, and ten albums.  (Side note: He's also the author of a children's book titled "I Love You For You", which is about accepting people for who they are.  The book was released in conjunction with a lullaby album.  Proceeds from the sale of the book go to Our Lady of the Lake Children's Hospital in Baton Rouge, LA.)
Broussard does play some blues music, but he certainly covers a lot more ground than that.  His style has been described as "Bayou Soul", which combines elements of funk, blues, R&B, rock, folk, and pop.  As I started listening to Broussard's impressive catalog, I found this mix of styles to be extremely appealing and engaging.  One minute you're listening to a solo acoustic tune, the next you're grooving to a funky beat complete with a backing horn section.  It takes a lot of talent to be able to stretch that much, and to do it so well.
That's what Broussard brought to the Bluebird Theater in Denver last night – a live show that crossed a lot of lines (in a good way!), and left the capacity crowd feeling great about the way they spent their money and their time.
Before we talk about Broussard's set, however, I need to give a special shout-out to opening act Johnny & The Mongrels, and their terrific opening set.  This Colorado and Louisiana-based group was a perfect complement to Broussard, with their self-described "Swamp Funk & Bayou Soul" sound. Toward the end of their set, one member of the crowd I was standing next to leaned over to me and said, "It isn't often that you hope for the opening act to come back for an encore".  According to their website, they'll be playing another gig in Denver on June 25, at the Washington Park Grill.  I would highly recommend trying to catch them, if you can.
At shortly after 9:00 pm Broussard and the band attempted to take the stage quietly. The capacity crowd, however, was having none of it.  Raucous from the moment they laid eyes on him in his signature Kangol-style hat, they let him know they were there to be active participants.  Several times during the evening Broussard stepped back from the mic with a mile-wide smile, seemingly in awe of the outpouring of love and appreciation.
The show opened with one of Broussard's oldest tunes "The Wanderer", which appeared on both his 2002 independently released album Momentary Setback and his 2004 major label release Carencro.  With Broussard's voice soaring, the tone for the evening was set.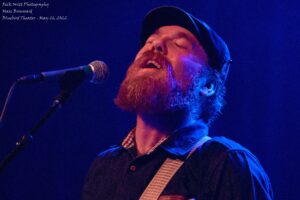 Next up was "Baton Rouge", perhaps my all-time favorite Broussard tune, from his 2017 release "Easy To Love".  "Baton Rouge" is actually a cover, originally recorded by Scottish singer Frankie Miller. But as he does with countless other covers, Broussard has made this tune his own.  Only two songs into the set, and I already have my first "highlight moment" to look back on.
There simply aren't enough superlatives to adequately describe Broussard's voice.  His range is incredible – from higher alto to low tenor.  Over the course of an evening, he'll go from soulful crooning to blues-rock edginess to acoustic ballad sweetness.  (Although on this night Broussard's slower tunes were played electric, not acoustic.) Not many singers can cover that much territory, seemingly without effort. But Broussard can, and does.
Broussard's love of classic R&B, soul, and funk was demonstrated multiple times throughout the evening, with medleys that included "If You Want Me To Stay" (Sly and the Family Stone), "Fire On The Bayou" (The Meters), "Superstition" (Stevie Wonder), "Mothership Connection" (Parliament), and "It's Your Thing" (The Isley Brothers).  Yes, you read those song titles correctly. No wonder Broussard has described himself simply as "a white boy singing soul".
Further evidence of Broussard's soul roots was his cover of Al Green's "Love And Happiness". Imploring the crowd to sing along, Broussard explained that with being on the road for so long he didn't even know what day it was, and he needed the crowd's help to set him straight. Based on the interplay with the crowd he concluded that it must be Saturday night.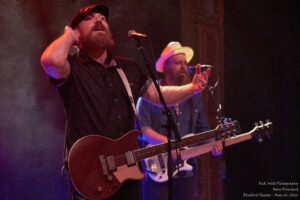 Other highlights of the evening included Broussard originals "Lonely Night In Georgia", "Rocksteady", and an absolutely ripping version of "Home".  (Okay, maybe that latter one is my favorite Broussard tune.)  As a special treat, the crowd was also introduced to a new tune called "Fire", an up-tempo blues rocker.
No Broussard show would be complete without his cover of Solomon Burke's 1962 classic "Cry To Me", which was last night's encore. In his typical engaging way, Broussard introduced the song with a hilarious story about how when it originally came out it revolutionized how people danced together.  Here he was, an hour and a half into an exceptionally high-energy show, still bouncing around the stage, engaging with the crowd, and showing off his extraordinary vocal talents.  It's all part of the mystique of Marc Broussard, and why he has such a loyal and ardent fanbase.
Last night's show was part of a five-shows-in-five-nights stretch in Colorado.  He played to a sold-out crowd in Fort Collins the night before, and is returning to Fort Collins for a second sold-out show tonight.  He then jumps to Beaver Creek as part of the Blues, Beers & BBQ Festival on Saturday, before concluding his Colorado appearances with a show in Colorado Springs Sunday night.  Apparently, the Centennial State appreciates "Bayou Soul" as much as I do.