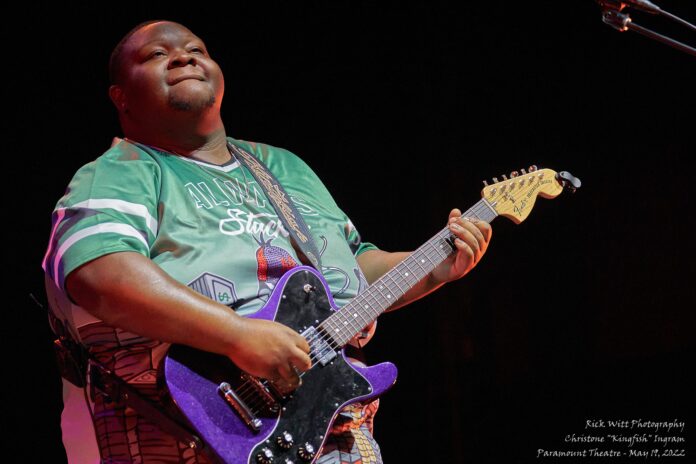 The future of the Blues is in extraordinary hands (and fingers).
Fresh off his 2022 Grammy win for Best Contemporary Blues Album, guitarist Christone "Kingfish" Ingram brought his 662 Juke Joint Live Tour to Denver's Paramount Theatre last night.  662 is the name of that award-winning album… only the second album release of this 23-year-old's career.  Given the level of this young man's talent, it's not likely to be his last honor.
This is Ingram's second stop in Denver in the past seven months, he played the Summit Music Hall in LoDo last October.  I had the pleasure of attending that show and was absolutely blown away. When I saw the announcement of his return to Denver for 2022, I immediately scooped up a pair of tickets that would guarantee me the opportunity to introduce my son to Ingram's incredible talent.  Last night's show didn't disappoint either of us, or anyone else in attendance.
A self-described old soul, Ingram has been performing live since he was in the seventh grade.  At the age of fifteen, he performed for Michelle Obama at the White House as part of the Delta Blues Museum Band.  His first album release, 2019's Kingfish, soared to the number one spot on the Billboard Blues Chart, and was nominated for the Grammy's Best Traditional Blues Album award.  No less an authority than Buddy Guy has called Ingram "the next explosion of the blues".
"Explosion" is as good a word as any to describe a Kingfish live show.  His shows start with his band (drummer Chris Black, bassist Paul Rogers, and keyboardist DeShawn "DVibes" Alexander) quietly taking the stage.  About a minute later, the venue is filled with a blistering guitar solo coming from off-stage.  The band begins to play, and shortly afterward Kingfish walks onstage still jamming.  Stepping to the mic he launches into "She Calls Me Kingfish", from the 662 album, and off we go.
Ingram's 14-song set was exceptionally well put together, flowing back and forth between up-tempo blues-rock, slower electric blues, and solo acoustic.  He followed "She Calls Me Kingfish" with "Fresh Out" from the Kingfish album, then slowed things down with "Another Life Goes By", and an absolutely scorching version of "Empty Promises".
Nine of the songs in the set came from 662… almost the entire album.  The rest of the set was filled out with songs from the Kingfish album, plus two covers, "Proud Mary" (duet with opener Brittney Spencer) and "Hey Joe", which was the closing tune of his two-song encore.
While the entire show was stellar, two highlights in particular are worth calling out.  First, the Kingfish Walkabout, which is a staple of his live shows (and a nod to his hero Buddy Guy).  In the middle of "Too Young To Remember", Ingram walked off stage, still playing, only to emerge stage left at floor level.  He then spent the next ten plus minutes walking among the crowd, stopping here and there, while continually playing.  To say this whipped the crowd into a frenzy would be a gross understatement.  The entire theater was on its feet, cameras on, trying to catch the magic as Kingfish passed by.  Eventually, Ingram returned to the stage, finishing the song to an extended standing ovation.
The second followed immediately after "Too Young…".  While the rest of the band exited the stage, Kingfish picked up an acoustic guitar, and launched into solo versions of "That's What You Do" and "Something In The Dirt".  Those two songs in particular gave Ingram an opportunity to show off his exceptional voice.  With all the attention being paid to Ingram's guitar playing, his vocal strength could be overlooked and that would be a mistake.  According to Ingram, he actually started focusing on his singing as a toddler, well before he learned to play guitar.  The result is one of the smoothest singing voices in the business… reminding me a lot of the great Keb' Mo'.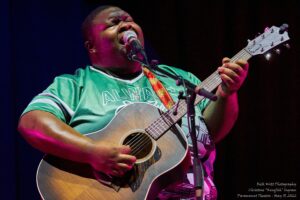 The band returned, and finished the regular set with "You're Already Gone" (with Kingfish still playing acoustic), followed by "Not Gonna Lie", "Outside Of This Town", and the title tune from the 662 album.  A stunning set from an amazing artist.
The band returned to yet another standing ovation for a two-song encore beginning with the hard-rocking "Long Distance Woman" and ending with the aforementioned "Hey Joe" cover.  With Kingfish forcing the guitar to cry, I looked around the crowd to see countless people with their heads held back, eyes closed, just soaking up the Hendrix vibe.  It was the sign of a crowd that had gotten all they had paid for, and more.
Added note…
One of the most impressive things about Ingram, forgetting a minute about his unbelievable talent, is his authenticity and understanding of his place in the greater scheme of blues history.  You find it everywhere in the lyrics of his songs.  For example, in "Too Young To Remember", he notes, "When you see me playing guitar, you're looking back 100 years" and "I'm too young to remember, but I'm old enough to know".  In "I'm Not Gonna Lie" he sings, "Got to keep it going, I promised Buddy Guy.  This is our history, and I'm not gonna lie".  Both of those songs were part of the set last night, as well as several others paying homage to the history of the blues, his hometown of Clarksdale, Mississippi, and the musical heroes who have inspired his journey thus far.  Here's hoping that journey continues for a long, long time to come.
Pictures and story by Rick Witt (https://www.rickwittphotography.com)