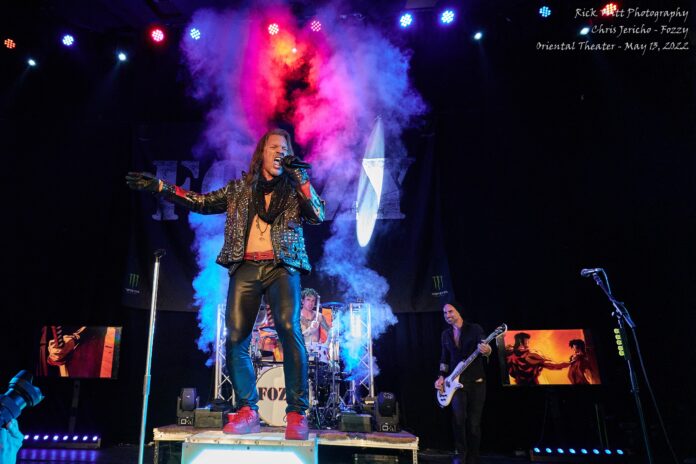 There are so many backstories about Fozzy that it's impossible to distill it down to just one…
Like the fact that the original name of the band was Fozzy Osbourne, a play on the name of singer Ozzy Osbourne.  Founded by guitarist Rich Ward, Fozzy Osbourne was a heavy metal cover band.  In fact, the band's first two albums (released under the shortened name Fozzy) consisted mostly of covers of Dio, Krokus, Twisted Sister, Iron Maiden, Mötley Crüe, Judas Priest, Black Sabbath, Scorpions, W.A.S.P. and Accept.
Or the fact that front man Chris Jericho, a long-time professional wrestler who joined Fozzy in 1999, originally came into the band under the persona of Moongoose McQueen.  He kept up this guise until 2003, during which time Jericho claimed to be a huge fan of McQueen and Fozzy, while McQueen claimed to not know who Jericho was.
Or how about the band claiming to have been stranded in Japan for 20 years, due to a contract issue with their record company, only to see their original material being recorded by artists like the Scorpions and Ozzy Osbourne.
To say that Fozzy has an "interesting" history would be a gross understatement.  What isn't an understatement is the fact that over the past two plus decades Fozzy has been a continually growing force in the rock, hard rock, and heavy metal space.  With five consecutive top twenty singles to their credit and their eighth studio album (Boombox) having been released earlier this month, the band is wrapping up their 30 date "Save The World" US tour.  That tour brought them to Denver's Oriental Theater last night.
Last night's set included five songs from the newly released Boombox album, including "Sane", "I Still Burn", "Purifier", "Relax" (Frankie Goes To Hollywood cover), and "Nowhere To Run".  Boombox was five years in the making.  Their follow up to 2017's hugely successful Judas was originally slated for a 2020 release under the planned title 2020.  But when it became obvious the album wouldn't meet that timeline, the 2020 name and theme were dropped.  With COVID related delays and limited touring in 2020 and 2021, tying the release of Boombox to correspond with the band's 2022 tour made perfect sense.
Fozzy knows how to put on a show.  The lights, smoke machines and, of course, the music create a visceral experience you see, hear and feel.  Jericho is a polished and savvy front man, both a showman and a vocalist.  Ward's stage presence matches Jericho's for energy and intensity. Those two set the tone, but guitarist Billy Grey, bassist PJ Farley, and drummer Grant Brooks follow in lock step.  To a man they present as a group that truly loves being on stage…  a vibe that is picked up and returned by the audience. They never took their collective foot off the pedal in their 15-song set, from their opener "Sane" through the closing cover of AC/DC's "Dirty Deeds Done Dirt Cheap".
The crowd was rowdy and loud.  Multiple times during the set, Jericho just stood there with a smile on his face, marveling at the "Fozzy, Fozzy, Fozzy" chants.  Usually when a band invites the crowd to sing along, the response is solid.  When Jericho invited the Oriental crowd to sing along, the response was overwhelming.  Oriental crowd… kudos to you for blowing the roof off!
In addition to the heavy dose of songs from the new Boombox album, the set included four songs – "Painless", "Drinkin With Jesus", "Burn Me Out", and the title track – from the 2017 release Judas, their first album to be certified gold by the RIAA.  The rest of the set was filled in with Fozzy concert staples, including "Do You Wanna Start A War", "Lights Go Out", "Sandpaper" and "Enemy".  That last song featured an extended set of excellent guitar solos by both Ward and Grey.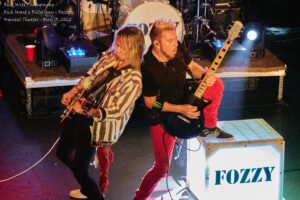 With just three dates remaining on the current tour, Fozzy has an opportunity, at least on paper, for some well-deserved rest.  But something tells me the band won't take too much time away.  Given how much fun they appear to have being on stage, and knowing that the May 6 drop date of Boombox will only fuel their rabid fan base's loyalty, I'd be surprised if they aren't back on the road fairly soon.  If you get a chance to see them perform live, I highly recommend that you jump on it.  If you have any inclination toward hard rock/heavy metal, this is a band that should be on your "must see" list.
Photos and review by Rick Witt (https://www.rickwittphotography.com)