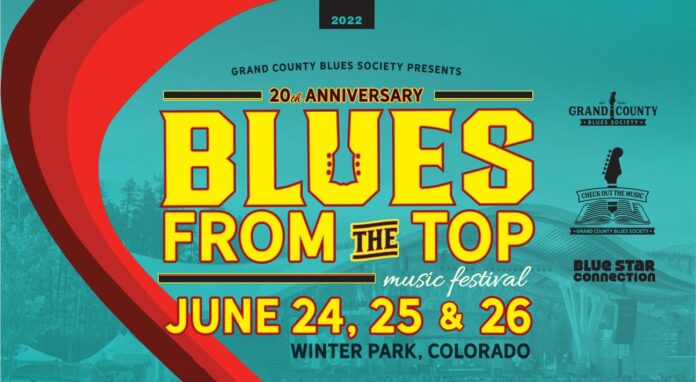 Get ready, Colorado… the 2022 Blues From The Top Festival, from Winter Park, is just around the corner.  The performer lineup was recently announced, and it's impressive.  If you're a fan of blues music, this is an event you don't want to miss.
This year's 20th Anniversary event spans three days, beginning the afternoon of Friday, June 24 and continuing through Sunday, June 26.  It's great to see the event expanding back to this full schedule, after having to be cancelled in 2020, and scaled back to a single day in 2021.
Headliner acts include Colorado's own Big Head Todd & The Monsters, Gov't Mule, Tab Benoit, and Larkin Poe.  But that's just the start.  Additional acts include Southern Avenue, blues icon Charlie Musselwhite, Sue Foley, Southern Hospitality, Eddie 9V, Bette Smith, and Emma Marie Music.
The festival takes place at the beautiful, outdoor Rendezvous Events Center, located in the heart of downtown Winter Park.  As someone who has attended the event in the past, I can tell you that it's perfectly situated for both convenience and beauty.  The views of the Continental Divide are spectacular, and there are numerous restaurants and places to stay within walking distance.  It's tough to imagine a better way to spend the day… or two… or three.
While the music is certainly the focal point of the festival, there's much more to it than that.  There will be on-site food and beverage vendors, as well as vendors selling clothing, jewelry, art, etc.  The Keeping the Blues Alive Youth Stage will be located by the Vendor Village on both Saturday and Sunday.  And for those looking for an exceptional memento of the event, check out the silent auction, where multiple signed guitars by national artists will be available for bid.
All of this is sponsored by the Grand County Blues Society, a 501(c)(3) non-profit organization.  The stated mission of the organization is "to promote the American musical art form known as "The Blues" by hosting live performances by Blues musicians and providing events to educate the public about the history of Blues music".  The Blues From The Top Festival is the primary source of funding for the Society's Blues Star Connection program, which provides access and ownership of musical instruments for children and young adults with cancer and other serious life challenges.  Learn more about the important work of the Grand County Blues Society and the Blue Star Connection by visiting https://grandblues.org/.
Tickets for the festival are available now at https://grandblues.org/bluesfromthetop/.  Festival-goers may choose either General Admission or VIP ticket options.  Buy early to get the best pricing – prices will increase as the festival dates approach.
I'm definitely going to be there, and I look forward to seeing you there as well!