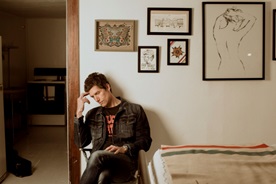 Hit singer-songwriter Kevin Griffin will be coming to Denver to perform at Soiled Dove on Wednesday, November 6th,& 7th, tying into the release of his debut solo album Anywhere You Go (released on Oct 4). Get tickets here. 

The Better Than Ezra frontman, award-winning songwriter, and Pilgrimage Festival co-founder has added yet another persona to his resume:  solo troubadour.  Three decades into an illustrious and multifaceted career, Kevin Griffin finally decided to write and record his first full-length solo album. Buoyed by minimal production, sweeping vocal harmonies, and narrative lyricism, he's penned some of his most intimate, inimitable, and irresistible tunes to date. (more info below) P.S. Did we mention that TAYLOR SWIFT has covered his songs in the past? Exhibit A, Exhibit B and Exhibit C
Over the past year, Griffin started toying with ideas for the songs that would eventually comprise the record. Taking his time, he reacquainted himself with classics such as Neil Young's Harvest and Bob Dylan's Blood on the Tracks as well as devouring music from the likes of Dawes, Father John Misty, and Mac DeMarco, to name a few.
Kevin Griffin Facts
Taylor Swift covered his song "Breathless"
Five-time BMI Pop Award winner and ARIAA Award winner
#1 Hit with Sugarland's "Stuck Like Glue"
#1 Hit with Howie Day's "Collide"
#1 Hit with Better Than Ezra's "Good"
Other credits span cuts for Christina Perri, Train, The Struts, Barenaked Ladies, Blondie, James Blunt, and many more with his cumulative tally of album and song sales exceeding 30 million copies
Founder and producer of Pilgrimage Music & Cultural Festival where Justin Timberlake is a partner