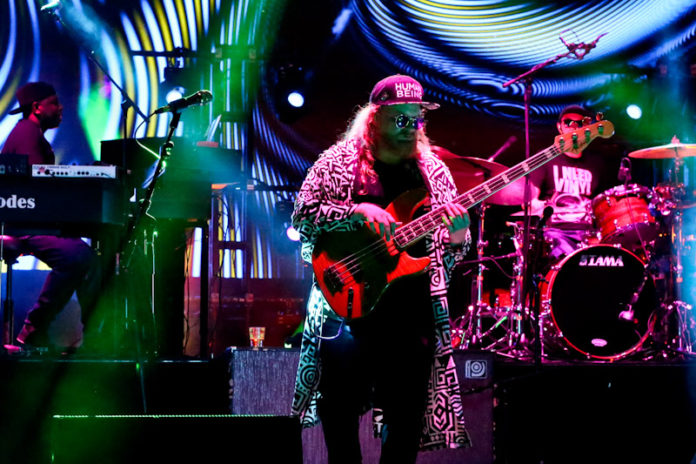 Genre-defying funk-jazz-soul-hip-hop-psychedelic-jam-art-rock-experimental-avant-garde music titans LETTUCE will release their sixth studio album, Elevate, on Friday, June 14th and officially celebrate the release of the album at the legendary Red Rocks Amphitheatre on Saturday, June 15,with their 4th annual Rage Rocks show. The evening will feature two full sets from Lettuce, one of which will be a Jerry Garcia Band cover set, along with support from TAUK and The Soul Rebels.
Produced by Lettuce and recorded at Colorado Sound Studio outside of Denver with legendary engineer Russ Elevado (D'Angelo, The Roots, Erykah Badu), Elevate marks the band's first new original music in three years and is a dynamic showcase of their ever-changing and all-inclusive musical palette. The six-member collective – Grammy-nominated drummer and percussionist Adam Deitch, guitarist Adam "Shmeeans" Smirnoff, bassist Erick "Jesus" Coomes, Grammy Award-winning keyboardist and vocalist Nigel Hall, Grammy Award-winning saxophonist Ryan Zoidis and Grammy Award-winning trumpet player Eric "Benny" Bloom – maintains its eclectic, free-wheeling approach while embracing a progressive and futuristic vibe, with elements of Pink Floyd, the Grateful Dead, Eno and Miles Davis, thanks to their love of improvisational music and arts. Much of the warm, analog feel running throughout the album can be attributed to Zoidis' new toy, a vintage Korg X-911 synth.
Elevate (Regime Music Group) features new single, "Krewe," which BrooklynVegan called, "a very catchy slice of instrumental funk; you can hear both the psychedelic influence and the hip hop influence coming through on this one." PRESS HERE to listen to "Krewe" and receive an instant download with any album pre-order. Elsewhere on the 11-track album, Lettuce explores its funk roots in the Tower of Power-like punch of "Ready to Live" (a cover of a song by Cold Blood's Lydia Pense), the Prince-like swagger of "Royal Highness" and the OG blues-soul of "Love Is Too Strong," which sees a vocal cameo from Marcus King. Expanded trip-hop sounds create a space age audio-scape on tracks like "Trapezoid," "Gang 10" and "Purple Cabbage." Their take on the Tears For Fears hit "Everybody Wants to Rule The World" features Hall on vocals, and Smirnoff nods to Carlos Santana and Trey Anastasio on the Latin-flavored and playfully named "Shmink Dabby." Full track listing is below.
A powerhouse collective made up of world-class master musicians, Lettuce are known for their incendiary live shows, extensive touring, die-hard fans, and massive two-decade-plus career. They are also some of the most highly sought-after musicians in the industry with roots that run deep into the worlds of hip-hop, pop, and beyond working and performing alongside the likes of Kanye West, Lady Gaga, Stevie Wonder, Ahmir "?uestlove" Thompson, Justin Timberlake, The Fugees, Eminem, Dr. Dre, 50 Cent, Britney Spears, DJ Quik, Gary Clark Jr., Skrillex, The Game, Talib Kweli, Anthony Hamilton, Solange, Chaka Khan, Redman & Method Man, Robin Thicke, Preservation Hall, Dave Matthews Band, Gov't Mule, Bob Weir, John Mayer, Aaron Neville, and more. Get to know the members of Lettuce via a six-part series called "The Krewe – A Lettuce Documentary Series," featuring behind-the-scenes vignettes filmed during the recording process of Elevate. Watch the first episode with bassist Erick "Jesus" Coomes.
It's been more than 25 years since the formation of Lettuce, a democratic ensemble in which there is no leader, but a complete unit that functions as a single entity with plenty of moving parts. The magic continues to grow with the band's new album, Elevate.