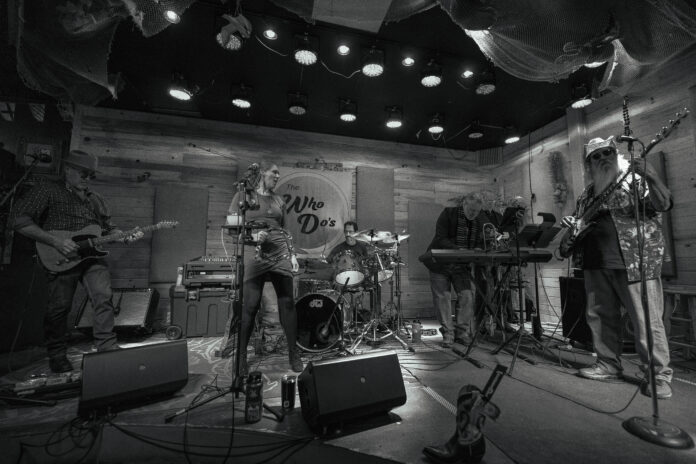 One of the great benefits of my gig as a concert reviewer and photographer, besides the obvious fact that I get to see a lot of great live music, is that I get to meet a lot of awesome people.  That's especially true of the bands and artists featured in the Local Talent Spotlight series, because I generally get to spend an extended amount of time with them.
Case in point – the members of the band The Who Do's.  To prepare for this profile article, I attended their gig at Bootstrap Brewing in Longmont in late January, and followed up with an interview with the entire band earlier this month.  As much as I enjoyed and was impressed with their live performance, I quite possibly enjoyed just talking to them every bit as much.  In addition to being extremely talented musicians, they are, individually and collectively, a terrific group of people.
On their website (https://www.thewhodos.com), The Who Do's describe their musical style as follows…
"Emphasizing vocals, groove and pocket, The Who Do's blend Soul, Funk, R&B and Jazz with a healthy dose of New Orleans to keep it interesting. If you can't find something to make you move in this mix, you might want to speak to your doctor."
They further position themselves as "Colorado's Groove Band".  As bass player Scott Evans said in our follow up interview, "If a song doesn't have a really good groove… if it doesn't bring the funk… then it doesn't make it into the setlist on a permanent basis".
Bringing the funk is exactly what this six-piece band (more on that later) did at the Bootstrap gig.  Their two sets (29 total songs) included covers by artists as notable and diverse at Bonnie Raitt, The Meters, Marcus King, Alice Russell, Al Green, Tower of Power, Susan Tedeschi, Bill Withers, and Jeff Beck.  Thrown in for good measure were a couple of Who Do's originals (more on that later, as well.)
The above list might, to some, suggest "standard cover band".  Let me assure you that nothing is further from the truth.  Yes, The Who Do's rely predominately on music originally produced by other artists and bands.  But no, they don't try to replicate that music note for note. There is too much talent within this group to leave it at that.  As band co-founder and lead guitarist John Massone noted in our interview, when the band decides to add a cover to their setlist, they ask every member of the band to "use the original song as the starting place, but write your own part, bring your own feel and your own spirit to it".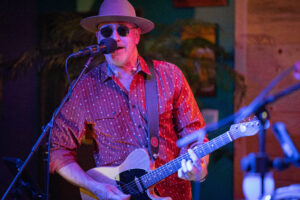 The band's current lineup consists of Massone on guitar and vocals, Tom Post on drums and vocals, Scott Evans on bass and vocals, Erin Sears on lead vocals, Jim Griffis on trombone and keyboards, and Rick Jones on trumpet.  Originally formed by Massone and Post eleven years ago, the band has gone through a number of personnel changes, some necessitated by the COVID shutdown.  They are currently actively recruiting a saxophone player, and a full-time keyboard player (to allow Griffis more time to focus on playing trombone and doing the horn arrangements).
One of the things that really struck me, after spending time with the band, is how tight they are as a group.  They laugh and joke and give each other a hard time, then they go out of their way to compliment and express their appreciation for each other.  I note this at this point in the article because it speaks to the process they go through when considering adding new members to the band.  Talent and musical inclination are obviously critical.  But chemistry is paramount.
"Of the millions of auditions we've had for people, we tend to take people who are a better fit personality wise than playability.  If we have somebody that's really hot on an instrument, but is kind of a jerk, we'll take the guy we really like who's less of a player every time", says Tom Post.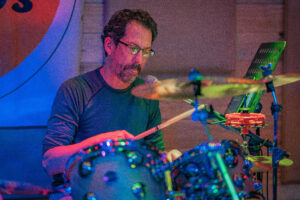 Massone adds, "The thing is, when you're having fun on stage, the audience has fun. And if you're playing with people you like to make music with, you're gonna have fun on stage".
The band was clearly having fun the night of the Bootstrap gig, and the audience responded in kind. From the opening number through the last, the groove, the funk(!) was on full display.  The musicianship is stellar – each member of the band is immensely talented.  The vocals were crisp and energetic.  I was particularly impressed with Erin Sears' on the Susan Tedeschi cover "It Hurt So Bad".  She absolutely CRUSHED it!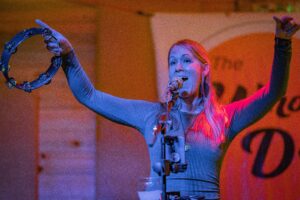 The setlists (they played a shorter first set with 11 songs, followed by a longer set with 18) were, in a word, inspiring.  Here's a big part of what separates The Who Do's from your standard, local cover band.  They play great songs, and they play them great, without worrying about whether any given song was a hit, or a deep cut from an album featuring other hits.  Some of the songs they play will be familiar to the audience.  But some – perhaps many – will be lesser known tunes that fit perfectly within the vibe the band is trying to create.  And some of those tunes will be Who Do's originals.  They played a couple of those at the Bootstrap gig, and are working on adding more to their setlist within the next month or so.
"In this band we play what we want to play, and we sound the way we want to sound", says Evans.
Massone adds, "I want to play with musicians I enjoy as people and can just enjoy their camaraderie in the band.  And I want to play music that I really feel and really want to present."
The end product is group of talented musicians playing lively, entertaining, grooving, music that will get your blood moving, your toes tapping, and, if you are so inclined, your body on the dancefloor.  If you're looking for a local band to follow, or better yet, a local band to hire, I cannot recommend The Who Do's enough.  Check them out on their website (https://www.thewhodos.com), and keep your eyes peeled for upcoming gigs.  They're currently in what Massone refers to as a "booking phase", and working to get a bunch of original material ready for gigs as summer approaches.
"We're working on festivals for the summer right now. That's really our favorite thing… festival stages in the summer in Colorado. They're awesome", notes Post (with affirmative head-shaking from the rest of the band).
Story and photos by Rick Witt   www.rickwittphotography.com