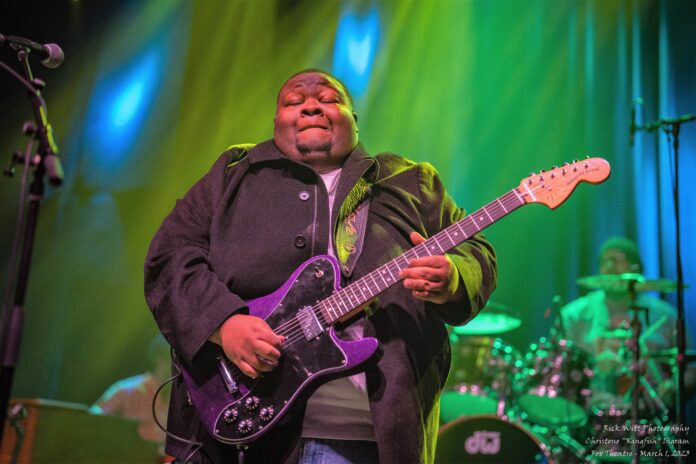 One of the best things about covering Christone "Kingfish" Ingram in each of his three Denver shows over the past year and half is that I've been able to witness the on-stage maturation of this extraordinarily talented young man.  I saw him in October of 2021 at Denver's Summit Music Hall, then again in May of last year at Denver's Paramount Theatre.  The trifecta came the night before last at the Fox Theatre in Boulder, where he played to a sold-out crowd.  Ingram continues what seems to be a perpetual tour in support of his 2022 Grammy award winning album 662.  For local blues fans, his second Denver area appearance in less than a year (which is actually part of a four-date trek through Colorado to begin the month of March), was a feast for the eyes and ears.
Just 24 years old, and already with two critical and commercial blockbuster albums, "Kingfish" just keeps getting better and better.  His virtuoso-level guitar playing skills have you shaking your head in disbelief.  And his voice… so smooth and emotive that it makes the listener almost melt.  This guy is the real deal, in a monumental way.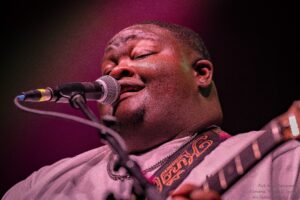 Wednesday night's 12-song set clocked in at just short of two hours.  As Ingram's shows always do, the set began with just the band on stage – drummer Chris Black, bassist Paul Rogers, and keyboardist DeShawn "DVibes" Alexander.  About a minute in Ingram started playing backstage, guitar screaming. No slow build up to this intro. Then it was Ingram walking on stage, still playing, crowd already going nuts.
The set opened with "She Calls Me Kingfish", from the 662 album, which was followed by "Fresh Out", from Ingram's 2019 debut album Kingfish.  Two of the evening's 12 songs came from the Kingfish album, six from the 662 album, three were covers, and the final one, the show stopping "Empty Promises" (also a cover) was released as a single in 2020.
There are certain components of all "Kingfish" shows that always delight, no matter how many times you see him perform.  The aforementioned start of the set is one of those.  I remember the first time I saw "Kingfish" perform live, and I first heard his guitar screaming while he stood backstage.  Everyone was looking around, wondering where that incredible sound was coming from.  It was a stunning way to start a show, and I hope he never stops doing it.
Then there's the audience walkabout, an homage to one of Ingram's mentors and heroes, Buddy Guy. At a point during the show – on Wednesday it was during the fifth song of the set, "Too Young To Remember" – Ingram steps down from the stage, into the crowd, never stopping playing.  This walkabout goes on for ten plus minutes, whipping the crowd into a frenzy, hundreds of cell phones taking picture and capturing video.
At a point toward the end of the set, Ingram is handed a cell phone from a crew member offstage, which he uses to take a short video clip of the crowd, all the time continuing to play one-handed.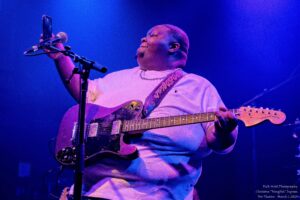 He plays guitar with his teeth.  He jokingly apologizes to the crowd for playing so fast on "Empty Promises". (I'll note again that this particular song is possibly the highlight of his regular set. It's one of the most emotionally charged, and beautifully performed, songs I've ever heard played, but any artist, on any stage.)
And he closes his sets by laying his guitar on the stage, set to generate ongoing feedback, while he tosses picks to the crowd, shakes hands, and signs an autograph or two, before exiting the stage.  The band continues to play for a few more minutes, bringing the evening to its conclusion, leaving the crowd absolutely spent.
Wednesday night's show was made up of a nearly hour and a half long main set, followed by a three-song, half hour encore.  The first song of the encore was "Long Distance Woman", from 662.  This was followed with a cover of Hendrix's "Hey Joe", which Ingram has made his own by including it in his live performances on a regular basis.
He could have ended the show there – and I think a lot of people thought that was going to happen.  But Ingram looked at the crowd, and asked, "Just one more?".  Duh.  Is water wet?  The band then launched into a cover of "Born Under A Bad Sign", about as classic and enduring a blues song as there is.
A pair of huge shout outs to both the Fox Theatre, and to the sold-out crowd attending the event.  The extended Denver metro area is loaded with outstanding live music venues, but none stand taller than the Fox. If you've not ventured to Boulder to see a show at this venue, you owe it to yourself to do so. Regarding the crowd… they were exceptionally animated and energized from the word go. I chatted with many members of the crowd before, during, and after the show.  There were people in the crowd who had seen "Kingfish" multiple times in the past, and others who were seeing him for the first time. Regardless of their status as veterans or rookies, at the show's conclusion, to a person they were shaking their heads in amazement, marveling at what they had just seen and heard.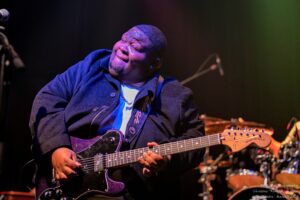 I'm going to close this review by borrowing from the review I submitted from Ingram's show at the Paramount in Denver last May. I'm not trying to "cheat" by repeating what I said back then, but in this case, I think the repeat is warranted.
One of the most impressive things about Ingram, forgetting a minute about his unbelievable talent, is his authenticity and understanding of his place in the greater scheme of blues history.  You find it everywhere in the lyrics of his songs.  For example, in "Too Young To Remember", he notes, "When you see me playing guitar, you're looking back 100 years" and "I'm too young to remember, but I'm old enough to know".  In "I'm Not Gonna Lie" he sings, "Got to keep it going, I promised Buddy Guy.  This is our history, and I'm not gonna lie".  Both of those songs were part of the set last night, as well as several others paying homage to the history of the blues, his hometown of Clarksdale, Mississippi, and the musical heroes who have inspired his journey thus far.  Here's hoping that journey continues for a long, long time to come.  
Photos and story by Rick Witt    www.rickwittphotography.com