It was almost a year ago that I introduced my Local Talent Spotlight series featuring a band called Jimmy Junior & The Roaring Elephants.  A lot has happened since then.  Harp player Jimmy Junior is still going at it, but with a semi-reimagined band now called the Jimmy Junior Blues Band.  The permanent lineup for the new band is still evolving, but Jimmy brought the current crew, along with some special guests, to the Takoda Tavern in Parker last Friday night for an end-of-the year blues party.
It was a marathon evening – more than three hours of music spread across four sets that included 32 songs. And while the emphasis of the evening was clearly on blues music, there was sprinklings of classic rock, southern rock, funk, pop and soul included, just to keep things interesting.
The new band obviously features Jimmy on harp and lead vocals.  I first met Jimmy when he guest appeared with Tommy Castro & The Painkillers at the Oriental Theater in Denver, in December of 2021.  Let me just say this about Jimmy's prowess on the harp… you don't get called to perform with Tommy Castro if you're "just okay".
Joining Jimmy from the original band was drummer Mike Rossi and guitarist/vocalist John Oliver.  Oliver was listed as a "special guest", although I've since learned that he has rejoined the band as a permanent member.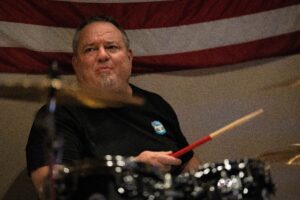 Rossi is a strong drummer who prefers to keep a low profile.  But as Jimmy noted on multiple occasions during the evening, he's guy who keeps everything together.  Oliver is an extremely talented guitarist, who also happens to be the founder and guitarist for the Incoming Groove Band.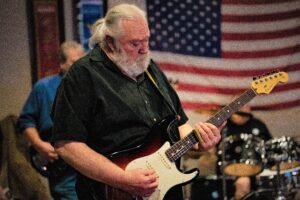 Newcomer Ken Cornell has joined the band on bass and vocals.  Cornell is the quintessential bass player, preferring to stay in the background, working with drummer Rossi to hold everything together.  But I was really glad to see him get the opportunity to step to the front of the stage when he took his turn on lead vocals on the cover of "If You Want To Get To Heaven".
Additional special guests included Terry Schmitt on keys and vocals, Katie Johnson on vocals, and Peter Fischer (from The Peter Fischer Experience), also on vocals.  Johnson was featured on lead vocals during the second set of the evening.  Fischer was featured during the third set, and also stepped in for a handful of tunes in the first and fourth sets.
If you've seen the Bob Seger tribute band Still The Same, you'll recognize Schmitt, who plays keys for that band.  Schmitt was a temporary fill in for Greg Rice, who is scheduled to return to the band this month.
Johnson isn't new to the band – she's been a frequent guest vocalist for years. Her set included covers from Stevie Ray Vaughan ("May Had A Little Lamb" and "Pride and Joy"), Kenny Wayne Shepherd ("Blue On Black"), The Doobie Brothers ("Long Train Runnin'") and Tracy Chapman ("Give Me One Reason"). Her set concluded with a rousing and killer version of the classic "Johnny B. Good".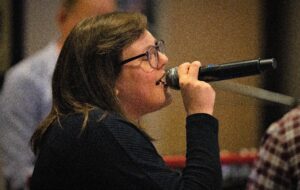 Fischer, known around Denver as "Colorado's Favorite Crooner", is a long-time friend of drummer Rossi.  Rossi introduced Fischer to Jimmy, and Jimmy thought including him in the "Return at Takoda" gig would give the evening a unique kick.  He was absolutely right about that.  If Fischer was out of his element you'd never had known it.  Bobbing and weaving through a set of songs that included "Ain't No Sunshine", "Superstition", "Mustang Sally", "The Thrill Is Gone", and "Stormy Monday", Fisher's vocals were top shelf.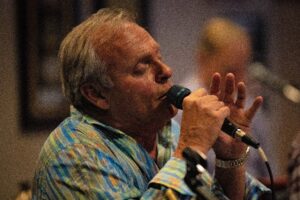 The house was packed when the band kicked off the evening with "You Got Me Runnin'" as their opening soundcheck, before launching into "Good Blues Tonight".  Lead vocal duties were spread across pretty much everyone as the band moved through "Feelin' Alright", "The Sky Is Crying", "Inflation Blues", a terrific version of the Allman Brothers' "One Way Out", the aforementioned "If You Want To Get To Heaven", "Superstition", and "I Got My Mojo Working".  The first set wrapped up with the Sonny Boy Williamson standard "Help Me".
Sets two through four continued equally impressive song selections.  Every song resonated with the enthusiastic crowd, all of whom were having a great evening enjoying outstanding food (the chicken wings were particularly tasty), drink and music. A big shout out to the Takoda Tavern for their friendly, neighborhood-like vibe and exceptional service.  If you're in or around Parker, and looking for a great place to grab a bite and a beverage, Takoda comes highly recommended.
And if you're looking for a local band that will get your blood moving and your feet tapping, I highly recommend following (or better yet, hiring, the Jimmy Junior Blues Band.  You can find them at https://www.jimmyjuniormusic.com/, or on Facebook (https://www.facebook.com/jimmyjuniormusic).
Photos and story by Rick Witt   www.rickwittphotography.com