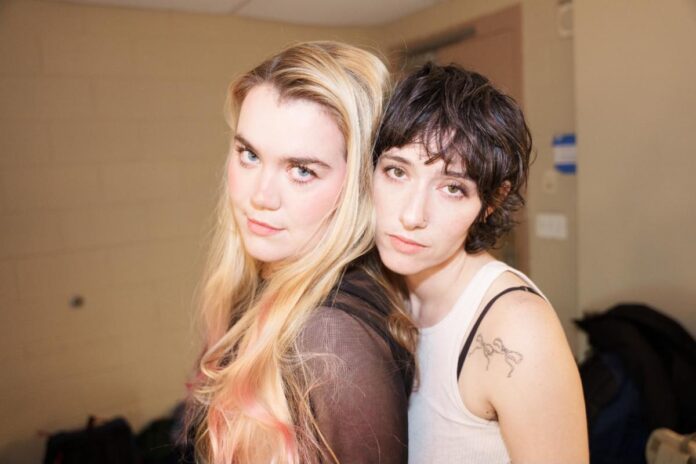 DAISY THE GREAT PERFORM "TIME MACHINE" FOR STEPHEN COLBERT'S #LateShowMeMusic SERIES – WATCH HERE
HEADLINING SPRING OUR DATES ANNOUNCED
TOUR BEGINS APRIL 12 IN BOSTON
Brooklyn, NY-based indie pop duo Daisy the Great performed "Time Machine" for The Late Show With Stephen Colbert's series, #LateShowMeMusic. The series kicks off the weekend by showcasing a new band on their social media accounts. The live performance is available now on The Late Show's socials and YouTube here. Document Journal calls the song, " the kind of soaring anthem that pierces through any cynicism, revealing whatever is soft, tender, and healing beneath."
The performance celebrates a whirlwind North American tour with The Happy Fits that ended yesterday in Philadelphia. 2022 also saw the band play over a dozen festivals and release their sophomore album, ALL YOU NEED IS TIME, which Atwood Magazine calls, "a beautifully vulnerable, harmony-rich record that finds them shining bigger, bolder, and brighter than ever."
The band is already gearing up for the new year by announcing a spring headline tour across the United States. See below for tour dates starting April 12 in Boston. For complete details and ticket availability, please visit www.daisythegreat.com.
ALL YOU NEED IS TIME has already crossed 60,000 album units in just 6 weeks with over 152 million global streams. It is available at all DSPs here. Perhaps unsurprisingly, TikTok and Instagram have long been sources of positive buzz for the band. Recently, the band has proven their ability to reach even wider audiences. With 2.4-million views and counting for the "Time Machine" music video on Facebook, their potent combination of lush music and entertaining visuals continues to find new fans organically online.
DAISY THE GREAT
NORTH AMERICAN TOUR 2023
APRIL
12 – Boston, MA – Brighton Music Hall
14 – Columbus, OH – The Basement
15 – Chicago, IL – Beat Kitchen
16 – Minneapolis, MN – 7th Street Entry
18 – Denver, CO – Marquis Theatre
19 – Salt Lake City, UT – Kilby Court
21 – Portland, OR – Holocene
22 – Seattle, WA – Barboza
25 – San Francisco, CA – Cafe Du Nord
28 – Los Angeles, CA – The Echo
29 – San Diego, CA – HOB Voo-Doo Room
MAY
2 – Dallas, TX – Club Dada
3 – Austin, TX – Antones
5 – New Orleans, LA – Gasa Gasa
6 – Atlanta, GA – Shaky Knees Festival
7 – Nashville, TN – The End
10 – Philadelphia, PA – Foundry
11 – Washington, DC – Songbyrd
12 – Brooklyn NY – Music Hall of Williamsburg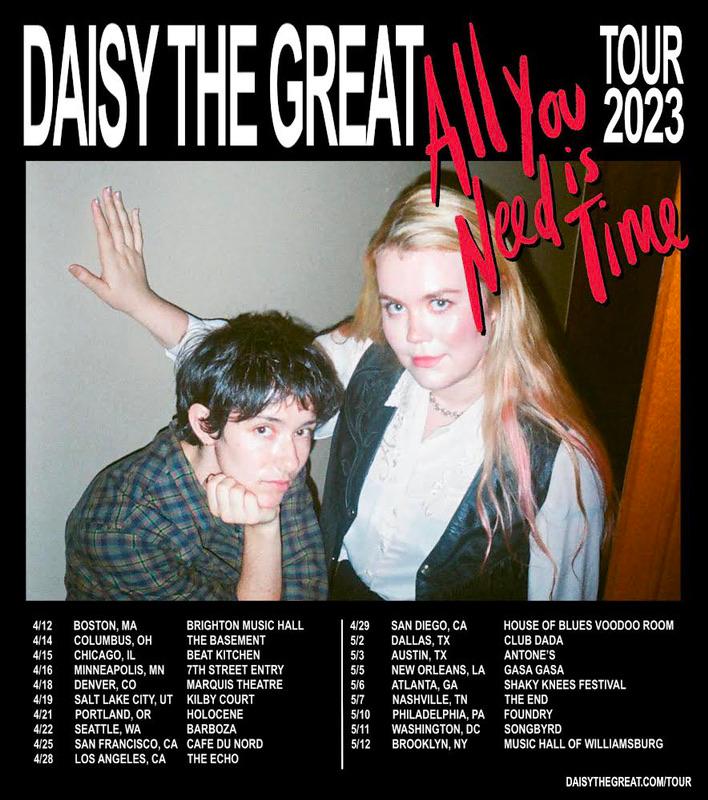 Bio:
As Daisy the Great, Kelley Nicole Dugan and Mina Walker make folk-inflected indie rock that spans a multitude of moods, capable of being clever, devastating, or both simultaneously, spanning harmony-laden pop to powerhouse balladry. The pair first met as acting majors at NYU's Tisch School of the Arts where they began co-writing a musical about a fictional band before realizing they could make it happen in real life and set out as Daisy the Great.
2017 saw Daisy the Great make an auspicious debut with "The Record Player Song," which quickly proved an immediate smash with over 20M worldwide streams and multiple viral moments on TikTok. A full-length debut LP, I'm Not Getting Any Taller, arrived in 2019, followed in 2020 by the quarantine-born Soft Songs EP. In 2021, Daisy the Great teamed with acclaimed indie-pop trio AJR for "Record Player," a brand new song inspired by their original 2017 hit, available at all DSPs and streaming services HERE. An official animated video now boasting over 3M views is streaming via YouTube HERE.
Having now grown into a full six-piece band currently featuring Matt Lau on guitar, Bernardo Ochoa on bass, Matti Dunietz on drums, and Brie Archer on additional vocals, Daisy the Great first heralded ALL YOU NEED IS TIME after releasing a string of songs with captivating visuals, including "Glitter", "Cry in the Mirror," "Aluminum," , "Easy", "Liar", and "Time Machine." In addition, an exclusive live performance for KCSN is available HERE.
After a full summer of shows and festivals, including Lollapalooza and Firefly, Daisy the Great released their sophomore album All You Need is Time in the fall of 2022. According to the band, "the record is about self-perception, love, growing up, patience, purpose, change." Recorded in Brooklyn by rising producer/engineer Torna, with additional production from Gabe Goodman, the new record "captures the dichotomy of feeling time slipping through your fingers while you're waiting for your life to start."
It's a freeing thoughtfulness that defines Daisy the Great's music, as well as their creative mission. "Our music is generally pretty introspective, and we are often interested in the complexities or ironies we see within ourselves" she states. "That's something we love about writing—you can say something small and delicate and true that maybe feels scary to say, but once you put it out there, it can turn into a comfort for anyone that might also be feeling that way." Their new album All You Need is Time, is out now.
# # #
CONNECT WITH DAISY THE GREAT
OFFICIAL | FACEBOOK | INSTAGRAM | TIKTOK | TWITTER | YOUTUBE