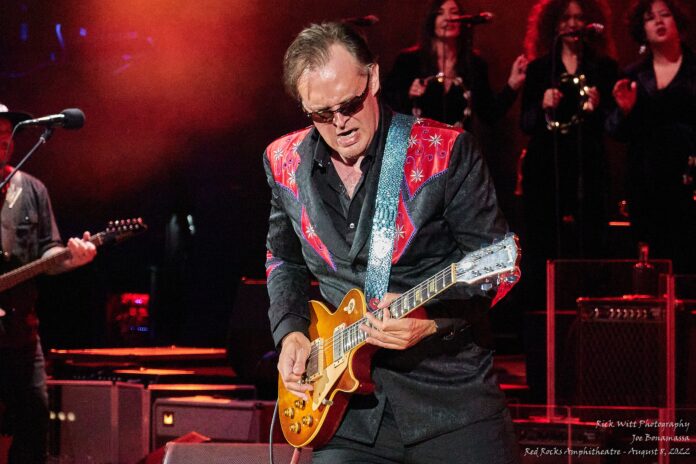 Note: This review is for the second night of Joe Bonamassa's two-night set at Red Rocks.  I was originally planning to cover both nights, but had to leave the first (Sunday) show after a two-hour weather delay seemed to suggest the show would be postponed or cancelled.  Apparently, an abbreviated set was eventually played.
There are a lot of outstanding blues artists active today, but none have been as instrumental as Joe Bonamassa in propelling contemporary blues onto the mainstream music scene.  A child prodigy who took the stage as an opening act for B.B. King at the tender age of 12, Bonamassa has been everywhere and done everything in his thirty-plus year career.  He's released 15 studio albums, and an amazing 18 live albums.  His live albums are exceptional in terms of production value – I consider the live recording of his 2015 "Three Kings" tour to be one of the best live albums of all time, across all genres.
Bonamassa's 2022 summer tour, in support of his most recent album Time Clocks, took the Red Rocks stage on Sunday and Monday, August 7 and 8.  From 2014 through 2018, Bonamassa played a single night at Red Rocks.  His shows were so popular that he expanded to two nights beginning in 2019.  With the exception of the COVID cancelled dates in 2020, he's continued playing two nights every year since.
Bonamassa shows typically run close to two hours, so they seldom feature an opening act.  This was the case again last night, when Joe and crew presented a 16-song setlist with a total running time of about two hours and 15 minutes.
Time Clocks, which was released on October 29 of last year, is an extremely strong album.  That being said, I was initially a bit surprised that Bonamassa chose to include almost the entire album in the setlist.  Bonamassa provided an explanation prior to launching into the Time Clocks sub-section of the setlist.  "We're filming a live DVD called Time Clocks Live, so we're going to play the entire album."  That turned out to almost be true – the only song from the album that wasn't played was "Hanging On A Loser".
The stage setup, lighting, and backdrop clearly reflected the filming objective.  This was a multi-media extravaganza, unlike anything I've ever seen from a Bonamassa show.  Particularly impressive was the massive screen behind the band, onto which were projected gorgeous stationary and moving background images throughout the performance.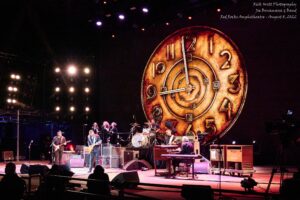 With the PA system playing Tom Petty's "The Waiting", the band took the stage just a few minutes after 8:00 pm.  The enthusiastic crowd was instantly on its feet as Joe started playing the opening chords from the song "Dust Bowl", from the 2011 album by the same name.  It was a brilliant choice for an opener – dark, foreboding, and moody – almost the opposite of what most artists would prefer to open with.  The crowd reaction suggested it was a bold and popular move.  The background imaging – an animated version of the Dust Bowl album cover – was spectacular.
Next came "Evil Mama", with its John Bonham-inspired drum opening, from 2018's Redemption.  This is the upbeat blues rocker that has opened Bonamassa shows for the past couple of years.  I'll admit that it seemed longtime drummer Anton Fig would be missed for that open, but newcomer Lemar Carter filled Fig's shoes admirably.
"Evil Mama" was followed by the first "bring the house down" moment of the night… the cover of the Gary Moore classic "Midnight Blues".  This song has become a staple of Bonamassa live shows, generally played early in the set, providing audiences with their first jaw-dropping glimpses of Joe's guitar genius.  The song contains three solos, the first two slow and melodic, before bursting into a sizzling third solo at the four-minute mark.  This is live blues music at its finest.
"Midnight Blues" gave way to "I Didn't Think She Would Do it", an up-tempo rocker from 2020's Royal Tea album, followed by the mid-tempo "Just 'Cos You Can Don't Mean You Should" from Redemption.  This seamless transition from straight-up rock to more conventional blues is a trademark of Bonamassa's live shows, further illustrating his incredible range.
It's at this point in the show that attention was turned to the Time Clocks album.  The new album was presented almost in its entirety (although not in sequence).  The set opened with the short instrumental "Pilgrimage", leading into the first single from the album "Notches", followed by "The Heart That Never Waits".  The latter is one of my favorite songs from the album, highlighted by wonderful backing vocals from the fabulous trio of Mahalia Barnes, Jade MacRae, and Danni DeAndrea.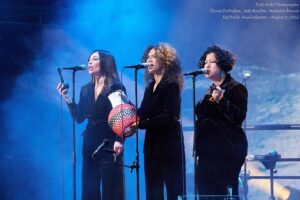 Perhaps the highlight of the Time Clocks set was "The Loyal Kind", which starts as a slower ballad, but transforms into one of the most aggressive rock songs Bonamassa has ever recorded.  The riff that accompanies the chorus in that song is incredibly powerful, and Carter's drum fills to end the song were over-the-top terrific.
The Time Clocks section of the set concluded with the title track, with its slow build to a majestic level chorus arrangement.  It's one of the best songs Bonamassa has ever written.
The evening's base set concluded with a Bonamassa standard – the epic "The Ballad of John Henry", from the 2009 album by the same name.  This is a fan favorite in all of his shows, but especially so at Red Rocks because of the line, "I'm a long way from Colorado…".  It's during this song that Joe steps over to the Theramin set up on his right, taking the audience on both a visual and auditory journey.  The song also featured a haunting vocal solo from Jade MacRae that was absolutely spellbinding.
After a short break, Joe and the crew returned to the stage for a single song encore.  Here they went way back, all the way to Bonamassa's 2002 sophomore album release, So, It's Like That.  For hardcore Bonamassa fans "Mountain Time" is one of his most recognizable and loved songs – heartfelt and soaring, with one of his most visceral and moving guitar solos.  The chorus accompaniment from Barnes, MacRae, and DeAndrea was nearly cinematic in its scope.  At the conclusion of this nearly 12-minute opus, the swaying audience, who had been on their feet for the duration, were chanting "one more, one more".
As always, Bonamassa's backup band was world-class.  Rock and Roll Hall of Famer Reese Wynans anchors that group on keys, and has been a part of Bonamassa's touring band since 2014.  Backup vocalists Barnes, MacRae, and DeAndrea have toured and recorded with Bonamassa, in various combinations, since 2015.  Newcomers included Lemar Carter on drums, Calvin Turner on bass, and Josh Smith on guitar.  Bonamassa frequently travels with a two- or three-piece horn section, but did not include them in this particular tour.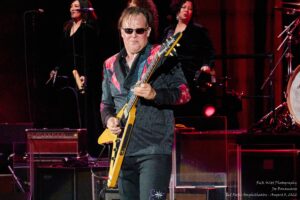 One thing you can never say about Bonamassa is that he rests on his laurels.  On every new album, and with every new "side" project, Bonamassa pushes himself into new territory.  Last night's show at Red Rocks was yet another example of his willingness to move out of his comfort zone.  Still, even with the supercharged production, the appeal of Joe Bonamassa comes down to one thing.  He can do things with a guitar that mere mortals can't fathom.  I was sitting next to a man named Stu, who is a longtime Bonamassa fan but who was seeing him live for the first time.  He commented that he'd seen a lot of guitar players in his time, but never anything like this.  I think that sums it up pretty darned well.