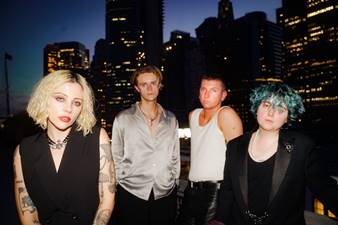 Following their Aug 12th album release and a tour opening up for 5 Seconds of Summer, rising indie stars and one of the hottest bands out of the UK Pale Waves will be kicking off their fall U.S. headline tour this September.
The tour comes to Denver, CO on 9/28 at The Marquis Theater!
Pale Waves will release their brand new album Unwanted on August 12 via Dirty Hit.  The album features recently released track "The Hard Way," a steely, soul-stirring reminder to be kind and stand up for those in need. Unwanted also features latest single "Jealousy," lead single "Lies" and album track "Reasons to Live," which the band just released a self-shot video – a look into the joyful, chaotic euphoria of touring – the monochromatic backseat rager finds the band making the most of their time stuck in traffic. PRESS HERE to watch.
With their music, Pale Waves inspires inclusivity and self-acceptance, creating an accepting place for their fans to be themselves – both in their music and at their shows. Drawing strength from not fitting the mold, Unwanted is the next bold and unapologetic step in their journey with relationships and self-discovery. The album introduces 13 dynamic songs that feel good when played live and are packed with the electricity needed to shake off the past two years.
Exploring loss, vanity, anger, jealousy and hopelessness with crunchy guitars, pounding drums, emotionally honest lyrics and a new, polished pop-punk sensibility, Unwanted taps into darker emotions than ever before, with an ultimate sense of self-worth and defiance that is deeply resonating with their fans, including their passionate LGBTQ community that deeply connects with Pale Waves.
More About Pale Waves
Striking a fresh tone of defiance, Pale Waves recently released album track "Reasons To Live," a euphoric burst of electric energy premiered by Zane Lowe which speaks to finding someone who leads you out of darkness and gives you a reason to keep going, and official lead single "Lies." PRESS HERE to watch the video an angst-fueled, rebellious pop-punk anthem that pairs the crunchy guitars and rhythmic drive of 2000s with the rage of a 90s rock band and premiered on BBC Radio 1 as Hottest Record In The World. Forthcoming album Unwanted draws strength from not fitting the mold and tackles topics such as love, misogyny, self-doubt, self-acceptance, and adulthood with Pale Waves' newfound, unshakeable sense of self-worth. Bold and unapologetic, Pale Waves have made a name for themselves by inspiring inclusivity and self-discovery and creating an accepting place for their passionate fans looking to find a community. Exploring that connection, Unwanted reaches out into the passionate community of self-described misfits and LGBTQIA+ fans that surround the band.