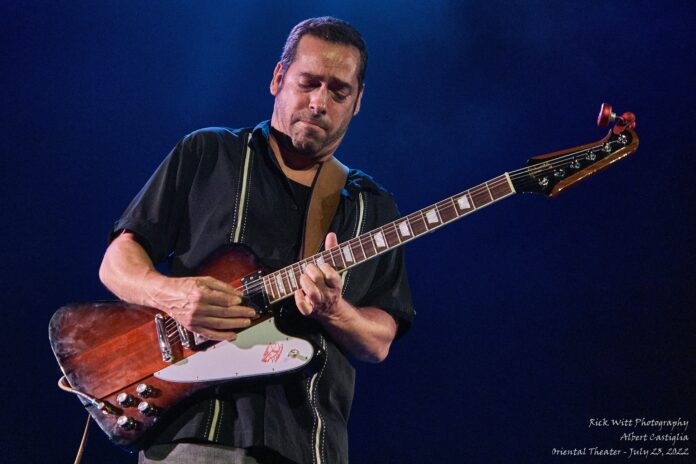 Albert Castiglia is on one heck of a roll.  His 2019 album Masterpiece won the Blues Music Award as Blues Rock Album of the Year.  That was obviously going to be a tough act to follow.  But on March 25 of this year, Castiglia did just that.  His new release, I Got Love, just might be better.  I say "just might" only to be fair to those who might not necessarily agree.  From my perspective, it absolutely is better.
Last night Castiglia hosted a launch party for the new album at the Oriental Theater in Denver.  To say he rocked the house would be akin to saying people around here are excited to have Russell Wilson as the new Denver Broncos quarterback.
I've been following Castiglia's career since his first solo release in 2002.  In those twenty years, he's released 13 albums.  Remarkably, each successive release seems to surpass the previous one.  That means he's assembled an exceptionally impressive catalog of songs – enough to easily keep a live audience rocking non-stop for two hours, which is exactly what he did last night.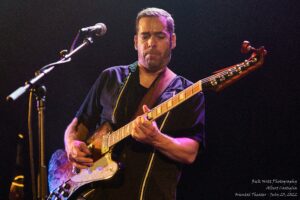 After a terrific hour-long opening set from Colorado Springs' own Austin Young, Castiglia took the Oriental stage at 9:20 pm.  Castiglia's current touring band is stripped down, and includes longtime drummer Ephraim Lowell and newcomer Mark Garabian on bass.  Garabian replaces longtime bassist Justine Tompkins, who recently departed the band to start a family.  Lowell and Garabian provided consistent and solid support throughout, and even got their respective opportunities for extended solos toward the end of the set.
From the moment promoter Mark Sundermeier introduced Castiglia, the tone for the night was obvious.  Castiglia took the state in an extremely playful mood, ready to give the faithful in attendance a great time.  The thirteen-song set included a mix of Castiglia originals and covers both classic and somewhat avant-garde.  At one point Castiglia did something you rarely see from an artist these days – he opened the set to an audience request.  The result was a cover of the Albert King classic, "Cadillac Assembly Line".
Castiglia and crew opened with "Big Toe" from his 2006 release A Stone's Throw, then followed immediately with "Let The Big Dog Eat", from the 2016 release Big Dog.  They then turned toward newer material, with "I Got Love" and "Take My Name Out Of Your Mouth" from the new I Got Love album.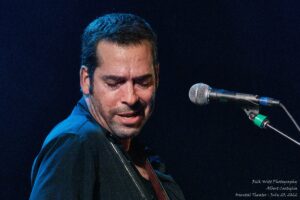 Mixing in stories and anecdotes between songs, Castiglia kept the audience laughing throughout the night.  To introduce the song "Heavy" from his award-winning Masterpiece, he explained how his record company hated the album, and that song in particular, forcing him to independently release it, along with his longtime friend and collaborator Mike Zito, on Gulf Coast Records.  As previously noted, that album went on to win the award for Blues Rock Album of the Year.  Clearly, the folks at Ruf Records made a bad decision on that one.
"Heavy" was followed by "Depression Blues", the lone cover (from Melvin Taylor) on the I Got Love album.  Despite the apparent tone of the title, "Depression Blues" is an up-tempo blues rocker, which led beautifully into another up-tempo blues rocker, "I've Been Up All Night", from Castiglia's 2017 release Up All Night.
It was at this point in the show when Castiglia went somewhat off-script, beginning with the crowd request "Cadillac Assembly Line", followed by that previously mentioned avant-garde cover – Bob Seger's "Sunspot Baby", which Castiglia has been playing in some of his Blood Brothers tour gigs with Mike Zito.
The set concluded with a flourish, with one more tune from the I Got Love album, the tongue-in-cheek "Double Down", followed by a Hendrix medley of "Little Wing", "Voodoo Chile" and "Red House".  The final song of the set was a killer version of Freddy King's "Boogie Funk", which had the crowd on its feet.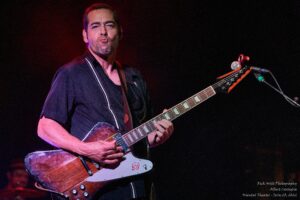 Castiglia possesses all the characteristics necessary to wow a crowd for two hours.  He's first and foremost an outstanding guitarist and vocalist.  At one point in the set, he played his guitar for an extended stretch just left-handed, while holding up and drinking from a can of water.  If you would have closed your eyes there would be no way to tell that he was using just one hand – he's that good.  His vocals are soulful and powerful.  He's also an outstanding showman and entertainer, bouncing across the stage, mugging for the crowd, and especially (to my great delight) for the photographers.  Finally, he's a great storyteller, mixing social commentary with humor to get his point across about such things as social media, the impact of the pandemic on the music industry, and his appreciation and reverence for his blues forebearers.  He's charismatic and engaging, and comes across as genuinely loving being on stage, directly interacting with the people who love his music.
In discussing his Blood Brothers project with Zito, Castiglia hinted that the tour was going to go on for a while, and would be making its way west in the not-too-distant future.  Here's hoping that tour lands in Denver.  If and when it does, you would be wise to grab tickets early.
Story and photos by Rick Witt  www.rickwittphotography.com