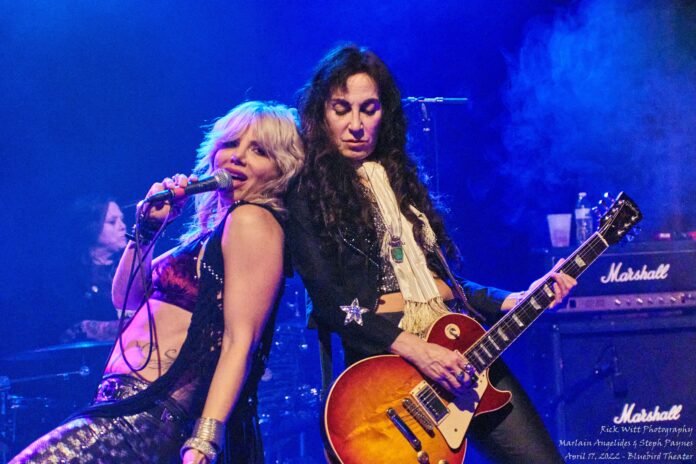 You can fact-check me if you want, but I'm going to assert that there are probably more "big time" Led Zeppelin cover/tribute bands making the rounds than there are for any other band from the classic rock era.  I've seen a number of them and enjoyed them all.  But I'll further assert that none are as unique and put on a better show than the all-female Lez Zeppelin.
Oh sure, that might not seem like much of a stretch.  Most of those other bands are all male, so obviously Lez Zeppelin are unique.  But there's more to it than that.  And last night at the Bluebird Theater in Denver, they showed the near-capacity crowd just how much more there really is.
Before we talk about last night's show, however, we need to set the record straight.  Don't call Lez Zeppelin a tribute band.  Founder and guitarist Steph Paynes refers to the band as the "she-incarnation" of Led Zeppelin, drawing the distinction between channeling the music of Zep (which is what they do) and impersonating Zep (which they don't try to do).  Paynes talks about the band's obsession with authenticity, and their passion and commitment to sweating every detail, no matter how "small".
That commitment has led to an extraordinary level of critical acclaim, and a ravenous fan base.  In a 2005 article by Chuck Klosterman in Spin magazine, Lez Zeppelin was referred to as "the most powerful all-female band in rock history".  And the legendary Jimmy Page himself, in a 2013 interview, said of the group, "They played the Led Zeppelin music with an extraordinary sensuality and an energy and passion that highlighted their superb musicianship."  This group has chops – musically, and in the power of their live performances.
The current Lez Zeppelin lineup consists of band founder Steph Paynes (Guitar); Marlain Angelides (Vocals); Joan Chew (Bass/Keys/Mandolin) and Leesa Harrington-Squyres (Drums).  All are exceptionally talented, and play their respective roles with a level of authenticity that is extraordinary.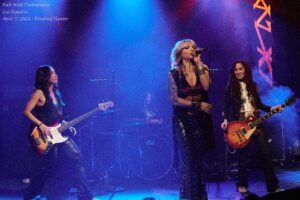 Last night's 16-song set (and how in the world do you distill it down to 16, anyway?) opened with Immigrant Song, setting the tone for an extremely high-energy evening.  The set was full-tilt through the first half dozen tunes, including Good Times, Bad Times, The Ocean Song, and Nobody's Fault But Mine.
Things slowed down for a three-song acoustic set, including Going To California, That's The Way, and Bron-Yr-Aur Stomp.  The upbeat Stomp provided the perfect segue to the last part of the main set, starting with The Wanton Song, and concluding with a crowd-pleasing extended version of Whole Lotta Love.  A surprise came when the band launched into a cover of John Lee Hooker's Boogie Chillin', inserted into the middle of this five-song thread.
The band closed out the evening with a one-song encore of Rock And Roll, then stayed on stage for bows, waves, handshakes, and fist bumps with members of the crowd packed against the stage.
Speaking of the crowd, considering it was Easter Sunday, I wasn't sure what to expect. I shouldn't have had any doubts… this IS Denver, where the live music faithful seldom disappoints.  The crowd was raucous, animated, and primed to rock.  Several times Angelides called upon the crowd to join in on the vocals, and they did themselves proud.  It was an extremely diverse crowd, with an age range of the mid-20s to (at least) the mid-70s.  Proof positive (as if it was needed) that the music of Led Zeppelin is truly timeless.

The band was in exceptional form – what Paynes described in an interview from last year as "raging".  Angelides' vocals were outstanding, and her on-stage persona was equally impressive.  She was all over the stage, posing in true rock star fashion, interacting with each of the members of the band.  Chew was equally as impressive, whether she was standing stoically off to the side or prancing and dancing across the stage.  And her turn on the mandolin was exquisite. Harrington-Squyres was powerful channeling the late, great John Bonham. You simply cannot do Zeppelin music justice if you can't capture some of Bonzo's magic, and Harrington-Squyres just flat out delivered. And Paynes, as previously mentioned the founding member of the band, was mesmerizing. The woman is a terrific guitarist, and the only member of the band who never took a break during the set. Her interplay with Angelides was provocative and electric, and her interactions with the crowd were playful and charismatic.
Bottom line… it was an outstanding show, both in terms of the songs that were played, and the musicianship of the players.  If you missed it, you missed something special.  But fear not. One of the highlights of the evening was the announcement from Paynes that because the band loves playing Denver so much they are planning a return engagement in July. Take it from me… you really won't want to miss that.
Story and photos by Rick Witt
Visit here for an interview with Steph Paynes from April 12, 2022.