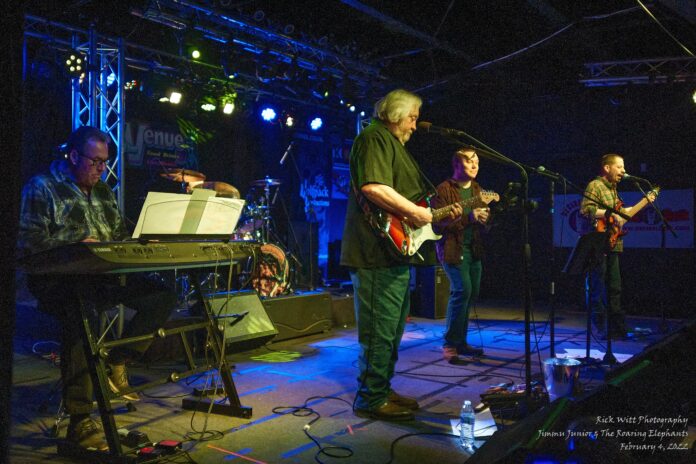 Jimmy Junior's love affair with blues music goes back even further than he can remember.  I sat down with Jimmy in advance of his band's show at The Venue on February 4, and he told me that his parents, both of whom were lovers of the blues, played Stevie Ray Vaughan's version of "Mary Had A Little Lamb" in the car while bringing him home from the hospital after he was born.  That was in August of 1990.
He originally wanted to play guitar, and his eyes light up when he talks about meeting Buddy Guy when he was eleven years old.  He'll tell you, without hesitation, that The Allman Brothers Band is the greatest band ever.  And you know he's speaking from the heart when he describes blues music as "food for the soul."
He'll admit that he just didn't put enough into learning guitar as he should have.  But part of that was because, along the way, he discovered the harmonica, and he knew that was his true calling.  And while he really is a "Junior," his musical identity of Jimmy Junior is really an homage to one of his heroes, Junior Wells.
Which bring us to this past Friday night, at The Venue in Denver, where his newest musical project, Jimmy Junior & the Roaring Elephants, opened a three-band live show.  This was the second time JJRE performed as part of this lineup, which included The Pharoahs and headliners Mad Dog and the Smokin' Js.  Last November the three bands played a benefit show at The Venue.  They were so well-received that they were asked back for the show two nights ago.
And rightfully so.  The band's ten song setlist showcased Jimmy's high energy stage presence, and the respective talent of the other band members.  Guitarist John Oliver (who also fronts Northern Colorado favorite The Incoming Groove Band) was stellar, particularly on the band's cover of Joe Walsh's "Rocky Mountain Way."  While I wouldn't call that a true blues tune, I was personally thrilled to see it on the setlist.  Josh Loun was great on bass, and provided a fair amount of comic relief between songs.   Mike Rossi was a rock on the drums, and Greg Rice, who was playing with the band for the first time, was outstanding on keys.
(Vocalist Katie Sengenberger wasn't available for this particular show.)
The set opened with Dave Mason's "Feelin' Alright," which really set the tone for the night, and closed with "Sweet Home 'Colorado'" (a modified cover of Robert Johnson's "Sweet Home Chicago").  In between were nods to Elmore James, Buddy Guy, Muddy Waters, Booker T. & the M.G.'s, and, of course, Junior Wells.  The band did a terrific job on everything, but I was particularly impressed with their cover of "Green Onions." Lead vocals were shared throughout the evening by Jimmy, John and Josh.
When I talked with Jimmy Junior in advance of the show, he told me that playing the blues was all about feeling it… that it's something you can't feign.  He noted that his animated style on stage is just him letting the music take him where it will, and that it's all about having fun.  He added that if you're having fun playing it, the crowd is probably going to have fun hearing it.
If you like blues music, and you're looking for a fun and energizing night on the town, I highly encourage you to check out Jimmy Junior & The Roaring Elephants.  Find information about upcoming gigs at https://www.jimmyjuniormusic.com.
Photos and story by Rick Witt