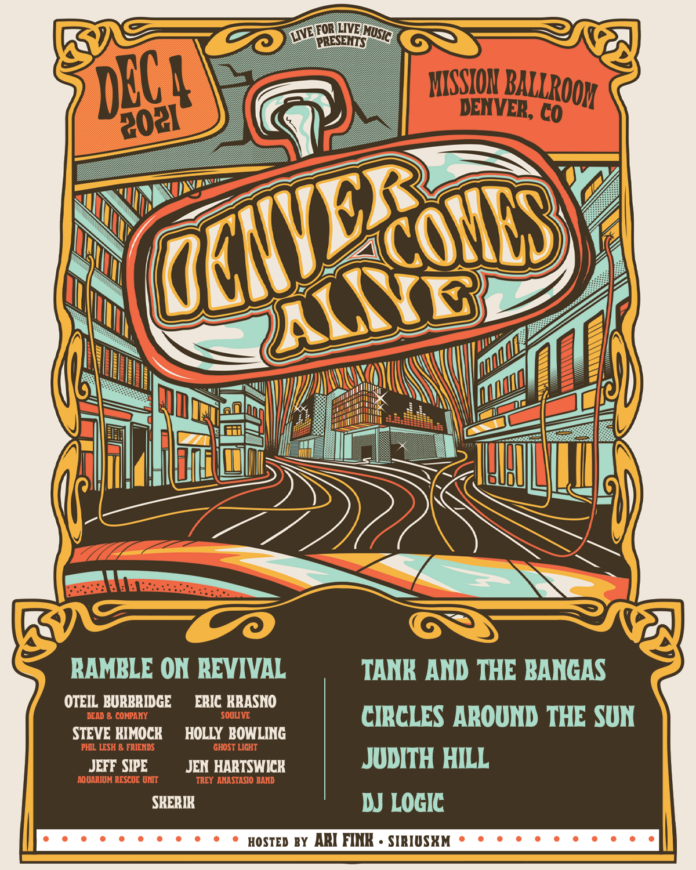 LIVE FOR LIVE MUSIC PRESENTS
DENVER COMES ALIVE,
A ONE-DAY MUSIC MARATHON
FEATURING DEBUT OF RAMBLE ON REVIVAL BAND FT.
OTEIL BURBRIDGE, STEVE KIMOCK, HOLLY BOWLING,
ERIC KRASNO AND MORE
PLUS TANK AND THE BANGAS, CIRCLES AROUND THE SUN, JUDITH HILL
AND DJ LOGIC
TAKING PLACE SATURDAY, DECEMBER 4 AT MISSION BALLROOM
On December 4th, 2021, Denver Comes Alive will return to Mission Ballroom for its second annual event. Produced by Live For Live Music in partnership with AEG, Denver Comes Alive promises a full day of live sets and unique projects featuring an array of live music greats.
General on sale starts Friday, October 8 at 10 AM MT via https://bit.ly/DENCOMESALIVE21. Fans can elevate their Denver Comes Alive experience with a VIP package that includes exclusive access to a private lounge with a bar and food provided by Lou's Italian Specialties in the West Balcony, as well as a private viewing area with seats.
Inspired by the vibrant live music culture of New Orleans, LA and its famed Jazz & Heritage Festival, Denver Comes Alive will offer up a mix of never-before-seen collaborations and nationally touring bands. In true "Comes Alive" fashion, the 2021 event will feature the world premiere of a new band, Ramble On Revival. The all-star ensemble features Oteil Burbridge (Dead & Company), Steve Kimock (Phil Lesh & Friends), Eric Krasno (Soulive), Holly Bowling (Ghost Light), Jeff Sipe (Col. Bruce Hampton and the Aquarium Rescue Unit), Skerik, and Jennifer Hartswick (Trey Anastasio Band), who will pull from their interconnected musical lineages to deliver a performance steeped in the spirit of the Grateful Dead, the Allman Brothers Band, and more.
In addition to the debut of Ramble On Revival, the thoughtfully curated 2021 Denver Comes Alive lineup will feature Grammy-nominated New Orleans soul/funk/jazz/hip-hop/spoken word outfit Tank and the Bangas, beloved instrumental dance band Circles Around The Sun, former Prince and Michael Jackson collaborator Judith Hill, and more. The one-day event, hosted by SiriusXM's Ari Fink, will also feature DJ Logic performing between sets and a live painting exhibition/pop-up gallery by beloved New Orleans artist Frenchy.
"The last Denver Comes Alive took place a month before the pandemic hit and is my last memory of being at a sold-out, indoor show, dancing until my feet hurt without a care in the world," says Kunj Shah, founder of Live For Live Music. "Over the course of the next year, we put on four virtual 'Comes Alive' events and raised over $500,000 for charity, but we've been itching to get back to the live setting."
Shah adds, "This time around, we're going to incorporate a bunch of incredible nonprofit organizations, various members of the Denver and New Orleans communities, and a truly diverse group of musicians to really make this event come alive."
Denver Comes Alive will donate a portion of proceeds to New Orleans Musicians Clinic (NOMC), which provides comprehensive medical care and social services to local musicians, performing artists, cultural workers, and tradition bearers. In the wake of the devastating Hurricane Ida, the organization is actively working to provide immediate relief for its most vulnerable patients and clients. Learn more at 
neworleansmusiciansclinic.org
.
In addition to NOMC, Live For Live Music and Denver Comes Alive are proud to partner with 
Conscious Alliance
, a network of creatives using their time and talents to feed millions of hungry families across the US. In addition to a Conscious Alliance food drive at the event, all proceeds from sales of a unique 'Art That Feeds' Denver Comes Alive 2021 poster will go toward sending a semi-truck filled with food to New Orleans to directly aid families struggling in Ida's aftermath.
HeadCount and GrooveSafe will also have a presence on-site. HeadCount is a non-partisan organization that uses the power of music to register voters and promote participation in democracy. GrooveSafe aims to cultivate consent culture and create a no-tolerance environment for sexual misconduct.
Prepare for this year's Denver Comes Alive by reliving 2020's highlights 
here
.
Get tickets for Denver Comes Alive 2021 starting this Friday 
here
 and find more information on the lineup below.
Ramble On Revival:
Oteil Burbridge (Dead & Company, Ramble On Revival)
Steve Kimock (Phil Lesh & Friends)
Eric Krasno (Soulive)
Holly Bowling (Ghost Light)
 Jeff Sipe (Aquarium Rescue Unit)
 Jen Hartswick (Trey Anastasio Band)
 Skerik
Plus performances by:
Tank and the Bangas
Circles Around the Sun
Judith Hill
+ DJ Logic Spinning Between Sets
Hosted by Ari Fink (SiriusXM)