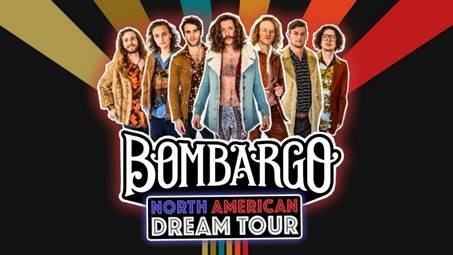 Rising Canadian-based indie band Bombargo, who've already caught the attention of Taylor Swift and Sir Richard Branson, are making their U.S. debut this fall bringing their "Good Time Guarantee" to the Western region of the country including Denver on Friday, October 18 at Mission Ballroom supporting Michael Franti & Spearhead. Tickets are on sale now; visit www.bombargo.com for ticketing information.
"We couldn't be more excited to tour the USA for our very first time!," shares lead vocalist Nathan Thoen. "The inception of Bombargo happened at a music festival in the States, so having the opportunity to tour through this majestic country has the dream coming full circle!"
Bombargo's feel-good music — including pop singles "Oxygen," which broke into Canada's Top 50 Hot AC radio chart this summer, and "Mr. No Good" as featured on Swift's first "Songs Taylor Loves" star-studded Spotify playlist – recently hit 2 million streams on Spotify. PRESS HERE to check out their latest single "Already There" and PRESS HERE to watch the official video for radio hit "Oxygen."
Bombargo (Nathan Thoen [vocals], Spencer Chilliak [guitar/vocals], Anthony Thoen [guitar], Matt Folkerson [guitar/keys], Sammy Lee Folkerson [bass], Connor Newton [saxophone], Niall Cubbon [drums]) drops a vibrant splash of soul on their funky indie vibes with layers of rock and R&B infused throughout. The band brings unrivaled energy to the stage with sing-along anthems, magical five-part harmonies, and powerful messages of hope, happiness and chasing your dreams that combined make for one of the most passionate and memorable live shows ever – they guarantee it! PRESS HERE to learn more about "The Good Time Guarantee."
After attending the Sasquatch! Music Festival over five years ago, Nathan and Spencer were inspired to form a band. Bombargo soon put out an EP and, in 2017, released their debut full-length album, We Are Bombargo. The band has been rapidly making a name for themselves ever since with their captivating music and exuberant live performances, opening for John Butler Trio, Michael Franti & Spearhead and The Dead South along the way. Bombargo is currently writing and recording their second full-length record while shooting an autobiographic film set to coincide with the release.