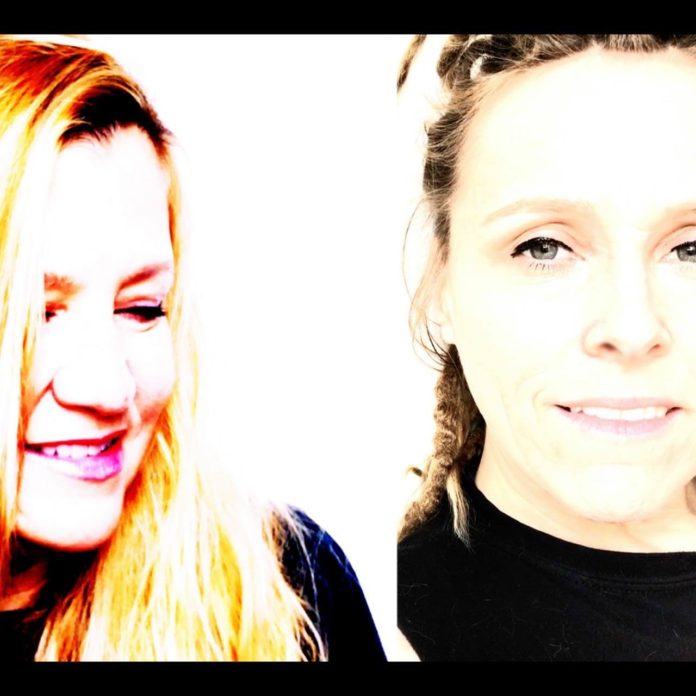 What happens when two badass babes from nationally-acclaimed all-female tribute bands collide to create a super fresh dream-pop-psychadelic-rock album?  Beaux Cheveux, that's what happens. The dangerously talented union of Hell's Belles Adrian Conner (Angus Young AC/DC) and Zepparella's Clementine (Bonzo/Led Zeppelin) birthed an unrivaled fusion of no-boundaries rock-and-roll in this hot, new combo.
After the release of their debut album, Ro Sham Bo, Beaux Cheveux are hitting with the magnetic Hell's Belles and will be taking the stage of Denver's own Bluebird Theatre on November 1. Get ready for the inside scoop from Conner herself as she gives Denver Entertainment Hub the low-down on their creative process, the benefits of not working the grueling nine-to-five, and how life is better than ever.
"Expect to hear something totally different…" – Adrian Conner
Denver Entertainment Hub: How did the duo of Clementine and yourself come to be?
Adrian Conner: Clem asked me to be in a band with her. One day I went over to her place in San Francisco and she had me play guitar to ten drum beats. That was the beginning of making the album and band.
DEH: What was the first song you wrote together and how did that shape the collaboration?
AC: A song called "France," it didn't make it onto the album because the terrorist attack had just happened Paris and some of the lyrics took on a whole different meaning.
Clem writes the lyrics for Beaux Cheveux, our theme is mostly about love and inclusion. I admire that greatly in her writing because most of the time when I write a song it's because I'm angry and want to speak my mind politically. All my songs that aren't angry aren't very good… Clem has a talent for beautiful writing. 
DEH: Do you write songs together or contribute to each others individual songs?  
AC: I feel that Clementine has the last say when it comes to the song and how it's gonna go. She sends me the drum beat, I contribute the bass and send back. She edits and manipulates it, will put a melody over it with singing, and then sends it back to me. I then put the guitar over it and send it back and then she modifies her melody accordingly. It was an insanely fun and interesting process, fascinating to see the end product. A true collaboration for me. 
DEH: What is the best part about playing your original music?
AC: The best part about playing original music that I had a part in the actual creation process. I used to get very frustrated with it, but working with Clementine has taught me that creativity is unlimited. It doesn't scare me or frustrate me anymore. Getting people to listen to it is, that is now what's frustrating. 
"One of my favorite lyrics from Bon Scott is 'I know I ain't doin' much. Doin' nothin' means a lot to me.'" 
DEH: Does being a part of Hell's Belles make it difficult pursuing other projects, like Beaux Cheveux?
AC: No, it is actually a huge support in creating new music. Because of Hell's Belles, I'm able to not have a normal 9-5 job which leaves me a lot of time to live my life on my terms. Creating is now so important to me, I'm constantly making things. One of my favorite lyrics from Bon Scott is "I know I ain't doin' much. Doin' nothin' means a lot to me." 
DEH: What are you most looking forward to during your tour?
AC: Hanging out with Clementine. She's really fun and I really like our spiritual conversations. Also, the pretty drives that we will have on the west coast. Northern CA – Grants Pass is always so incredible. 
DEH: What can Denver fans expect from your show on November 1 at Bluebird Theatre?
AC: A lotta leg! They can expect to hear something totally different from me. It's fun music!