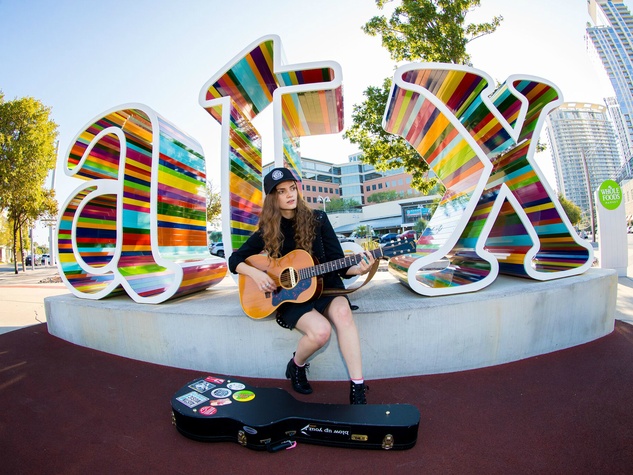 Jane Ellen Bryant is a name that has quickly become well-known and adored in the Live Music Capital of the World. Like many of her musical idols (Sheryl Crow, Bonnie Raitt and Sara Bareilles), Bryant has a unique voice and distinguishable songwriting style that instantly sets her apart. Her music feels familiar, yet fresh. Her dynamic sound has often been described as "heartbreaking rock 'n' roll." Her lyrics speak directly to your soul, the musical "hooks" leave you humming and her rare vocal control will either have you rocking a head bang, or wiping away a tear. Her passionate performances continuously leave listeners begging to know more about this mesmerizing songstress.
Veronica Lee had a chance to get in a quick interview:
Q: Your new EP has been released, how are you feeling?
I'm so happy it is finally available for people to hear!
Q: The new music is departure from your previous releases, was that an intentional step?
Yes, I wanted to explore new sides of my artistry and songwriting. I asked myself, "What would you do if you were not afraid of what other people thought?" The result was a crazy pop song like Attention, plus the other songs that showcase a little bit of everything.
Q: Hourglass was released quite a while ago and I imagine a lot has changed for you, as a person and as a musician. How would you describe the evolution? Within you and within your music?
I recorded and released Hourglass right after I graduated from college five years ago. I was naïve in thinking that by doing that, the path in music would suddenly become clear. It still isn't even close to clear, but I'm grateful for that. I've grown and experienced so much since then. I think everything happens for a reason, in it's own time.
Q: What was different about the process of songwriting and recording the new music from your previous release?
I am involved so much more in the studio than I used to be when I was first getting started. I'm grateful for my producer, Frenchie Smith, for trusting me to explore every aspect of the song. I've also been challenging myself as a songwriter more than I ever used to. Sometimes that means writing from a character's perspective, and other times it means digging more than I ever have for the right lyric. 
Q: When you hear the title your music is given, "heartbreak rock-n-roll", what does that mean to you? Do you feel that describes you and your music?
I think many of the songs are upbeat but they still pull on your heart strings. The sound is constantly evolving though. I would love to hear how others choose to describe it after hearing the variety in these new tunes.
Q: What are your plans on hitting on the road and touring the new music?
I'll be traveling a bit the rest of the year, but hoping to do a lot more in the near future!
Q: You were born and raised in Austin, TX, a city well known for it's music scene. What is it like to play in cities that may not have as thriving a singer/songwriter culture?
I like playing outside of music cities because people there are so grateful! They are not over-saturated with live music like we are in Austin or Nashville. Sometimes it's hard to get people to come out to shows in Austin because there is so much music going on at a every corner.
Q: What was one your most memorable or favorite live performances?
I loved getting to perform at Auditorium Shores last year for the ALL ATX annual show. Seeing my name on the same poster as John Fogerty was pretty cool. Also, I love performing at the Hotel Cafe in Los Angeles. I'll continue to play there any chance I get.
Q: What is one show that stands out in a less than favorable way?
There have been so many shows, that all blend together now, where things went no where near as planned. That just makes the ones that go right so much more rewarding! It's all part of the journey.
Q: What are you most looking forward to with the release of the new EP?
I'm looking forward to seeing which sound or track people respond to the most!