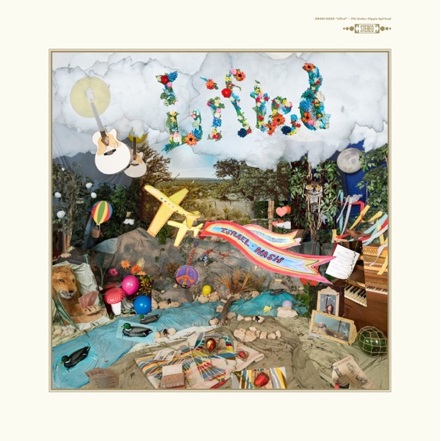 Today, Texas' genre bending rock 'n roller Israel Nash, releases his fifth studio album, Lifted (Desert Forklore Music/Thirty Tigers).
Lifted is available now on all digital service platforms and for physical purchase at www.israelnash.com. Nash and his band kick off their extensive album release tour tonight with a hometown show at the Historic Scoot Inn in Austin, TX, before heading out to
25+ cities across the country, including a stop at the at the inaugural Holler On the Hill Festival in Indianapolis, IN and the Americana Music Festival in Nashville this September. All announced dates and tickets are available now at
www.israelnash.com
WATCH THE MAKING OF LIFTED HERE
[youtube https://www.youtube.com/watch?v=meRTqzUn26A&w=560&h=315]
Lifted is receiving early praise from critics and fans alike. Highlighted by NPR Music's All Songs Considered as an "Album You Should Hear Now," they describe, "these songs stretch out and really feel like a big view you can take in with your ears… the oral equivalent of an amazing view," while Wide Open Country encourages listeners to, "…get lost within Nash's world of multi-hued rock and vibrant sonic palette. Songs bleed into one another creating a vivid presentation. It ebbs and flows. You're fully immersed in Lifted." The Boston Globe reviews, "…each track is its own unique sonic landscape, masterfully crafted".
Lifted
, a modern day hippie-spiritual, finds Nash continuing his tradition of creating a sonic landscape that is at once both vast and intimate – soaring and untamed at times, placid and sincerely personal at others. Accompanied by his longtime band, with arrangements by Jesse Chandler (Mercury Rev, Midlake), horns by members of Austin's cumbia/funk compadre's Grupo Fantasma, and strings from Kelsey Wilson and Sadie Wolf (Wild Child), Nash, alongside co-producer and engineer Ted Young (Kurt Vile, The Rolling Stones), presents an album that soars with meticulously crafted, multi-hued rock and psychedelia. 
The album was recorded at Israel Nash's studio, a Quonset hut structure called Plum Creek Sound at his home in Dripping Springs, Texas. During the process the studio became a sanctuary for Nash, a creative environment where he often reached a meditative state of escapism, creating a space where he could leave behind his downhearted feelings about the current political landscape and the bigger, existential questions those concerns raise.
Lifted, Israel Nash's opus, is a fully realized, psychedelic, experimental, Americana rooted epic. By immersing oneself in Lifted, one can see Nash succeeds in a way that's exquisite yet spiritually satisfying. Nash welcomes you to join him on his uplifting path – one he's taken throughout his career, now continuing on a higher, imaginative plane.
LIFTED TRACKLISTING
8. Northwest Stars (Out Of Tacoma)
ISRAEL NASH ON TOUR
JULY
27 – Scoot Inn – Austin, TX+
31 – Club Dada – Dallas TX
AUGUST
1 – South On Main – Little Rock, AR
2 – Off Broadway – St. Louis, MO^
3 – Crossroads – Kansas City, MO*
4 – Raccoon Motel – Davenport, IA
5 – Palace Theatre – Minneapolis, MN*
7 – Bluestem Amphiteater – Moorhead, MN*
SEPTEMBER
10 – The Earl – Atlanta, GA
11 – Americana Fest – Nashville, TN
13 – Americana Fest – Nashville, TN
14 – Zanzabar – Louisville, KY
15 – Rumba Cafe – Columbus, OH
16 – Pike Room at the Crofoot – Detroit, MI
18 – Schubas – Chicago, IL
19 – The Back Room at Colectivo – Milwaukee, WI
20 – Turf Club – Minneapolis, MN
22 – Holler On the Hill – Indianapolis, IN
23 – Mountain Stage – Charleston, WV
25 – Rough Trade – Brooklyn, NY
26 – Johnny Brenda's – Philadelphia, PA
27 – Jammin Java – Vienna, VA
28 – Club Cafe – Pittsburgh, PA
30 – Roots N Blues BBQ Festival – Columbia, MO
OCTOBER
10 – Moroccan Lounge – Los Angeles, CA
11 – Siren – San Louis Obispo, CA
12 – Café Du Nord – San Francisco, CA
14 – Doug Fir Lounge – Portland, OR
16 – Tractor Tavern – Seattle, WA
18 – State Room – Salt Lake City, UT
19 – Magic Rat – Fort Collins, CO
20 – Globe Hall – Denver, CO
+ with Feverbones & Curtis Roush
^ with Old 97's
*with Nathaniel Rateliff & The Night Sweats
Israel Nash is:
Israel Nash
Eric Swanson
Roger Sollenberger
Aaron McClellan
Josh Fleischmann
# # # 
Connect with Israel Nash online: