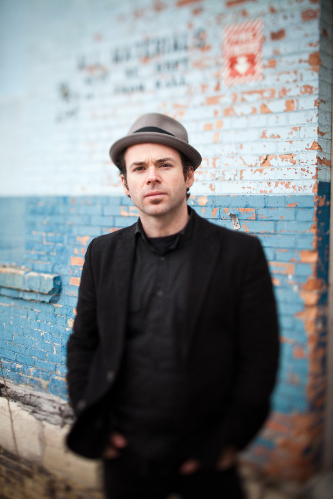 Wisconsin based Orchestral Folk artist Mike Mangione is no stranger to hard work; having survived the grind of Los Angeles where he worked odd jobs from Java the Truck barista and carpenter's assistant to a SAG card holding movie extra, he made enough to get his first tour on the road. About 15 years and an uncountable number of miles under his feet, Mangione is gearing up to release his fourth full-length album in the fall and finds his bliss through connection, collaboration, and family.
Currently Mike Mangione is in rehearsals with his band, Mike Mangione and The Kin, as they prepare for a big year. May 19, 2017 marks the date of his 4 song EP release, Three Days, with a quick follow up of a full-length album set for this fall. Formerly of Mike Mangione and The Union, The Kin is a new spin on his established and deeply-rooted genre. The band is comprised of himself and his brother on vocal lead and guitars while the sister power duo Monique and Chaunte Ross are on violin and cello. The collaborating sibling quartet has found a stride and language all their own and Mangione is eager to share his creativity that exudes passion. As he drives around his familiar home of Milwaukee post-practice, he talks about how music became not simply an integral part of his life but rather what he feels led to do.
Chicago born, Mangione remembers music being less of a thing to do and more of a way of life. "I developed, at an early age, an appreciation for music's presence," he explains. "Whether we were driving, or hanging out at the house or at a lake, there was always music." He fondly recalls it as though it was a soundtrack of his childhood, something that was always in the background and filling the natural space of his life storyline.
Starting his musical journey as a drummer, the teenage Mike was drawn to bands of the grunge and punk scene. An interest in emulating the front men he admired was enough encouragement to spark the desire to pick up his older brother's guitar and start writing his own songs. "I was thirteen when I started playing around with song writing," Mike says, and then further explains that it quickly developed into a collaborative effort. "All through high school I was in a band, we made a record…" as he recalls, "All of those songs are available, I kind of wish a lot of them weren't… They're all horrible," he laughs. For Mike, he explains that even from the start, music didn't have to be used strictly as an expression of an emotion that he was experiencing, "It wasn't like 'I'm angry, I need this song to represent the anger' or 'I'm in love, I need this song to represent love', music can be a place in life in every moment."
And that's how he continues to explore his songwriting and style. He released his first album, There And Back, in 2005, and saw success with Sophomore follow up Tenebrae in 2007. "Orchestral Folk" is the niche genre he has been tucked in to, the music offers an airy and atmospheric experience within and uses the weaving of storytelling and string. "It has an ethereal, lush quality and it's based off of what I grew up with. I look at it more of a landscape versus a 3-minute thing to do." The soulful folk-rock tracks are written as a snapshot of moments in time, offering themselves as a consistent and binding connection between music and life.
Drawing on his knowledge and skill of percussive history, he found that laid a strong foundation of how he connects within the songs and the band. "My guitar playing is pretty rhythmic and my association with the bass player or the cellist is more important than anybody else, we lock in more." Mike transitions between solo performer and band collaborator with ease, and finds that his versatility is one of his most gifted qualities. He divides his time between solo performances, a four-piece band, and the full six-piece lineup. He released his first solo album, There And Back, in 2005, and saw success with Sophomore follow up Tenebrae in 2007. In 2013 he released Red-winged Blackbird Man with The Union and continued the collaboration until 2016.
Staying more than busy between the different projects over the years, he found himself away from home constantly. "I used to tour all the time," he explains that "you can waste a lot of days out on the road." He remembers the earliest days of touring when he hit the road in his van, sleeping in rest areas and expanding his touring circle multiple times over as those years kind of blurred together. "I loved it so much that I got rid of my apartment," he says, and considers that time extremely significant in his future trajectory. "It's like laying railroad tracks in front of you, I was just booking as I went."
His preference has shifted significantly, though, with his most recent focus on being home as much as possible for his wife and 3 children. Fortunately, he has been able to adjust his life in quite a significant way in the last 3-4 years so he can continue to be creative without having a life that revolves around touring. He licenses music, handles venue booking for other artists and even authors, and has been asked to do voice-over work. Yet, is there part of that nomadic lifestyle that he misses? Nope, he says, "I don't miss it at all. I would much rather be with my kids than be in a hotel room. I consider myself very lucky to still be able to do music but also be able to pick up my kids from school." And the idea of bringing the family on the road is less than ideal… "Kids are like drunk roadies," he laughs, "They're absolutely useless and they fall over all the time and hurt themselves."
And in the last year, Mike has found a new creative outlet that is highly satisfying, with a much quicker turn around rate than recording and releasing music. Podcasting. He created Time & The Mystery, an hour+ format of connecting with other public figures in a low key and organic conversation. While on the road, he has had the opportunity to get to know some fascinating and influential people and thought, not only could he do this, but he should do this. "A year ago, I started the Podcast. I called everyone I knew and got some great people to do the show. It's been amazing" he shares with genuine gratitude, "I fall in love with these people." And he doesn't solely focus on other musicians, he also interviews actors, comedians, religious people, and so many other fascinating walks he life. So, instead of spending the day in a coffee shop before a show, he adjusted his attention to meet-ups with individuals he knew in each city.
Mike has a natural curiosity and allows effortless and interesting exchanges with him and his guest, but there is a goal in mind. "There's a basic premise of what I want to get at," he explains, "when I talk to someone I want to know the why of what they do. If you're talking specifically with creatives or public speakers, they put themselves through something very vulnerable and challenging because they believe in something bigger than just the paycheck." He goes on to explain, "They understand their part in the mystery of human life; they understand themselves as being a part of it, and in some way, their work is an extension of them trying to assess and address the human mystery."
There is a significant amount of vulnerability that exists when people share about their lives and what formed their basis of beliefs and motivations. Often times, it is deeply rooted in a feeling of need and a seeking of personal fulfillment in addition to connection to a community of understanding. He has experienced some great interviews and then some personally fulfilling and amazing interviews. He has been interviewed himself (though that isn't posted on the website just yet) and he has even had to take one down by request of the interviewee. For the most part, though, he has found extreme gratification out the endeavor. "It's great that I'm at a point in my life where I can be influenced and really love the people that I know. The fourth wall has been removed after 10 years, I feel like that's the way it should be. It's nice to have a genuine connection with not only the work but the artists themselves."
While he fondly recalls many of his interviews, one stands out in particular in his mind. "There were some that I knew the potential, and they went there, but there was one where I didn't even know was possible." And that was Larry Campbell and Teresa Williams. Larry Campbell has been connected to iconic performers such as Levon Helm, Sheryl Crow, Willie Nelson and Bob Dylan. He and wife Teresa Williams currently are writing and releasing music as a collaborative dynamic duo of artistic history. Two artists that have been extremely influential for Mike have been Bob Dylan and Levon Helm. And Larry Campbell has worked with both of them. Wow.
"I didn't know where I'd go with him, the whole time I'm chomping at the bit to very respectfully ask him about working with Bob Dylan and Levon Helm. That's all I want to talk about," he laughs in retrospect, but he was pleasantly surprised to find that was exactly where the conversation led to organically. "That was the biggest and best moment so far."
Mike is now eagerly awaiting the release of Three Days, recorded in a non-traditional style with a singular microphone in a single take. Videos of each recording are available for viewing and this is just a preview of what the full-length album is going to offer. Expect to see Mike Mangione and The Kin at their favorite Denver spot, The Walnut Room, sometime before the end of the year. And he is sure to emphasize no need to be shy around this down to Earth creative. "People reach out to me a good amount and I have no problem, I'm always responding. A lot of times, people are kind of surprised they get a response! I just feel so honored when someone is so excited to share something with me." Truly an artist one would be lucky to know, Mike Mangione is Singer/Songwriter, Musician, Podcaster, Public Figure and Family Man and so much more.
Check out the video for the recording of Three Days
Watch Lay Down here. 
Listen to Time & The Mystery Podcast