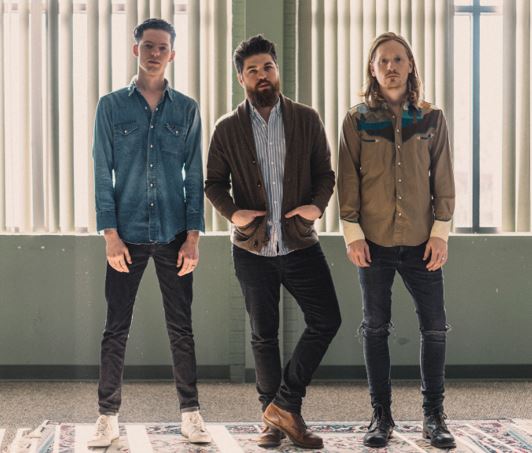 (Photo Credit: Connor North Goad)
Knox Hamilton have partnered with Consequence of Sound to premiere "Never My Love." Following "Washed Up Together," which gathered 1 million streams on both YouTube and Spotify, the synth-based, atmospheric cover of the 1968 release by The Association will serve as second track revealed from their forthcoming debut full-length, The Heights. Boots Copeland called the original, "one of the most classic pop songs ever written."
The album, which the Arkansas Democrat-Gazette called ""an album of arena-ready, pop-rock reminiscent of bands such as Coldplay and Vampire Weekend, loaded with sugary bombast, and perfect for fist pumping singalongs," will be released March 10th, 2017, on Prospect Park Records.
You can listen to "Never My Love" here:
"When we were contemplating doing a cover song we discussed not doing anything too epic in case it didn't turn out," Copeland added, of the decision to add "Never My Love" to the track listing of The Heights, "but ultimately we decided why not tackle one of the best. We were nervous that we wouldn't do it justice but we couldn't be happier with how it turned out. Well, if we're being honest, we killed it."
In support of the release of The Heights, Knox Hamilton will join Colony House on a North American tour. In addition to the tour, the band will set sail with Walk Off The Earth, Ben Rector, Better Than Ezra and 28 other bands on The Rock Boat, which will leave Tampa, FL on February 10 and make stops in Harvest Caye, Belize and Costa Maya, Mexico along the way. In June, the band will join a lineup featuring (but not limited to) The Head and the Heart, Gary Clark Jr., Young The Giant, Dawes, and The Revivalist at the 2017 Laurel Live Festival in Russell Township, OH.  More information on these dates can be found on the band's website.
2/10                       The Rock Boat #                               Tampa, FL
2/18                       Canyon Resort                                  Park City, UT
3/14-3/18             SXSW #                                               Austin, TX
3/19                       House of Blues                                 Houston, TX
3/20                       Club Dada                                          Dallas, TX
3/23                       Valley Bar                                          Phoenix, AZ
3/24                       House of Blues                                 San Diego, CA
3/25                       Troubadour                                       West Hollywood, CA
3/27                       Constellation Room                         Santa Ana, CA
3/28                       The Chapel                                        San Francisco, CA
3/30                       Doug Fir Lounge                               Portland, OR
3/31                       The Crocodile                                    Seattle, WA
4/01                       Biltmore Cabaret                              Vancouver, CAN
4/04                       Kilby Court                                         Salt Lake City, UT
4/07                       Black Sheep                                       Colorado Springs, CO
4/08                       Riot Room                                          Kansas City, MO
4/09                       The Vanguard                                    Tulsa, OK
4/11                       George's Majestic Lounge               Fayetteville, AR
4/12                       The Hi Tone Café                               Memphis, TN
4/14                       Vinyl                                                    Atlanta, GA
6/10                       Laurel School's Butler Campus #    Novelty, OH
6/11                       Laurel School's Butler Campus #    Novelty, OH
# No Colony House