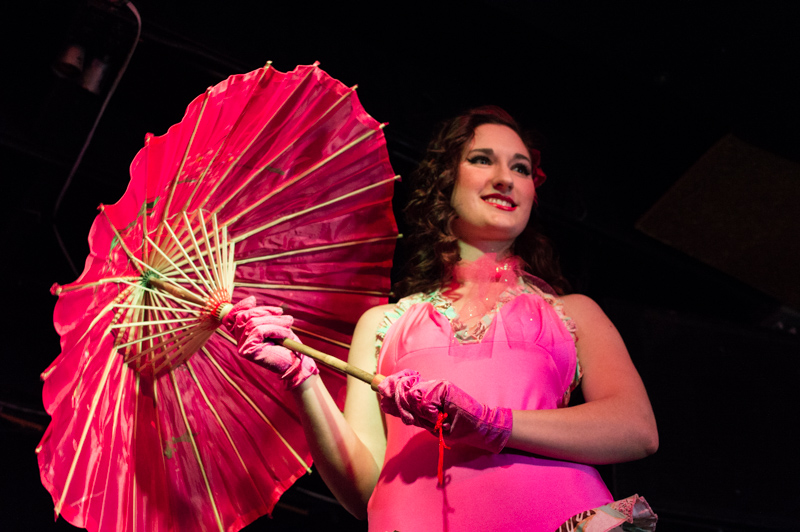 By Veronica Lee
Larimer Lounge was host to an evening of fashion, art and rock and roll on Thursday, January 12th. Hosted by Emily Nielsen, owner and head designer of Romantic Rock, Denver experienced a heavenly combination of local artists to showcase all areas of work. In an increased challenging market for artists to get work exposed to the public in a cost-friendly atmosphere, nights like this seem to be popping up all around town.
The starving artists are not just in over saturated markets such as NYC and LA; Denver is becoming a hub of up and coming designers, musicians, painters, digital artists and mixed media specialists. Every weekend boasts countless Facebook invitations to museum galas and concerts at arenas and amphitheaters. However, nights like this one, are astronomically more fulfilling.
The intimate atmosphere lends itself to offering time and undivided attention; new fans or curious spectators can speak with the artists and musicians between set changes and final makeup touches. What was the inspiration behind this piece? What kind of paints and brushes do you prefer? Where did you come up with the concept take a photograph and digitize it to create that effect? What kind of fabrics do you prefer to use? Where is Monstrovia, exactly? (A question specifically directed towards the "Monsters"). All these and more were questions buzzing around the room, and the creators were thrilled to share their passion with anyone with a curiosity and an open ear.
These events, and so many more, are the kinds that locals can support and feel good about the mere $8 cover charge. Artists, creating and collaborating, and putting it out in the community. See the photos below from the Romantic Rock Fashion Show as well as a list of the artists and bands that performed that night. Be sure to check back soon for more events like this that are coming to Denver soon!
Romantic Rock
romanticrock.net
Artists:
Samael
samaelart.com
Argama Art and Prints
www.argamaprints.com
Amanda Bushere Designs
www.behance.net/mandabushere
Musicians:
Boxcar Eddy
facebook
Burnt Bridge Masons
soundcloud
BOX
facebook
Me Me Monster
website