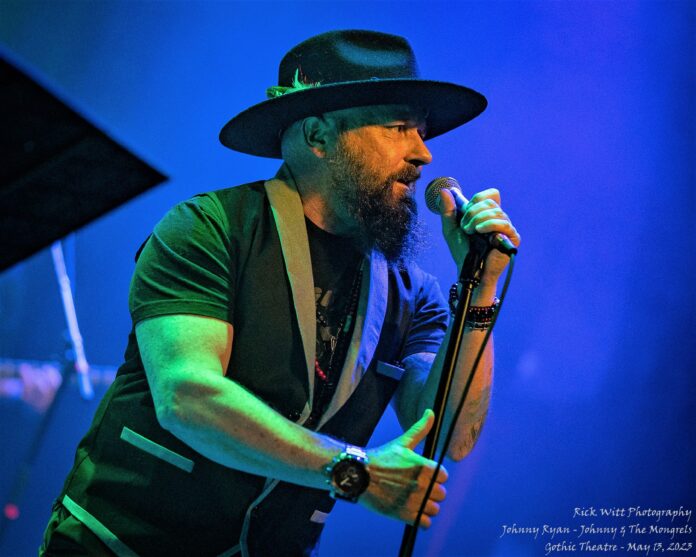 Last year at about this time, I was covering Marc Broussard's show at Denver's Bluebird Theater. The opening act that night was a Colorado and Louisiana-based act called Johnny & The Mongrels. I was so impressed with them that I included a blurb in my Broussard review about them – something I seldom do.  I noted that one member of the crowd I was standing next to leaned over to me and said, "It isn't often that you hope for the opening act to come back for an encore". My sentiments exactly.
When I signed up to cover Broussard's 2023 gig, this year at The Gothic, I was extremely happy to learn that Johnny & The Mongrels would again be opening the show. As luck would have it, Broussard was playing back to back nights in the area – Friday night in Fort Collins and Saturday in Denver – and Johnny & The Mongrels were opening both shows.  I had the good fortune to get the assignment to cover the gigs on both nights.
The week following the shows in Fort Collins and Denver I sat down with front man Johnny Ryan to learn a bit about his musical journey, and how Johnny & The Mongrels came to be…
It seemed almost pre-destined that Johnny Ryan would end up as a musician.  His mother (Penny Lane… how cool is that?) was a professional musician for 40 years, originally performing as the singer in her great uncle's swing band, and eventually branching off on her own.  As a kid growing up in Denver, Ryan was constantly surrounded by music and musicians.  Sundays at his boyhood home were all about large groups of musicians gathering at the house for food and music.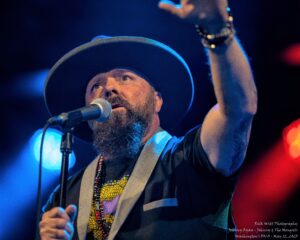 "I got into playing drums first.  My mom would put me on stage when I was a kid, and I'd sit behind the drums and play a couple of songs with them.  I thought I was going to be a drummer"
"But I would watch her rehearse and prepare for shows, and so I started to test my voice a little bit. I really enjoyed singing, so I tried to play drums and sing, and it was like a tap your head and rub your stomach thing. I just could not do it, man. So I decided I was just going to focus on being a singer and lyricist and writing songs."
After high school (Northglenn High), Ryan "kind of shied away from music for a little while." He attended the University of North Carolina on a soccer scholarship, and shifted his focus toward sports.
"But music was always just kind of whispering in the back in my ear, you know. I tried a bunch of different things.  I owned a personal fitness training business for a while. But music was always still kind of poking me in the back, you know, saying hey, where you been."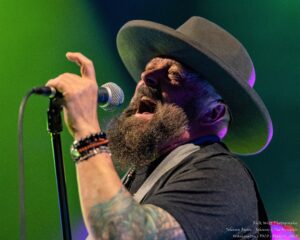 It was during college that Ryan began traveling to New Orleans, where he starting making connections in that city's vibrant music scene, getting a chance to reconnect with his musical roots. New Orleans became a second home for him, and he spent significant time going back and forth between Colorado and New Orleans, expanding his musical networks in both places.
The origins of Johnny & The Mongrels, as a living, breathing entity, go back to 2015.  Back in Colorado, Ryan starting thinking about some of the local musicians he'd been working with, and what it would be like to gather some of them together.  Ryan is quick to point out that Johnny & The Mongrels is a "project", and not so much a "band".  With a band you generally have a set lineup that plays together all the time.  Because Ryan continues to split time between his two homes in Denver and New Orleans, and because Johnny & The Mongrels play a lot of gigs in both cities, it's not practical to have one set of players who all travel back and forth.  So in both cities Ryan has a crew of players he refers to as his "mercenaries", who can fill out the lineup as needed.
"I call them mercenaries because they come in and kill it every night."
The original Johnny & The Mongrels project was formed by Ryan and bass player Jeff Bostic, who is still part of the lineup today.  Ryan credits Bostic with being a huge factor in the project getting off the ground. "His musical input was crucial for writing most of the first 10 songs we did. I wouldn't have had the opportunity to write some of this stuff without his input. It's always been Jeff and me."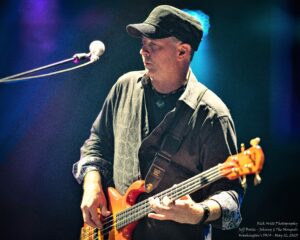 When asked about the Johnny & The Mongrels name, Ryan gets visibly choked up. He explains that this was always his hope for what he would call a band/project, for a very specific reason. "When I was growing up, I had brother, and we were pretty inseparable. My mom was a single mom. And she always called us, affectionately, mongrels. So the reason the band is called Johnny & The Mongrels is because anybody who's a mongrel is part of my family. They mean something to me."
"And that's why we call our fans Mongrels Nation, because they're part of our family too. That's our whole philosophy. We want everybody to feel like family."
To date, Johnny & The Mongrels have released two albums. Their debut, Creole Skies, dropped in mid-2020. (Fun fact… one of the background singers on the Creole Skies album was the one and only Penny Lane.) Their follow up, Magnolia & Pine, was released in December of 2022. Both albums showcase their unique mix of blues, funk, and soul, with a generous helping of creole seasoning to spice things up. Check them out wherever you buy or stream your music.
But what about Johnny & The Mongrels on stage? It's pretty simple… they are absolutely electric. I've now seen them three times, and every time I came away energized and amazed. Everything about the band's set is off the charts. High energy. Amazing songs. Outstanding showmanship. And just one hell of a really, really good time.
Johnny is a superb front man.  His vocals are exceptional, but it's his overall stage presence that really grabs you.  When he's not singing, he's dancing. And let me tell you, the man has some moves.  The consummate showman, he lists Mick Jagger and James Brown as two performers who influenced his own style. He then calls out the two performers who are at the top of his list in terms of musical and performing influences – JJ Grey and Marc Broussard, himself.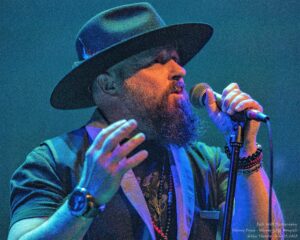 The rest of the band – er, project – is much more than just a supporting cast. The horns, the keys, the drums, guitar, backing vocals and Jeff Bostic's powerful bass all get a chance to shine.  Outstanding musicianship all the way around, all packaged into a powerhouse performance that, in every case, has the crowd chanting "just one more".
(In addition to Johnny on lead vocals, the lineup for the two Colorado shows was Jeff Bostic on bass, James Dumm on guitar, Shaun Gilmour on drums, Bill McKay on keys, Jonas Schultz on saxophone, Matthew Rossmann on trumpet (Friday), Jordan Skomal on trumpet (Saturday), and Gina Figliuolo on backing vocals.)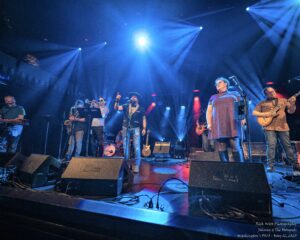 The sets on both nights featured seven tunes, clocking in at between 35 and 40 minutes.  Five of those seven tunes were common to the two sets.  Most of the tunes were upbeat, funky, and contagiously danceable.  The one slower tune, "Creole Skies", was presented as a change of pace on both nights.
Ladies and gentlemen… DO YOURSELF A FAVOR.  If you are reading this post, you are no doubt a fan of live music. Visit the band's website, at https://johnnyandthemongrels.com/, and check out their upcoming gig schedule. They have a bunch of shows coming up in June, and you should get yourself to the first one you can. I say that because once you've seen them the first time, you're going to want to see them again. Whichever gig(s) you pick, I hope to see you there.
Story and photos by Rick Witt     www.rickwittphotography.com