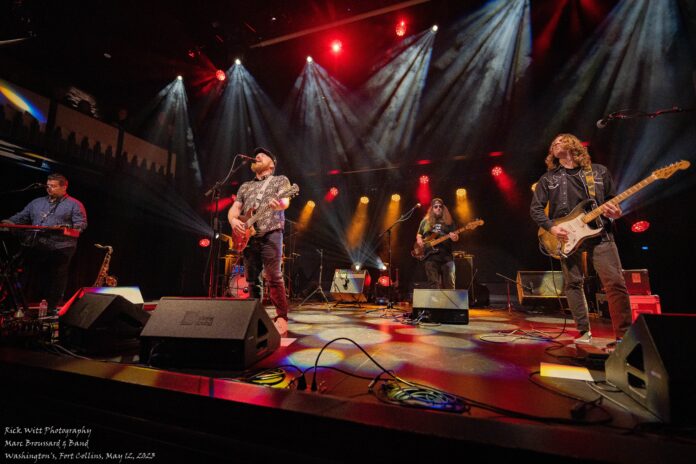 Lagniappe (pronounced lan-yap) is a Cajun term that means "a little something extra".  It can be almost anything extra… a double helping of your favorite dessert, a free giveaway to entice a customer into a retail store, or anything in addition to what you were expecting.
Allow me to take some liberties by stating that on Friday and Saturday of this past week, Colorado was treated to a lagniappe of Marc Broussard.  Broussard played shows at Washington's in Fort Collins on Friday, and at the Gothic in Denver on Saturday.  I was fortunate enough to be there both nights.
A proud native of Louisiana, Broussard's musical style has been described as "Bayou Soul". Combining elements of funk, blues, R&B, rock, folk and pop, there's simply no way to put Broussard into a single box, labelled under a single musical genre.  His sets on Friday and Saturday crossed all of the above listed genre lines, and perhaps more.  It takes a lot of talent to be able to stretch that much, and to do it so well.
Talent is something Broussard has in abundance.  His voice – oh, that voice! – is smooth as butter, powerful yet tender, emotive, expressive, and inviting.  His songwriting is superb, from heartfelt odes to his Louisiana homeland like "Paradis" (which he didn't perform on either if these nights) to a soulful sledgehammer like "Home".  And his ability to turn multi-genre covers into something new, refreshing and completely his own is absolutely incredible.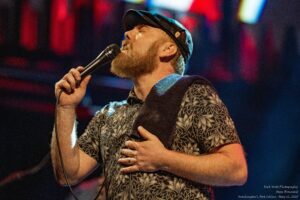 On this tour Broussard is being backed by an incredibly tight band that includes Bobby Junior on lead guitar and vocals, Jason Parfait doing mixed duty on keyboards, saxophone, and vocals, Devin Cerrigan on bass, and Gary Usie on drums and vocals.  Bobby Junior also doubles as the tour manager, and I would be remiss if I didn't give him a huge shout out for how extraordinarily helpful he was in setting me up with media credentials for both nights.
As is frequently the case, the rock-solid rhythm section of Cerrigan and Usie takes a back seat to the stars of the show – Bobby Junior, Parfait and, of course, Broussard himself.
While he is a superb guitarist, Bobby Junior knows how and when to rotate between taking center stage, and backing away to give Broussard space.  He got his opportunity to shine on multiple solos, where he delighted the crowd with big-time guitar hero posing.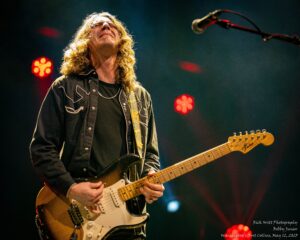 Because he plays two instruments, both of which get their fair share of spotlight time, Parfait gets significant "out front" opportunities.  On Saturday night I was lucky enough to be standing just to his left (when he's behind the keyboard), and directly in front of him when he stepped out for a sax solo.  The man makes that thing scream.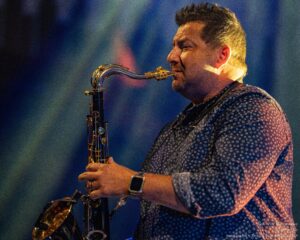 But we all know why the crowds on both nights were there… to see and hear Broussard. The setlist for both nights was identical in terms of song selection, with a slight sequence change for the Denver show. The setlist included 16 songs in the base set, plus a single song encore.  Total running time was right at an hour and 25 minutes.
Broussard opened both night with his classic "The Wanderer", which appeared on both his 2002 independently released album Momentary Setback and his 2004 major label debut Carencro.  This was followed by "Lucky", from his self-titled 2011 release.  But neither of these were exactly what the crowd was used to hearing.  The arrangement on "The Wanderer" was more upbeat, funkified, and electric, while the arrangement on "Lucky" was more toned-down and less polished.  No complaints here – these new arrangements were both outstanding.  And I can tell you that the crowds loved every minute of them.
"Lucky" was followed by "Baton Rouge", one of those covers (Frankie Miller) that might as well be a Broussard original. In fact, in Friday night's intro to the song, Broussard commented that he wished he'd written it.
So many highlights… there's simply not enough space in this post to call them all out.  As he does in many of his live shows, Broussard threaded a number of songs – one original and multiple covers – into a no-gap sequence beginning with "If You Want Me To Stay", flowing into "Try Me", "Fire On The Bayou", "Love and Happiness", "Papa Was A Rollin' Stone", before returning to "Love and Happiness".  In that set within a set were odes to Sly and the Family Stone, The Temptations, The Meters, and Al Green, in addition to his original material ("Try Me").  That explosive sequence left the audiences on both nights in a state of pure delight.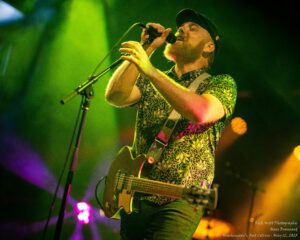 As the sets on both nights moved into their home stretches, Broussard took a moment to tell the crowd about his latest studio release, S.O.S.4: Blues for Your Soul, which dropped on March 3 of this year. This is Broussard's fourth independent release in the Save Our Soul series, where a significant portion of the proceeds are donated to a chartable cause. The S.O.S. albums are primarily cover-driven, and focus on a specific music genre.  As the name implies, S.O.S.4: Blues for Your Soul focuses on classic blues tunes.  Broussard explained how he enlisted the help of his friend Joe Bonamassa, who played on the album, co-produced it, and released it on his Keeping The Blues Alive label, to get the project off the ground.
With that introduction concluded, Broussard and band presented two songs from the new album – "I'd Rather Drink Muddy Water" (traditional, but generally credited to Lou Rawls) and "That's What Love Will Make You Do" (Little Milton cover).  On these two songs Broussard put his guitar down, took his mic from the stand, and pranced back and forth across the stage, giving each song every ounce of his extraordinary vocal range and power.
After a brief slowdown for "Lonely Night In Georgia", the band dove into a blazing sequence to end the regular set.  But more about that in a minute – first I need to talk about "Lonely Night In Georgia".
Look… I'm at shows like this in an "official" capacity, and as such I have to try to distance myself somewhat from being a fan. But sometimes I just have to acknowledge that doing that is impossible.  Sometimes there's a song I have to listen to, and/or feel, with the rest of the crowd. "Lonely Night In Georgia" is one of those songs. On both nights I took my hands off my cameras, closed my eyes, and let the power of that absolutely gorgeous song just wash over me.  It was a completely cathartic experience.
The regular set sequence I started to talk about – before my unabashed fanboy persona highjacked the review – kicked off with "Rocksteady", from the previously mentioned 2004 release Carencro.  This is always a crowd favorite, and does exactly what it was intended to do – get the crowd rocking.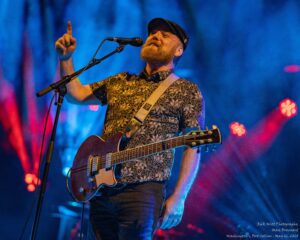 On Friday night, "Rocksteady" was followed by the tender "Easy To Love". Another beautiful song, and one I can't imagine Broussard not including in his live setlist. But I liked the change they made for Saturday night, moving it forward in the lineup, just in front of "Real Good Thing". This resulted in "Rocksteady" being followed by "Fire", an homage to Al Green that Broussard released as a single in 2022, that has yet to land on an album. "Fire" is just flat out funky, and is a perfect way to follow up "Rocksteady".
The closing song of the regular set was perhaps Broussard's most recognizable original tune, "Home". In many ways it was that song that put Broussard on the map. Also from his Carencro album (man, was that an unbelievable debut album or what?), the music world stopped what it was doing to marvel at the masterpiece this (then) 22-year-old had just laid down.
But like "The Wanderer" and "Lucky" that opened the set, this was a different version of "Home". It was both more rock and funkified, with a less "swampy" feel than the album version, or versions I've heard in other live performances. What it did have in common with those other live performance was power. After more than an hour of non-stop playing, here was Broussard, prancing, throwing his head back, and pounding his chest. In my review of his Bluebird show last year, I noted that he presented an "absolutely ripping version" of this song. Let's just call the version he presented in these two shows that, on steroids.
After a very brief exit, the band returned to the stage for a single song encore of – what else? – Broussard's trademark cover of Solomon Burke's classic "Cry To Me".  As he usually does, Broussard gave the song an extended intro – while the band grooved behind him – where he explained the "nature" of the song.  Broussard has an exceptionally engaging stage presence… he's incredibly easy to relate to and associate with. Here he had the audience rolling with laughter as he explained how the song was designed to get people to gyrate their – ahem – private areas against one another. The crowd(s) absolutely loved it, as they did his powerhouse presentation of that R&B classic, to close out the night.
Broussard is an extraordinary performer. He's warm and engaging. His banter with the crowd is energetic and entertaining. His songs are sometimes moving, and sometimes (most times) get you moving.  His vocal talents – well, we already talked about those. Spending back to back nights listening and watching him, and his extremely talented band – was absolutely incredible. And I can tell you, without hesitation, that two packed houses of fans, one in Fort Collins and one in Denver, walked away from their respective shows completely delighted with how they had spent their evenings.
Story and photos by Rick Witt    www.rickwittphotography.com
P.S.  As was the case for Broussard's visit to Denver a year ago, both the Fort Collins and Denver shows this year were opened by local band Johnny & The Mongrels.  Look for a feature article on that band, as part of my Local Talent Spotlight series, in about a week.