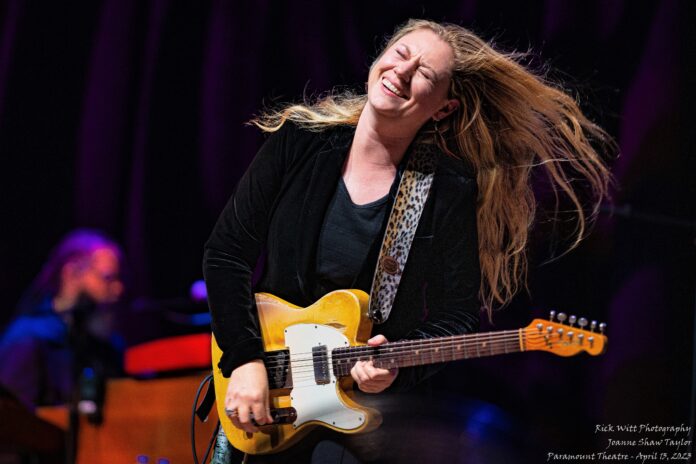 Joanne Shaw Taylor doesn't think of herself as just a "blues artist". If you read the interview I did with her back in February (https://denverentertainmenthub.com/joanne-shaw-taylor), you know that she considers herself to be "a blues guitarist, a pop singer, and a pop/rock writer". All those elements, plus more, were on display at the Paramount Theatre last Thursday night, when Taylor took the stage as part of her US spring tour.
Though she's an extremely respected and honored musician, singer and songwriter, Taylor might not be a household name in the Denver metro area.  She hasn't played Denver in a little over five years.  She mentioned that in a break between songs – that the last (and only) time she had played in Denver was at the Soiled Dove Underground pre-COVID. She expressed to the crowd how grateful she was to have the opportunity to be back in Denver… and when Taylor says things like that to a crowd, you know she's not just playing to them. She just might be the most genuine and sincere artist I've ever had the honor to see perform live.
Taylor's been an incredibly busy woman over the past year and a half, releasing three albums (two studio and one live), and touring relentlessly. Thursday night's show drew heavily from those two most recent studio releases, but to the delight of long-time fans like yours truly, also included a nice dose of material from her earlier works.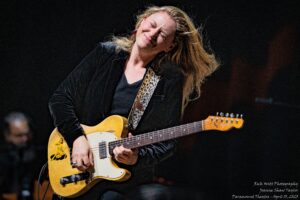 Taylor took the stage at straight up 8:00 pm, with her trademark, classic '66 Esquire slung over her shoulder. Nicknamed "Junior", this has been Taylor's go-to guitar since she bought at when she was 15. Junior has been Taylor's primary guitar for the entirety of her 14-year career, and has been featured on many of her studio and live album covers.  By my count, Taylor played Junior on all but two of the songs in her set this night.
The evening's 18-song, hour and 45-minute set kicked off with back to back tracts from her 2021 blues cover album, aptly called The Blues Album.  "Stop Messin' Round" (written by Peter Green and originally recorded by Fleetwood Mac in 1968) was followed by "Keep On Lovin' Me, Baby" (Otis Rush).  Seven of the first eight songs in the set came from The Blues Album, sending a clear message that if you came to the show looking for blues music, you were going to get what you paid for.
(The lone departure from the heavy, early focus on The Blues Album was the third song of the set… the title track from Taylor's most recent studio release, last year's Nobody's Fool.)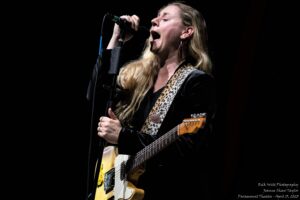 From this point on, the set got very eclectic, with songs from four different albums, including Taylor's debut album White Sugar (2009), Wild (2016), Reckless Heart (2019), and returning to Nobody's Fool (2022).  The mix was absolutely terrific, moving from bouncy pop ("Won't Be Fooled Again" from Nobody's Fool) to soaring ballads ("I've Been Loving You Too Long" from Reckless Heart) to poignant acoustic (the show-stopping "Fade Away" from Nobody's Fool) to full-tilt rockers ("Bad Love" from Reckless Heart and "Going Home" from White Sugar). It was one of the most well-rounded sets I've ever heard, showcasing the breadth of Taylor's considerable vocal and guitar ranges.
I mentioned above the show-stopping version of "Fade Away" from the Nobody's Fool album. This song was the one acoustic departure of the evening, coming toward the end of the set. As a lead in, Taylor talked to the audience about losing her mother ten years prior, and about the process of dealing with that event over the span of all those years. She wrote this song for her mother, and she performed it with an emotional power that was both energized, then drained, the room. As I listened I couldn't help but just close my eyes, and let the sound wash over me. I'd be lying to you if I told you that the song didn't bring a couple of tears to my closed eyes. It was, in a word, extraordinary.
Another highlight of the evening was the extended jam version of "Bad Blood" (from Nobody's Fool), which elicited the first standing ovation of the evening. Moving from one side of the stage to the other, simply willing Junior to give up everything he (it?) had, Taylor showed that she can rock it with the best of them.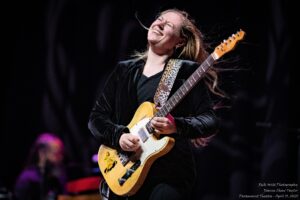 The same goes for the final song of the regular set ("Bad Love", from Reckless Heart), and the single song encore ("Going Home" from White Sugar), both of which could be used as the standard for the blended genre of blues rock. I love Taylor's newest album, but I'll admit I was hoping she would close the show with these "throwback" songs from earlier in her career.  Powerful and driving, they left the audience completely spent.
All that being said, the real highlight of Thursday night's show was Joanne Shaw Taylor, the person. The voice is extraordinary, and a star unto itself. The guitar playing is masterful, and also a star unto itself. But what really tells the story of what it's like to see Taylor perform live is the connection she makes with the audience. There's a lot of talking to the crowd between songs, which is always a nice touch, for any band or artist. But with Taylor the talking is more personal, and more intimate. Some of it was humorous, some of it heartfelt. But it all came across as personal and sincere and meaningful.
When I talked to Taylor back in February, I asked her what we should expect when she took the stage at the Paramount later in the year.  Her response, in part, was that we would be getting "a good evening of me connecting with you". She delivered on that promise, in the biggest of big ways.
Story and photos by Rick Witt    www.rickwittphotography.com