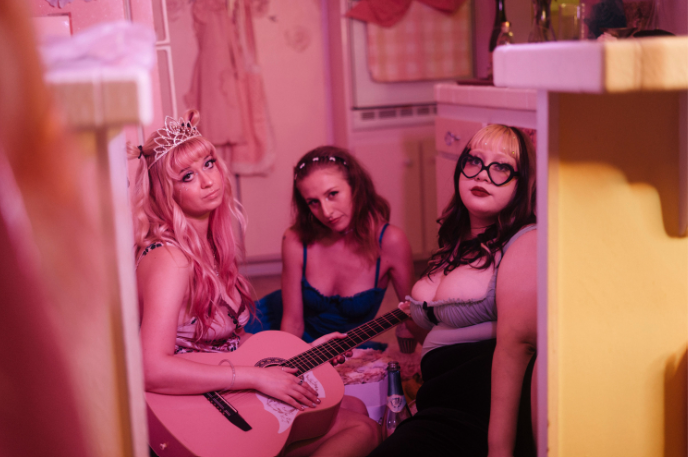 Starting in a few weeks, LA's The Aquadolls will be heading out on their headline North American Spring Fling Tour. Starting with a charity show in San Diego with The Sully Band benefiting physical disability empowerment organization Team Chase, the tour will then run from coast to coast from late April through early June with a stop at Atlanta's Shaky Knees festival. All upcoming dates can be found here and below.
A few weeks ago, the band released "Sneaky," the freshest cut off of their upcoming record, Charmed. . In 2022, they released the project's first single "Beachy." Starting off as various guitar and drum loops with incoherent lyrics, "Beachy" emerged as a powerhouse, vibe-y, reverb-drenched, twinkle of nostalgia tale that rejects longing for someone and focuses on loving yourself first. The album's second single "Sneaky" saw the band pour their bombastic sound into simmering feelings of doubt about the uncertainty of where a relationship is heading. "Sneaky" also arrived alongside an official video starring the band in all their femme fatale glory – Watch.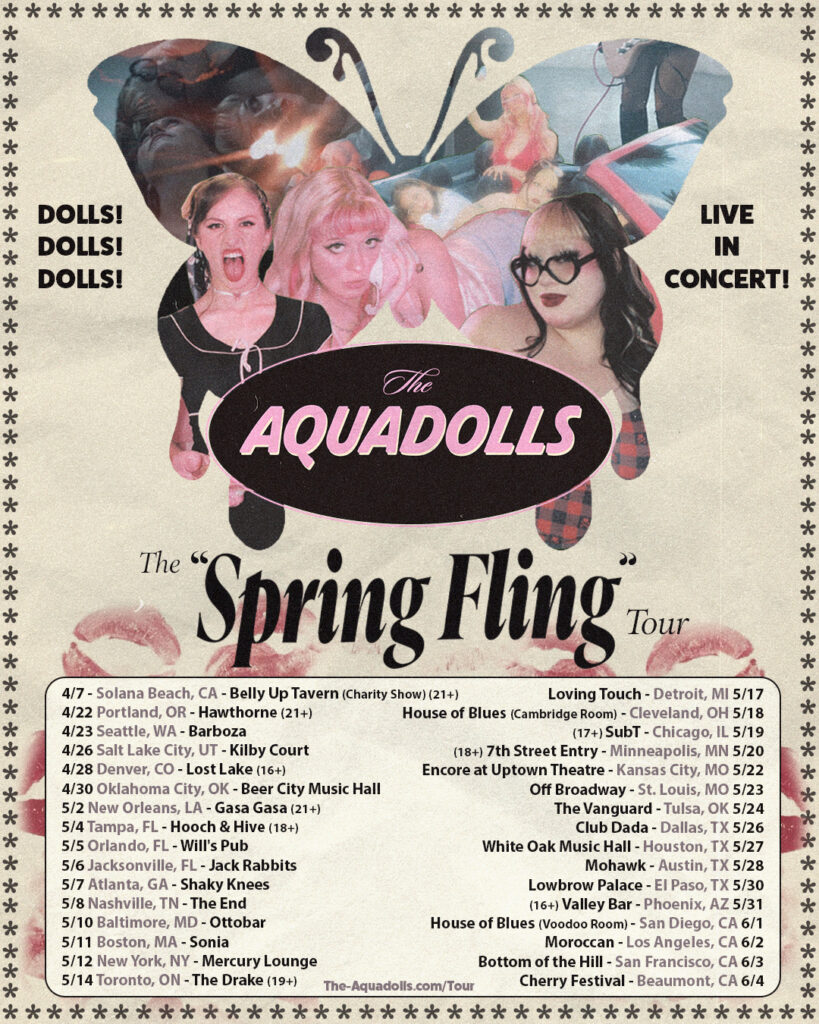 UPCOMING TOUR DATES
April 7 – Belly Up Tavern – Solana Beach, CA (Charity Show)
April 22 – Hawthorne – Portland, OR
April 23 – Barboza – Seattle, WA
April 26 – Kilby Court – Salt Lake City, UT
April 28 – Lost Lake – Denver, CO
April 30 – Beer City Music Hall – Oklahoma City, OK
May 2 – Gasa Gasa – New Orleans, LA
May 4 – Hooch and Hive – Tampa, FL
May 5 – Will's Pub – Orlando, FL
May 6 – Jack Rabbits – Jacksonville, FL
May 7 – Atlanta, GA – Shaky Knees Festival
May 8 – The End – Nashville, TN
May 10 – Ottobar – Baltimore, MD
May 11 – Sonia – Boston, MA
May 12 – Mercury Lounge – New York, NY
May 14 – The Drake – Toronto, ON
May 17 – Loving Touch – Detroit, MI
May 18 – House of Blues (Cambridge Room) – Cleveland, OH
May 19 – Subterranean – Chicago, IL
May 20 – 7th Street Entry – Minneapolis, MN
May 22 – Encore at Uptown Theatre – Kansas City, MO
May 23 – Off Broadway – St. Louis, MO
May 24 – The Vanguard – Tulsa, OK
May 26 – Club Dada – Dallas, TX
May 27 – White Oak Music Hall (Upstairs) – Houston, TX
May 28 – Mohawk – Austin, TX
May 30 – Lowbrow Palace – El Paso, TX
May 31 – Valley Bar – Phoenix, TX
June 1 – House of Blues (Voodoo Room) – San Diego CA
June 2 – The Moroccan Lounge – Los Angeles, CA
June 3 – Bottom of the Hill – San Francisco, CA
June 4 – Cherry Festival – Beaumont, CA
All tour information here
ABOUT THE AQUADOLLS
When Melissa Brooks formed The Aquadolls 10 years ago, it served as an outlet for her to channel her angst. In high school, she was bullied by her peers, and music served as a therapeutic way to express herself in a positive way. Following the formation of the bedroom project, Brooks — who serves as the band's primary singer, songwriter and guitarist — released the Free EP in 2012 and her debut album, Stoked on You in 2013. After cycling through musicians, Brooks joined forces with bassist Keilah Nina and drummer Jacqueline Proctor and things fell into place. The trio released their sophomore album, The Dream and Deception, in 2018.
Once their current lineup solidified around the release of The Dream and Deception, The Aquadolls made serious moves. They've performed with artists including Kate Nash, Pennywise and Jimmy Eat World, and have featured on major festival lineups like Lollapalooza, Austin City Limits, Warped Tour and a pair of appearances at Eddie Vedder's Ohana Festival. The Los Angeles-based band spent the summer of '22 on the road with Incubus and Sublime with Rome.
Coming later this year, The Aquadolls' third album, Charmed (which is named after the popular '90s/'00s TV show), is a natural progression for their discography. Don't let the relatable tales focused on love and relationships, heartbreak and longing for more fool you, The Aquadolls still are about having fun and showcasing humor in their lyrics. Charmed charts the growth in The Aquadolls' sound, fusing elements of melodic '60s harmonies and '90s-driven crunchiness with a modern twist that ushered in a new era for them, and it serves as a strong representation of what they want to do.
Even as the current edition of The Aquadolls continues to evolve, their signature sound as a guitar-driven band remains the same. Armed with a continued desire to promote their message of self-love and positivity, Charmed is the perfect step forward. Combining a cohesive sound with this message, The Aquadolls are comfortable growing up with their audience — who view things through never perfect, Vaseline-tinged view of the world.
###
For more information on The Aquadolls, please visit:
Instagram / Twitter / Spotify / YouTube / Apple Music / Website