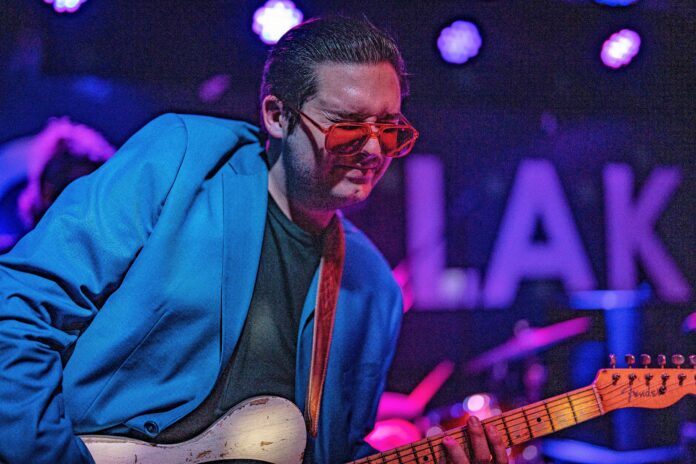 Eddie 9V (aka Eddie 9 Volt) and his band stormed into Colorado this past Thursday for the first of five shows in six nights in the Centennial State.  I was fortunate enough to attend the first two of those shows… at Denver's Lost Lake Lounge on Thursday the 16th, and at Boulder's Fox Theatre on Friday the 17th.  The following review covers both of those shows.
Touring in support of his newest (third) album release, Eddie (who's birth name is Brooks Mason Kelly), is on a serious roll.  The new album Capricorn, released on January 27, debuted at number one on the blues music charts.  Following in the tradition Eddie has already established in his young career, the album is both an extension of the musical direction set in his first two albums, and a redirection of sorts.  While his first two releases were clearly blues albums with lots of soul and funk spliced in, Capricorn tips the scales towards a more defined soul foundation.  Oh, there's still plenty of classic blues to be heard.  Check out the outstanding blues treatment on the cover of Bob Dylan's "Down Along The Cove".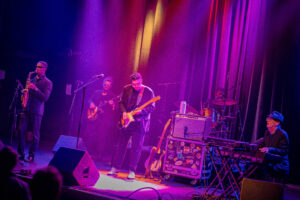 The move to a more soul focused album was intentional.  Eddie was looking for the opportunity to show the world that he's more than "just" a blues artist.  Everything about the new album, including the decision to record it at the legendary Capricorn Studios in Macon, GA, was geared toward expanding the artist and band's musical character.  The result is an incredibly tasty collection of eleven songs that will satisfy both long-time fans, as well as those just getting to know this incredibly talented artist.
The setlists for the two nights were similar, but with notable differences.  Thursday's set included more songs (20) compared to Friday's 17.  Thursday's set ended with a single song encore, while Friday's ended with a two-song encore.  Both nights clocked in at an even hour and a half.
Understandably, the sets on both nights included healthy doses of tunes from the new album, with offerings from the two previous releases (2019's Left My Soul In Memphis and 2021's Little Black Flies) liberally sprinkled in.  And both nights included some ripping covers, including "Hold On" (Alabama Shakes) and "Down Along The Cove" (Dylan), which were played both nights, and "Can't Find My Way Home" (Blind Faith) and "Miss Jane" (Howlin' Wolf), both of which were played on Friday only.
Eddie's back-up band for this tour is made up of familiar faces.  Bass guitar is handled by Eddie's brother Lane Kelly, who is also the band's producer.  Seef Anam sits behind the drum kit, Chad Mason handles keys, and Noah Sills kills on sax.  On both nights the set began with the band, taking the stage sans Eddie, with Sills warming things up playing an excerpt from the song "Tequila".  Both crowds demonstrated they were ready to get rowdy by shouting out the title lyric at the band's urging.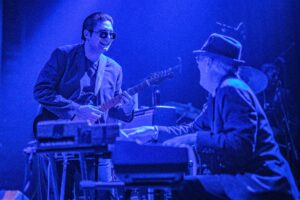 The short intro finished, Eddie joined the band on stage as they launched into "The Come Up", the genre bending single released in 2020.  With its perfect blend of soul, funk, and blues, this is a song that probably best personifies the Eddie 9V "style".
"The Come Up" was followed by "Beg Borrow Steal", a classic soul scorcher, and the lead single from the new album.  New then rotated with old(er), with "New Orleans" (from the 2019 debut album), followed by "Missouri" (from Capricorn).
It was following "Missouri" that the setlists for the two nights diverged.  While most of the songs were the same, the sequence shifted as a smattering of different songs were inserted on Friday.  Fortunately, standards like "Travelin' Man", "Little Black Flies", "Lo-Fi Love", and the always show-stopping "3AM In Chicago" were included both nights.  And then there's the outstanding "Yella Alligator", which was the single encore song on Thursday, and the second of two encore songs on Friday. I first heard "Yella Alligator" when Eddie played it at the Winter Park Blues From The Top Festival last summer.  It's an infectious, bouncy blend of bayou blues, pop and rock, with a touch of hip hop thrown in for good measure.  This is a song that will be part of Eddie 9V live sets for years and years to come.
Speaking of 'years to come'… the sky is definitely the limit for Eddie 9V.  He's immensely talented, with a distinctive vocal style and great stage presence.  His voice has been favorably compared to Al Green. There's truth there, but it doesn't present a complete picture, and it only scratches the surface.  Eddie is possibly the most original and genuine new artist to come along in the last five years. His music manages to be both immutable and novel at the same time.  Impossible, you say?  Give it a listen.  There's an unmistakable old-school vibe (Eddie is a self-professed old soul), but it's combined with a continuous push forward that breathes new life into every song he writes, records, and plays.  This young man (he doesn't turn 27 until June) has a bright future in front of him.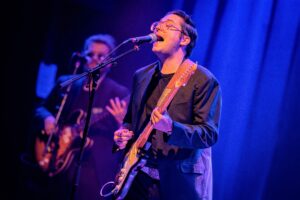 On the subject of vibes… the vibes for the two nights, like the setlists, were similar, but with distinct differences.  Lost Lake Lounge is a far more intimate venue, with a capacity of around 150.  The Fox, the iconic and nationally recognized Boulder landmark, is still considered "intimate", but has a capacity of closer to 625.  There were definitely more people in attendance on Friday, but while Thursday night was packed, Friday night was more spread out.  That being said, kudos to the crowds both nights for bringing outstanding energy.
Eddie and crew have three more Colorado dates scheduled before they head to Nevada, California, and Arizona.  Then they head east, with shows in Florida, Georgia, Alabama, and Louisiana running through late May.  Ah, life on the road.  Eddie talked about life on the road between songs on both Thursday and Friday nights. And while he admitted that it could be trying, it's clear that it's on the road, keeping the spirit of live music living and breathing, that he feels most alive.  For those of us who get the pleasure of seeing and listening, that's a truly great thing.
Story and photos by Rick Witt   www.rickwittphotography.com