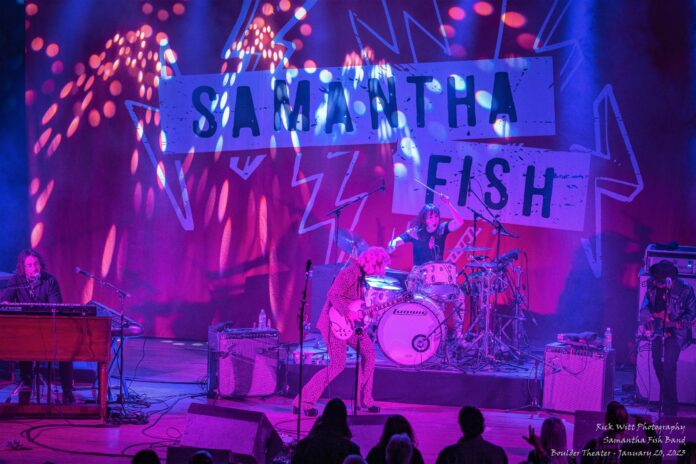 At the half-way point of a four-date swing though Colorado, blues/rock singer and guitarist Samantha Fish brought her high energy show to the Boulder Theater last night. The Boulder show was sandwiched between shows in Beaver Creek the night before, Grand Junction the night after, and Fort Collins the night after that.
Friday night's show was the second time in less than a year that Denver/Boulder area fans had the opportunity to see Fish perform live… she played to a sold-out crowd at the Chautauqua Auditorium last May. How this part of the country has gotten so lucky as to have her stop by twice in eight months is beyond me. But along with her legions of loyal fans in the area, I'm certainly not complaining.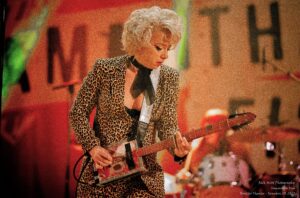 Fish has been touring relentlessly for the last year plus, in support of her seventh studio album Faster, which was released in September of 2021. Friday night's setlist included a healthy dose of tracks from Faster, combined with an equally healthy dose of Fish live performance staples from her broader catalog.
One of those staples, and the one that has been opening shows for a long time, is "Bulletproof (Tangle Eye Mix)", from 2019's Kill Or Be Kind album. "Bulletproof" is an exceptional choice for an opener, with Samantha showcasing her slide playing skills on her customized cigar box guitar.
For just under two hours (including a ten-minute encore) Fish and her long-time touring band blew the roof off the venue. That's only a minor embellishment. Fish is renowned for the amount of territory her career has covered, in terms of musical genres. On the surface she's considered to be a blues artist, but her seven-album discography spans traditional blues, contemporary blues, rock, pop, Americana, country, funk, soul, and maybe a mutt or two on top of that. But make no mistake about it… when she takes the stage, she's putting on a rock show.
Yep, there'll be a couple of slower numbers, and she'll give the rest of the band a short break while she picks up an acoustic for a two-song interlude. She did both of those things last night. But even then, there was a rock show waiting in the wings. Cases in point, the upbeat jam style version of "No Angels", and the seamless transition between the soulful "Kill Or Be Kind" into rocker "Watch It Die".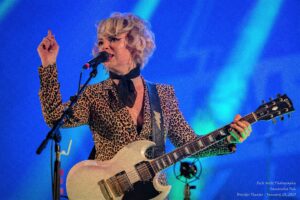 The solo acoustic interlude I mentioned above? While the band took a quick break, Fish delighted the crowd with the Charley Patton cover "Jim Lee Blues, Pt 1", followed by "Need You More" from 2017's Belle of the West. But when the band returned, it was back to high octane rock with "Loud", followed by "Bitch On The Run". Things slowed down (for a minute) with "Dream Girl" before the set closed with the title track from the 2013 album Black Wind Howlin'.
Amazing that Fish continues to close her live sets with a tune from her second album, released way back in 2013. It a testament to the staying power of the song, in terms of it being an essential part of her live shows. It's a blazing blues rock tune that leave every audience a little bit short of breath.
Between opener "Bulletproof" and closer "Black Wind Howlin'", the capacity crowd was treated to two tracks from Belle of the West (2017), three from Wild Heart (2015), four from Kill or Be Kind (2019), and five from Faster (2021). And while the band didn't give us the title track from 2017's Chills & Fever, they did give us another awesome selection from that album. The fourth song of the set, and the first time the band slowed things down a bit, was the Barbara Lewis cover "Hello Stranger". On this night Fish took liberties with the lyrics to effectively turn it onto a love song to the crowd, and to Colorado in general. Definitely one of the (many) highlights of the night.
Fish's backup band (Ron Johnson on bass, Sarah Tomek on drums, and Matt Wade on keyboards) was in fine form, as always. I noted when I reviewed the band's gig at Chautauqua last year that this group clearly enjoys each other's company. Johnson is rock solid holding everything together, while Wade kills it on keys. Tomek is impossible to take your eyes off of – she's so animated and energized. All three add exceptional background vocals.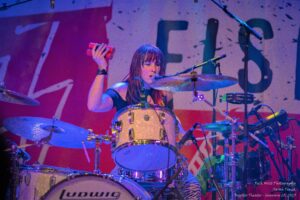 After the obligatory retreat backstage, the band returned for a single-song encore… a terrific cover of Neil Young's "Don't Let It Bring You Down". Joining the band for the encore was Eric Johanson, who had opened the show a little over three hours earlier.
Speaking of Johanson…
Epic fail on my part, Seriously, I'm embarrassed to admit that before this show I had no idea who Eric Johanson was. Turns out he's kind of a big deal. His eight-song, forty-ish minute set to open the show was absolutely fabulous. Performing solo, he revved up the crowd with an infectious set of blues-based roots rock. He had the crowd's attention from the beginning, but when he picked up a resonator guitar mid-way through his set, he had them eating out of his hands.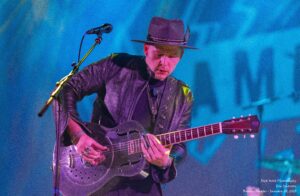 Hailing from New Orleans, Johanson has six album releases to his credit, dating back to 2017. His four most recent solo releases have all reached top-ten positions on the Billboard blues charts. Like I said, kind of a big deal. If you aren't familiar with him, visit his website (https://www.ericjohanson.com/ ). Or better yet, check out his live "Jam In The Van" set at https://www.google.com/ericjohanson .
Once they finish with their current tour through Colorado, Fish and crew wrap up the remainder of a US tour that concludes on February 10 in Florida. Then it's off first to Australia, then to Europe, through the end of May. Apparently, there's no rest for the wicked, or for touring blues bands.
Photos and story by Rick Witt    www.rickwittphotography.com