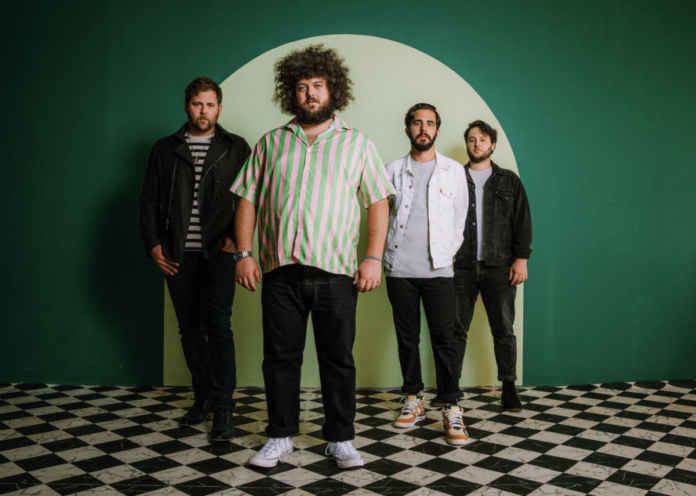 Ripe have shared their new single, "Queen of the City," available now at all DSPs and streaming services. The track heralds the release of the Boston-based alt-pop band's second studio album, Bright Blues, arriving via Glassnote Records on Friday, March 10.
LISTEN TO "QUEEN OF THE CITY"
PRE-ORDER BRIGHT BLUES
Bright Blues sees Ripe pushing their already buoyant sound towards new heights with sleek grooves, bold melodies, and an all-encompassing approach that truly showcases the full scope of their wide-ranging musical vision. Highlights include such recently released tracks as "Noise in the Forest" and "Settling," the latter of which cracked the Top 25 at both AAA and Alternative radio and was greeted by applause from Melodic Magazine, which wrote, "A jubilant display of horns and guitar, 'Settling' attempts to push away restrictive thoughts or feelings. The track is all about living a fulfilling life, not settling or stopping for anyone who gets in your way." Both tracks are joined by stripped-down acoustic versions streaming now.
LISTEN TO "NOISE IN THE FOREST"
WATCH "NOISE IN THE FOREST (ACOUSTIC)"
LISTEN TO "SETTLING"
WATCH "SETTLING (OFFICIAL MUSIC VIDEO)"
WATCH "SETTLING (ACOUSTIC)"
Widely known for their inspired, high-energy live show, Ripe will mark the arrival of Bright Blues with a North American headline tour getting underway March 28 at Dallas, TX's Deep Ellum Art Co. and then traveling through late April. Highlights include such venues as Boston, MA's brand-new MGM Music Hall at Fenway (April 8), New York City's Terminal 5 (April 15), and San Francisco, CA's The Fillmore (April 27). For complete details and ticket information, please visit www.ripetheband.com/tour.
RIPE – TOUR 2023
MARCH
28 – Dallas, TX – Deep Ellum Art Co.
29 – Austin, TX – Scoot Inn
31 – Nashville, TN – Basement East
APRIL
1 – Atlanta, GA – Center Stage
2 – Asheville, NC – Salvage Station
3 – Charleston, SC – Pour House
5 – Detroit, MI – El Club
6 – Columbus, OH – Newport Music Hall
7 – Toronto, ON – Danforth Music Hall
8 – Boston, MA – MGM Music Hall at Fenway
11 – Cleveland, OH – Beachland Ballroom
12 – Millvale, PA – Mr. Smalls Theatre
13 – Washington D.C. – 9:30 Club
14 – Philadelphia, PA – Brooklyn Bowl
15 – New York, NY – Terminal 5
18 – Raleigh, NC – Lincoln Theatre
19 – Charlotte, NC – Underground
21 – Chicago, IL – House of Blues
22 – Minneapolis, MN – Varsity Theater
23 – Kansas City, KS – Record Bar
24 – Denver, CO – Bluebird Theater
25 – Salt Lake City, UT – Soundwell
27 – San Francisco, CA – The Fillmore
28 – Los Angeles, CA – El Rey Theatre
29 – Phoenix, AZ – Crescent Ballroom
JULY
June 29-July 2 – Scranton, PA  – Peach Fest
26-30 – Floyd, VA – Floyd Fest *
* FESTIVAL APPEARANCE
# # #
Now boasting over 81M streams, Ripe first united at Berklee College of Music and almost immediately began drawing acclaim and a fervent fan following for their horn-blasted fusion of deep funk, soulful jazz, pure pop melodies, and kaleidoscopic improvisation. The band – currently comprising singer Robbie Wulfsohn, guitarist Jon Becker, drummer Sampson Hellerman, and trombonist Calvin Barthel – honed their unstoppable sound over a pair of well-received EPs and countless live shows, whipping increasingly packed houses into a frenzy with relentless grooves and a surprising knack for infectious songcraft.
Hailed by Boston's WGBH as "teeming with a pop swagger, confidence, and total self-assuredness," 2018's Joy in the Wild Unknown proved a milestone debut album for Ripe, demonstrating an equally imaginative approach towards the studio by folding elements of classic R&B into their already inclusive musical palette. The band soon saw their global streams surge past 65M, fueled in part by nearly non-stop touring which saw them light up stages across America with sold-out headline shows and show-stealing sets at such festivals as Bonnaroo, Firefly, SweetWater 420, and BottleRock, to name only a few.
Bright Blues now sees Ripe pushing its music forward in unexpected directions despite having weathered a mountain of adversity over recent years, from a shifting lineup to a global pandemic that made recording a logistically complex bicoastal project. Eager to create something truly unique, the band enlisted rising pop producer/songwriters – and Berklee classmates – Noah Conrad (BTS, Niall Horan) and Ryan Linvill (Olivia Rodrigo, Dermot Kennedy), who helped infuse songs like "All or Nothing" and the hypnotic "Paper Cups" with an adventurous, self-assured creativity unlike anything they'd previously attempted in the studio.
"We thought, how can we do something new?" drummer Sampson Hellerman says. "Something that still has our sound and vibe at its core, how can we expand our boundaries and reach more audiences while still staying true to what makes Ripe Ripe?"
"The wildest thing for me is that the record simultaneously sounds like it has the scars of everything we've been through and also that it doesn't," says singer Robbie Wulfsohn. "It's joyful music, which is very exciting given that it was made in the middle of getting hit in the stomach."
# # #
RIPE
BRIGHT BLUES
(Glassnote Records)
Release Date: Friday, March 10, 2023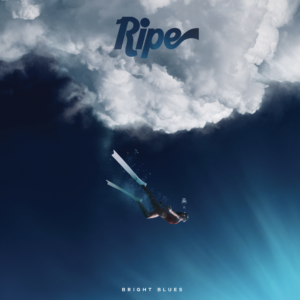 Tracklist:
Get Over
Settling
All or Nothing
Noise in the Forest
Paper Cups
Queen of the City
Avril
Say It to Me
Trivia
The Outcome
Brendan
Good Intentions
CONNECT WITH RIPE: