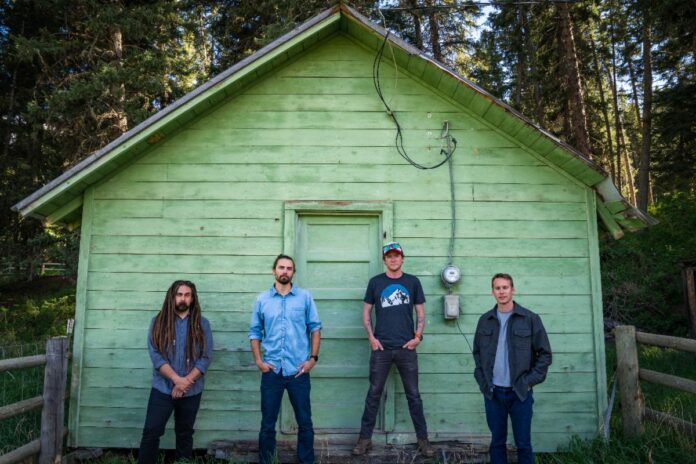 In the summer of 2022, the Kitchen Dwellers performed on one of Bonfire Entertainment's famed RiverWonderGrass excursions, an epic four-day adventure rafting through Utah and Colorado on the beautiful Green River.  The experience is limited to 20 people, and combines outdoor adventure and learning with intimate musical experiences. The Kitchen Dwellers will be back for a RiverWonderGrass excursion in July 2023, which has already sold out.
"Floating down the pristine wilderness of the Green River for 4 days with the passionate people from Adrift gave us a chance to completely connect with our natural surroundings and the people on our trip. RiverWonderGrass promotes the protection of the wild places we love so much but also provides the most stunning concert venue."
Tonight, Kitchen Dwellers will release a mini-documentary that takes viewers behind the scenes, and onto the river with the band and attendees.
"We danced and sang into the night and learned about the incredible history of Dinosaur National Monument from the Adrift guides on our trip with Riverwondergrass. We made lifelong friends and so many memories on an adventure we will never forget."
Tune in and watch the premiere via YouTube.
The band will kick off their winter tour December 1 at The Belly Up in Aspen and will continue their tour well into 2023, including a very special two-night NYE celebration in Salt Lake City, UT.
Previous DEH Coverage; 9/17/2022 Greensky Bluegrass @ Red Rocks w/ Kitchen Dwellers
All tour information and up-to-date news can be found at kitchendwellers.com.
Kitchen Dwellers Tour Dates:
Dec 1 @ Belly Up Aspen | Aspen, CO
Dec 2-3 @ 10 Mile Music Hall | Frisco, CO
Dec 7-11 @ Strings & Sol | Puerto Morelos, Q.R. – SOLD OUT
Dec 30-31 @ The Commonwealth Room | Salt Lake City, UT
Jan 13 @ Denver Comes Alive – Mission Ballroom | Denver, CO
Jan 14 @ Surf Hotel | Crested Butte, CO
Jan 15 @ Public House | Buena Vista, CO
Jan 17-18 @ Knotty Pine | Victor, ID
Jan 20-21 @ Great Northern Bar & Grill | Whitefish, MT
Feb 3-4 @ The Elm | Bozeman, MT*
Feb 7 @ The Knitting Factory | Boise, ID*
Feb 9 @ Wild Buffalo | Bellingham, WA*
Feb 10 @ Neumos | Seattle, WA*
Feb 11 @ Aladdin Theater | Portland, OR*
Feb 14 @ The Domino Room | Bend, OR*
Feb 15 @ Crystal Bay Casino | Crystal Bay, NV*
Feb 16 @ Felton Music Hall | Felton, CA*
Feb 17 @ The Independent | San Francisco, CA*
Feb 18 @ Pappy + Harriet's | Pioneertown, CA*
Feb19 @ Belly Up Tavern | Solana Beach, CA*
Mar 3-5 @ WinterWonderGrass | Steamboat Springs, CO
* w/ Lindsay Lou
About Kitchen Dwellers:
The quartet—Shawn Swain [Mandolin], Torrin Daniels [banjo], Joe Funk [upright bass], and Max Davies [acoustic guitar]—twist bluegrass, folk, and rock through a kaleidoscope of homegrown stories, rich mythology, American west wanderlust, and psychedelic hues.
After amassing 5 million-plus streams, selling out shows, and receiving acclaim from Huffington Post, Relix, American Songwriter, and more, the group brings audiences back to Big Sky Country on their third full-length album.
"The town of Wise River is basically a forgotten spot on the map," Shawn says. "It used to be a thriving place with many prosperous mines, but now it's practically dried up. There's a hell of a lot of melancholy. In our mind, it symbolizes the overall feeling of being in slowed-down Montana life."
About River Wondergrass:
Located in beautiful Dinosaur National Monument. Most of our expeditions are four day adventures through the majestic Gates of Lodore, rafting down the Green River. We do offer one 2023 launch down The Wild Yampa in May, a five day journey. Entering our fourth season of RiverWonderGrass, these intimate river journeys bring together members of the WWG artist community and friends on an adventure through the heart of desert canyons. Empty sandy beaches, majestic hikes, thrilling whitewater, and musical floats are combined with healthy foods, deep conversation, and space to reconnect with each other.
https://bonfirentertainment.com/event/riverwondergrassfull-season/
CONNECT WITH KITCHEN DWELLERS: