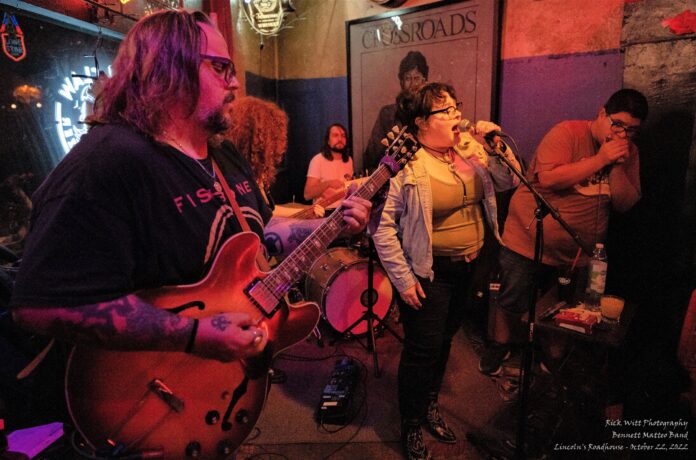 My favorite television sitcom of all time is Everybody Loves Raymond. If you're familiar with that show, you know that the patriarch of the Barone family (Frank), played by the late, incomparable Peter Boyle, had a simple catchphrase he used to express amazement.  That catchphrase was "Holy crap!".
That's how I felt after attending the Bennett Matteo Band show at Lincoln's Roadhouse in Denver this past Saturday night.  Holy crap, indeed.  And I mean that in the most positive way possible.  Jade Bennett and Gino Matteo, along with their backing band, put on an extraordinary show.
If you're not familiar with the Bennett Matteo Band (BMB), you likely aren't alone. Their debut album, Shake The Roots, was released on Gulf Coast Records back in April.  The album was actually ready for release back in 2020, but their former record company shelved it because it wasn't "bluesy enough". And you know what? They were right. To suggest that Shake The Roots is a blues album is to not give it nearly enough credit. It's an amazing album, to be sure, with ten outstanding tracks that cross genres as diverse as blues, funk, alt rock, dance, soul, and even a touch of country.
(For the record, Bennett and Matteo categorize their music as "dirt funk and desert soul".)
Even I wasn't familiar with BMB when the band's PR firm reached out to Denver Entertainment Hub, inquiring about us covering the Denver show. I knew a little bit about Gino Matteo, given his extended time playing in Sugaray Rayford's band. But Jade Bennett was new to me.  Many thanks to Karin Johnson from Mark Pucci Media for introducing me to this husband and wife team… I'm now a fan for the long haul.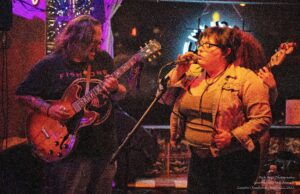 Saturday night's show was a marathon.  It started just a couple minutes after 8:00 pm, and wrapped up at about five minutes before midnight.  During that four-hour span, the grateful packed house was treated to three, one-hour sets, including a total of 26 songs.  In addition to their own material, the song selection included covers from bands/artists as diverse as Little Richard, Ruthie Foster, Michael Jackson, Stevie Wonder, The Mamas and Papas, Pink Floyd, the Rolling Stones, the Beatles, and more.
For Saturday's gig Jade and Gino enlisted the support of three Denver-area musicians to fill out the quintet. Nic Clark, who also played on the band's album, absolutely killed it on harmonica.  And Zoe Moff (bass) and Forrest Raup (drums) provided outstanding rhythm section support.  Clark was afforded numerous solo opportunities, all of which were fabulous.  He's phenomenally talented.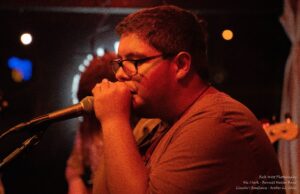 That being said, when you're playing beside or behind the likes of Jade Bennett and Gino Matteo, you know where the spotlight is going to shine.  Both are extraordinary talents.  Matteo can make a guitar do things that seem impossible.  Following a particularly incredible solo during the song "The Bad Kind", from Jade's 2017 solo release Death Time Love, one audience member leaned toward me and noted that he almost felt sorry for the guitar, because it sounded like it was crying.  Whether cranking out a solo like that, crashing a classic rock power chord, or laying down a funky groove, Matteo is a master.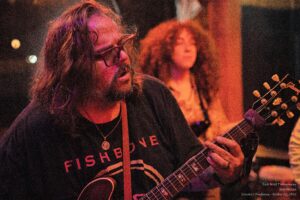 This brings us to the otherworldly vocal talent of Jade Bennett.  I'm honestly at a loss for the words to do justice to her incredible range and power.  She's been favorably compared to a number of accomplished vocalists, but I'm not going to list them here because those comparisons don't do her justice.  She might remind you of other vocalists on certain songs, but the truth is that she's who she is, which is more than enough. You don't just hear Jade sing – you feel it. When she reaches down deep, it moves the audience.  She is a marvel.
I already noted that BMB played for three hours.  That warrants repeating and emphasizing.  For three hours they had the crowd at Lincoln's Roadhouse mesmerized.  A good number of those in attendance were there because Lincoln's is part of their regular weekend routine. Many didn't really know BMB before that night. But from the set one opening "Doesn't Really Matter", from BMB's debut album, through the set three closing cover of The Miracles' "Who's Loving You", the crowd was stunned by how good this band is. I heard one audience member say, "These guys are the real deal".
Speaking of Lincoln's Roadhouse… a HUGE shout-out to the fine folks at that establishment.  This self-proclaimed dive bar is a somewhat hidden treasure.  From Jim Bob the owner, to Calvin running security at the front door, they went out of their way to make me feel a part of the family made up of the many patrons who make it a regular part of their world. The beer is cold and the food is terrific. I don't know whether they serve Denver's best burger or not, but the one they served me was far and away the best burger I've had in as long as I can remember. Check them out at www.lincolnsroadhouse.com/.  And stop by for live music on Fridays and Saturdays.
Before BMB took the stage on Saturday evening, I had an opportunity to chat with Gino Matteo after he was finishing up his stage setup. The first thing I'll say is this… he's one of the nicest and most gracious people I've ever met. Dude even gave me a big hug, which is something I won't soon forget. We talked about the album, and he shared with me that he/they have enough new material worked up to possibly fill two follow-ups.  Take my word on it – that's incredibly great news. Or better yet, don't take my word on it. Check out Shake The Roots for yourself. Stream it or buy it, but do yourself a favor and listen to it. Help send the message to the record company that the world needs more BMB music. Then follow BMB on Instagram, Facebook, etc., so you stay apprised of their tour schedule. The next time they make their way to Denver, you absolutely, positively want to be there.
Story and photos by Rick Witt     www.rickwittphotography.com