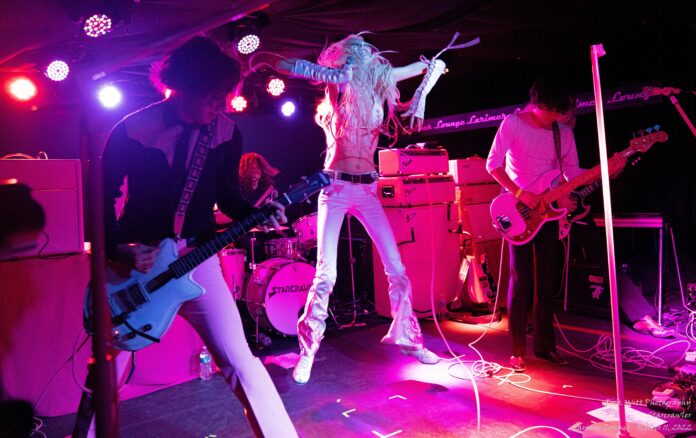 In the summer of 2015, Los Angeles high school student and aspiring rock star Arrow de Wilde joined forces with Austin Smith to make music together. De Wilde was a singer, and Smith played drums. When the school year began, de Wilde recruited guitarist Henri Cash and bassist Tim Franco to join their as-yet-unnamed band. And thus, was born the initial incarnation of what would become Starcrawler.
Seven years later, touring in support of their recently released third album She Said, Starcrawler brought their mix of punk, rock, and glam pop to the Larimar Lounge in downtown Denver.  Smith has since left the band, departing after playing on the band's first two albums.  For She Said he was replaced by Seth Carolina. Also added to the band for the new album was Henri Cash's younger brother Bill, as a second guitarist.
Starcrawler's maturation as a band is evident both on their albums and in their stage shows.  Their first album, 2018's Starcrawler, was a loud and outrageous debut, full of promise for what might be to come. But it was anything but polished. 2019's Devour You took several steps forward, showcasing the band's increased confidence in both songwriting and playing.  Now comes this year's She Said, which easily could be the band's big breakthrough. Far more mature and measured, it branches out well beyond the grunge/punk foundation of the first two albums.  It's easily their strongest work so far.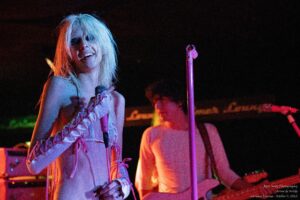 They've taken a similar journey with their live performances.  Their early shows were heavy on performance art, including Arrow de Wilde's now infamous spitting of fake blood on the audience.  They've toned that back several notches, but not at the expense of energy and showmanship.  It's just that with an expanded catalog of strong music, they can now focus on their music and musicianship to blow their audiences away.
That's exactly what they did last night at the Larimer Lounge.  The hour and fifteen-minute set included all ten songs from the new She Said album, 12 songs from their first two albums, plus three songs from movie soundtracks they've contributed to.
The set opened with one of those soundtrack tunes, "Goodtime Girl" from the soundtrack of Dark Nights: Death Metal, the 2020–2021 comic book storyline published by DC Comics.  It's an outstanding opener, setting the stage for what would be a high-octane adrenaline ride.
There's very little filler in a Starcrawler concert. For the most part, they flow from one song into the next, with limited banter with the crowd between.  That's fine with the audience – they're not there to listen to the chatter.  They want to rock, and that's exactly what Starcrawler sets them up to do.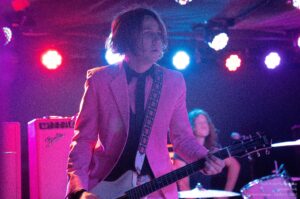 "Goodtime Girl" flowed directly into "Roadkill", the first single from the She Said album.  That led into "Rich Taste" from Devour You.  Next came one of the highlights of the evening, the quirky "If You're Gonna Be Dumb, You Gotta Be Tough", from the Jackass 4.5 soundtrack.  With its twangy, country-style intro, before exploding into a classic punk song, it's an audience favorite.
The only break in the evening's frenzy came a little past the halfway mark, with back-to-back slower songs "Broken Angels" and "Midnight", both from She Said. "No More Pennies" from Devour You and, "Better Way" from She Said completed the interlude, before it was back to business with "Runaway", and "Jetblack", both from She Said.  "Better Way", with its injection of pedal steel guitar from Bill Cash, was especially tasty.  "Jetblack" features an infectious drum line from Seth Carolina, plus a blistering guitar solo from Henri Cash, making it another highlight of the evening
The regular set concluded with "Bet My Brains", from Devour You.  After a short break backstage, the band returned for an aggressive two-song encore of "She Gets Around" and "Chicken Woman", during which both Arrow de Wilde and Henri Cash took turns going into the mosh pit to jam with the crowd.  It was also during the encore that Henri Cash invited a young (maybe twelve years old?) girl on stage, handing her his guitar to play.  (She was shy and shook her head "no", before returning to the front row.)
On stage, the members of the band present a contradiction of styles.  Bassist Franco and guitarist Bill Cash, standing together stage left, stay mostly in the background.  That's probably necessary, because lead guitarist Henri Cash and vocalist de Wilde are over-the-top animated.  Cash is a bit more stoic, but spends plenty of time stepping forward in classic rock star mode.  De Wilde, on the other hand, is an absolute whirlwind.  At 6'3" and ultra-thin, she's an imposing and glorious front person.  And despite being positioned in the background, drummer Carolina is also highly animated and entertaining.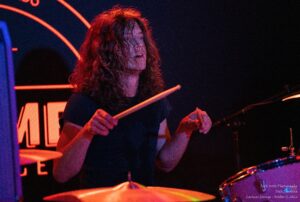 There's no doubt that this is a band on the rise.  Their music continues to evolve, and their stage presence is dynamic.  You're going to be hearing a lot more from Starcrawler in the years to come. And next time they make their way through Denver for a live show, you would be well-advised to check them out.
Before closing the article, two shout-outs…
First to the Larimer Lounge, both the establishment and the staff.  If you've not checked this place out, you should.  It's an extremely intimate venue, accommodating about 250 in the show area. The stage is a little below knee level, giving audiences an incredible up-close opportunity to interact with the band. And the members of the staff were fantastically accommodating, despite the fact that my name somehow managed to not be on the photo pass list ?.
Second to opening act The Trujillo Company, who played a strong 40-minute set to start the evening on the right foot.  I talked to guitarist and vocalist Mike Trujillo after the show, and am planning to do a feature on this local band in the near future.  Be on the lookout…
Photos and story by Rick Witt     www.rickwittphotography.com