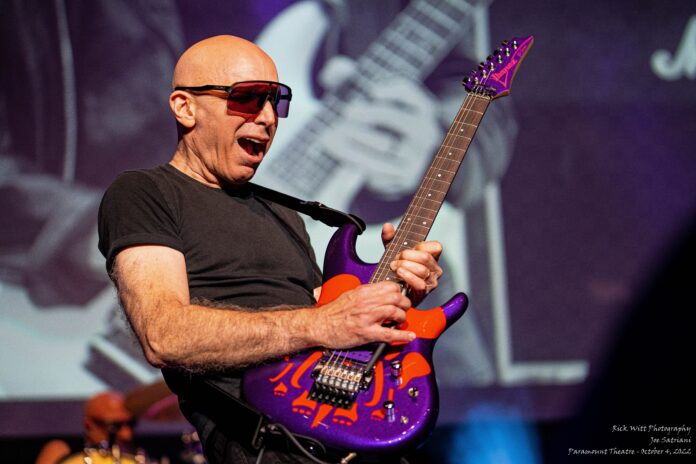 It's one thing to be acknowledged as one of the premier guitar players in the world.  It's another thing entirely to be so well-respected and renowned that you list some of the other premier guitar players in the world on your roster of students you have taught.  Joe Satriani falls into both categories.
As an instructor, Satriani has worked with Kirk Hammett of Metallica, David Bryson of Counting Crows, Kevin Cadogan from Third Eye Blind, Larry LaLonde of Primus and Possessed, Alex Skolnick of Testament, Charlie Hunter, David Turin, and others.
As a player, Satriani's 36-year career includes 19 solo albums, 15 Grammy nominations, and more than 10 million records sold.  He's the bestselling instrumental rock guitarist of all time.  In 1988 he was recruited by Mick Jagger to play lead guitar on Jagger's first-ever solo tour.  In 1993 he replaced Richie Blackmore from Deep Purple for the band's Japanese tour, and was afterward invited to join the band on a permanent basis.  (He declined because he had just signed a multi-album solo deal with Sony.)  In 2008, he joined the rock supergroup Chickenfoot, composed of former Van Halen members Sammy Hagar and Michael Anthony, and Red Hot Chili Peppers drummer Chad Smith. The man they call "Satch" has flexibility, credibility, and then some.
Last night Satriani, the player, brought his 2022/23 Earth Tour, in support of his most recent album The Elephants of Mars, to the Paramount Theatre in Denver.  His backup band for the current tour consists of Bryan Beller on bass, Kenny Aronoff on drums, and Rai Thistlethwayte on keyboards and guitar.  This is the band that Satriani recorded The Elephants of Mars with, so their chemistry was already well-established.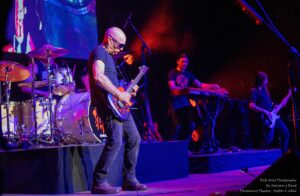 You definitely get your money's worth from a Satriani live show.  Instead of an opening act followed by the headliner, you get two complete sets from the headliner.  On this particular evening that included a total of 24 songs, half of which were from Satriani's last two albums, while the other half spanned his career from 1987 – 2018.  The total running time for the two sets clocked in at an impressive two hours and twenty minutes.  That, ladies and gentlemen, is a busy night's work.
Satriani was, in a word, exceptional.  The man is an extraordinary technician, but he's much more than that.  He plays with both emotion and power, easily transitioning from straight-ahead rock to melodic ballads to funky grooves and all points in between.  Last night's first set exploded out of the gate with "Nineteen Eighty", from the 2020 Shapeshifting album.  From that classic rocker, he moved into two songs from the new album, "Sahara" followed by the title track, "The Elephants of Mars".  "Sahara", which was originally envisioned as a vocal piece, has a more melodic feel, while "Elephants" moves from rock to psychedelia, then back to rock.  That's a lot of ground covered in just three songs.
The remainder of the first set spanned 35 years of Satriani's catalog, beginning with "Ice 9" from his breakthrough second album, 1987's Surfing with the Alien through 1989's "Flying in the Blue Dream" through four more tunes from the Elephants album.  The set concluded with one of Satriani's most commercially successful tunes, "Summer Song" from his 1992 album, The Extremist.  One of the coolest things about this version of "Summer Song" was that while Satriani was playing it live, the original video for the song was being projected on a large screen behind and above the band. You could literally watch and compare Satriani's playing from 1992 with his live playing.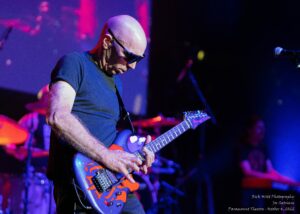 After a 20-minute break, "Satch" and the band returned for their second set of the night.  Actually, it was just Aronoff who returned, because the second set started with an outstanding six-minute drum solo. With the crowd chanting, "Kenny, Kenny", the rest of the band returned, launching into the high-octane rocker "Energy" from the 2018 album What Happens Next.  "Energy" was followed by one of the highlights from the new Elephant album, "E 104th St NYC 1973", with its smooth, jazz fusion groove.
The rest of the second set was just like that – transitioning from straight-up rock to funk to slow and melodic.  Highlights (and there were many) included "Teardrops" from Shapeshifting, "Always With Me, Always With You" and the set-closing "Satch Boogie", both from Surfing with the Alien.
A two-song encore closed out the evening.  "Crowd Chant" had the crowd on their feet and, well, chanting, while "Surfing with the Alien", which closed out with an added blues rock jam, nearly brought the roof down.
Last night's show at the Paramount was the 11th date on the current tour, which runs through November 19 in North America, before picking up again in 2023 in Europe.  You can find the entire schedule at http://www.satriani.com/road/.  If you have an opportunity to catch the tour, I highly recommend it.
Photos and story by Rick Witt   www.rickwittphotography.com