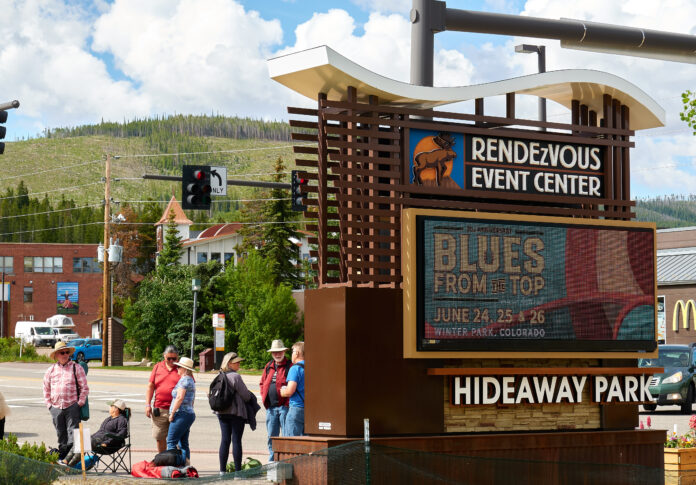 Day two of the 20th Anniversary Blues From The Top Festival is in the books.  And what a day it was.  Five bands/artists and five hours of music under beautiful partly cloudy skies and temperatures in the mid-70s.  It would be difficult to imagine better conditions for the longest day (in terms of programming) of the three-day event.
The day's acts ran the gamut from up-and-comers to veterans of 25-plus years in the industry.  It was arguably one of the strongest single-day lineups in festival history, and it lived up to its advance billing.  The lineup for the day included the Emma Marie Band, Eddie 9V, Sue Foley, Larkin Poe, and Big Head Todd and the Monsters.
Emma Marie Band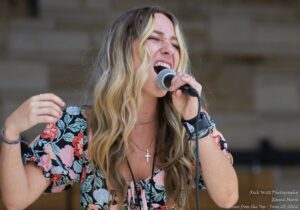 Emma Marie is Emma Marie Siebert, a 17-year-old native of northern Colorado.  Emma has been performing since she was 10, penning and performing her own songs.  She doesn't have a full album release to date, but you can find numerous music videos for her songs on YouTube, including "Like I Do You", "Gold", "It's Alright", "Masquerade" and "Reckless".
But be advised that the above-listed videos are for Emma as a solo performer, not as the lead of the Emma Marie Band.  Her solo work features her exceptionally mature and powerful voice, and her songwriting skills, but isn't reflective of her and her band's performance to open this morning's festival lineup.
The band's five-song, 30-minute set included two Emma originals and three covers, including "Voodoo Chile", "Empty Promises", and Joe Bonamassa's "Ballad of John Henry".
It was a strong set from one of the aforementioned up-and-comers, featuring Emma on guitar, bass, and vocals, and Nathan Morris on lead guitar.  I recommend that you keep your eyes on this young lady, whether flying solo or as a leader of her band.  You're going to be hearing more from her in the coming years.
Eddie 9V (aka Eddie 9 Volt)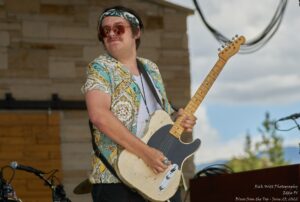 26-year-old Eddie 9V was born Brooks Mason Kelly, just outside of Atlanta, GA.  He adopted his Eddie 9V moniker (to use in his fledgling solo career) in 2019, while playing in an indie rock band called PREACHERVAN.  That solo career took off in a big way later in 2019, when Eddie and his brother Lane Kelly (who is also Eddie's co-writer, producer, and a bass player in the current touring band) got together to record Eddie's debut album, Left My Soul In Memphis, in a mobile trailer.  The album garnered widespread critical acclaim, casting Eddie 9V as a new artist to watch.
Eddie's sophomore (and current) album Little Black Flies was released in May of 2021.  It's an impressive follow-up for a couple of reasons.  The obvious reason is the quality of the songs, which are top-notch. The not-as-obvious reason is that the entire album was recorded live in-studio, with no overdubs or correction of mistakes, and with casual studio banter between the songs left in.
Given that the current tour is in support of Little Black Flies, it comes as no surprise that the band's 10-song set drew heavily from that album.  Standout tracks included "Don't Come Around This House", "She Got Some Money", "Travelin' Man", the title track, and the show-stopping "3AM In Chicago".
Eddie's music blends blues, funk, and soul.  In his banter with the crowd, he made multiple references to the artists who inspired him, including Al Green, Freddie King, and Elmore James.  He's an old soul whose strong guitar playing, distinctive vocals, and on-stage energy make him another young artist to keep your eye on.
Sue Foley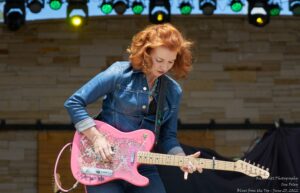 While Emma Marie and Eddie 9V are young stars on the rise, Sue Foley is a veteran star at the top of her game.  Originally from Canada but transplanted to Austin, TX, Foley has released 15 albums since her debut Young Girl Blues in 1992.  Her most recent release, 2021's Pinky's Blues, won the Traditional Blues Album Award, and she won the Traditional Blues Female Artist Award (for the second time in three years) at the 2022 Blues Music Awards ceremony in Memphis.
With her signature pink paisley Fender Telecaster slung over her shoulder, Foley opened her set with the title track from the Pinky's Blues album.  Introducing the guitar as the Pinky, Foley explained that she would be playing mostly songs from that album in the day's set.  True to her word, nine of the 11 songs in her set did come from that album.
Foley drew chuckles from the crowd when she stopped between the second and third songs of the set to apologize for her gravelly voice.  Explaining that she must have picked up something during her short break from the road, back home in Austin, she noted that she sounded like Howlin' Wolf.
You could have fooled me.  From where I stood her voice seemed to be in fine form, along with her exceptional guitar playing and strong stage presence.  An outstanding set from one of the shining lights of the Blues music industry.
Larkin Poe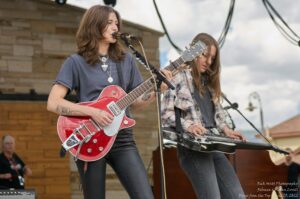 This is one of the acts I was most looking forward to seeing, primarily because I had to miss them when they played in Denver last October.  I had tickets but was under the weather and decided to skip the show in light of the continuing COVID situation.  (Occasionally I do act like a responsible adult.)
Larkin Poe is a hybrid blues, roots, and rock band originally from north Georgia, but currently based in Nashville.  Fronted by sisters Rebecca and Megan Lovell, they are known for their strong southern harmonies, folk influences, and the powerful guitar work of the two sisters.
They're also known for their exceptional live performances.  I can now confirm that as an absolute fact.  From the moment they walked on stage it was obvious that they were there to rock the house, and rock it they did.
The set opened with "She's A Self-Made Man", from the 2020 album Self Made Man, a thundering anthem that set the tone for the remainder of the set.  Rebecca handles lead guitar and vocal duties, while older sister Megan contributes harmony vocals and an absolutely killer slide guitar. Both are wildly animated, moving from one side of the stage to the other as they share solo duties on their respective guitars.
The set itself was fabulous, and included a healthy dose of songs from the most recent album, plus classic Larkin Poe tunes "Bleach Blonde Bottle Blues", "Preachin' Blues", "John The Revelator", and "Blue Ridge Mountains".  A special treat was the song "Bad Spell", the first single from their new album Blood Harmony, set for release in November.
Larking Poe falls in between the two extremes of up-and-comers and industry veterans I mentioned at the beginning of this article.  With five current album releases, and their sixth coming later this year, they are well-established as recording artists.  Both their 2018 album Venom & Faith, and their 2020 album Self Made Man reached the number one position on Billboard's blues albums chart.  They've come a long way in the eight years since the release of their first album, and they're getting better as they mature.  I'm looking forward to a lot more outstanding music from them in the years to come.
P.S. In case you didn't know, the band is named after the sister's great-great-great-great-grandfather, Larkin Poe, who was a distant cousin of Edgar Allan Poe.
Big Head Todd and the Monsters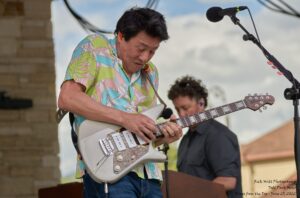 Saturday's headliners were local boys made good Big Head Todd and the Monsters. If you think you know anything about the Colorado music scene, but you don't know Big Head Todd and the Monsters, you've missed something along the way.
The genesis of the band dates back to 1987, when a young guitarist named Todd Park Mohr joined forces with drummer Brian Nevin and bassist Rob Squires while the three were attending the University of Colorado in Boulder.  They played together as a trio until 2003, when they were joined by Jeremy Lawton on keys and pedal steel guitar, for a show on New Year's Eve. That's been the lineup ever since.
Like most bands that either live in, or at least dabble in, the blues genre, Big Head Todd and the Monsters cross a lot of genre lines.  Rock, folk, blues rock, alternative rock, funk rock, country rock… you'll hear influences of all of those and more in their music.  Mohr himself acknowledged the diversity of their musical style in introducing the song "Bittersweet", when he thanked the festival organizers and the audience for indulging them while they played something that really didn't fall under the blues umbrella.
Acknowledging that pretty much all-American music has its root in the blues, there's plenty of blues and blues-influenced music in this band's catalog.  It's an impressive catalog to be sure, which includes 13 studio and three live album releases since their debut Another Mayberry in 1989.
Saturday's 19-song set (including a two-song encore) covered a lot of ground from the band's thirty-plus year tenure, including fan favorites "Sister Sweetly", "Ellis Island", "Bittersweet", "Beautiful World", "Damaged One", "New World Arisin'", and the song that will never be confused as anything but a classic blues tune, "Boom Boom".  The crowd was also treated to two new songs – "King Kong" and "My New Number One" – which are slated to appear on an upcoming, but not directly specified, new album.
Festivals don't often lend themselves to encores, because the schedules are so tight.  But there was no way the crowd was going to let Todd and crew get away with returning to the stage for a couple more songs.  The two-song encore started with "Boom Boom", and concluded with a cover of ZZ Top's "Cheap Sunglasses".  Now that's some serious blues music.
Stay tuned for part three of my review of the 2022 Blues From The Top Festival, coming shortly…
Article and photos by Rick Witt  www.rickwittphotography.com