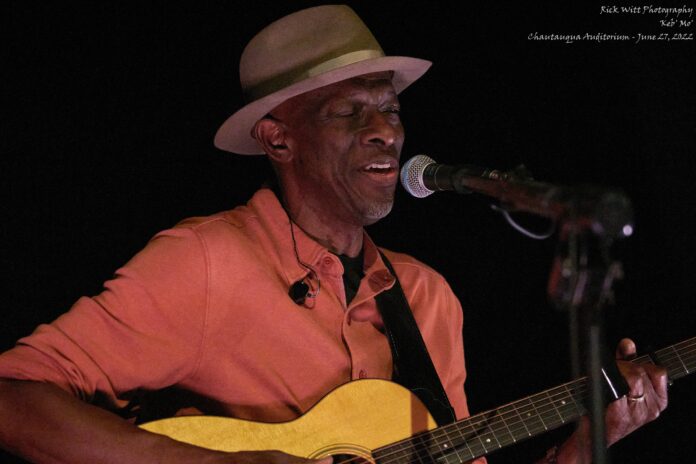 We need to get something straight from the get-go.  If you're expecting this review of last night's Keb' Mo' concert at the Chautauqua Auditorium to be objective, you might as well dispatch that expectation right now.  I'm a Keb' Mo' fan.  A BIG Keb' Mo' fan. The man is a marvel.  His music is magical, and his voice is as smooth as the ice at Ball Arena immediately after they've run the Zamboni.  If you were fortunate enough to be among the 1,200 or so people who filled "The Barn" last night, you know what I mean.  If you weren't, I'll do my best to fill you in. But things are likely to get a bit gushy.
If you're not familiar with Keb' Mo', let's get you up to speed.  Born Kevin Roosevelt Moore in October of 1951 (that's right… that means he's 70 years young and going strong), Keb' Mo' is generally referred to as a blues musician.  But as anyone who's read any of my articles in the past knows, being known as a blues musician usually means your music crosses multiple genres.  That's certainly the case with Keb' Mo'.  His music crosses folk, rock, jazz, pop, soul, funk, and country.  And whether he's playing solo acoustic, or fronting a full band complete with a horn section, there's that voice.  That incredible, mesmerizing voice.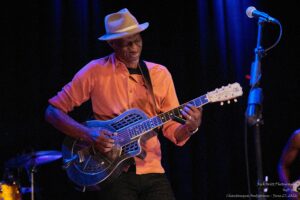 Keb' Mo's nearly fifty-year career has seen him release 18 albums (not including his first release under the name of Kevin Moore in 1980).  12 of those albums have been nominated for Grammys, and five have actually taken the award home.  In addition to those accolades, he's also received 14 Blues Foundation Awards.
But all those credentials really don't tell you who Keb' Mo' is, and why he's got such a loyal and ardent fan base.  You understand when you see him perform live.  A Keb' Mo' concert is a front porch evening with an old friend – someone who makes everything better just by being there.  His interaction with the crowd is both casual and intimate.  The banter and the jokes are authentic.  In a word, it's just flat-out fun.
Last night's 17-song set covered a lot of ground from his extensive catalog, from his 1994 debut release Keb' Mo' through Good To Be…, his most recent release from earlier this year.  Keb' took the stage solo at 8:20 pm, opening the evening with a three-song acoustic intro highlighted by "Life Is Beautiful" and "Suitcase".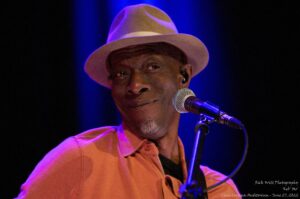 As Keb' finished "Suitcase" the rest of the band took the stage.  This is an exceptionally tight group of superior individual musicians who clearly enjoy playing together.  Keb' tours with two keyboard players – Kevin So on piano (who also contributes harmony vocals and harmonica) and Dane Farnsworth on organ.  Johnny "Sound Painter" Duke plays a variety of string instruments, and as Keb' said in his introduction of the band, "makes everything sound beautiful".  Grammy winner Casey Wasner plays the drums (more on his duo with Keb' later in this post).  A special treat, at least for me, was the inclusion of Jerry 'Wyzard' Seay, from the legendary funk-rock band Mother's Finest on bass.
(Mother's Finest… now that takes me back.  If you aren't familiar with them, check them out.  They were one of the coolest bands to come out of the '70s, and are still cranking it out fifty years later.)
Keb' and band kicked it off with "Rita", followed by "Slow Down", setting a funky tone that carried through the rest of the night. The packed house was grooving to what can only be described as straight-up "feel good" music.
Keb's current album release Good To Be… was featured in back-to-back songs "'62 Chevy" and "Good To Be (Home Again)", and later in the set in the cover of the late Bill Withers' classic "Lean On Me".  The affection Keb' holds for Withers was clear during his introduction of the song, as he recalled when he first heard the song "Ain't No Sunshine".
Calling out highlights from a Keb' Mo' performance is a bit counterproductive.  There's no fluff in a Keb' Mo' set.  But I especially loved the stripped-down "Am I Wrong", where everyone left the stage except Mo' and Wasner.  That's such a cool song to begin with, and hearing it live, with Wasner laying down the beat and Keb' rocking the slide was absolutely awesome.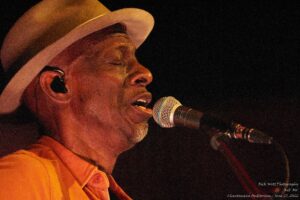 The regular set concluded with the uber-funky "Government Cheese", followed by "Standin' At The Station". After a brief walk-off, the crew returned to wrap up the night with a two-song encore of "Shave Yo' Legs" and perhaps my all-time favorite Keb' Mo' tune "The Worst Is Yet To Come".  How can you not love a song where in recounting an especially bad day, the lyrics include the dog adding insult to injury?
As that last song was wrapping up, I glanced at my watch and was shocked to see that an hour and a half had passed since Keb' started the set.  That's the way it goes when what you're seeing/hearing is so extraordinary that you are completely immersed.  Keb' Mo's gift to his audience is to make time irrelevant… all that matters is the moment.  Kind of like sitting on that front porch, just soaking in the joy of being where you are.
Article and photos by Rick Witt  www.rickwittphotography.com