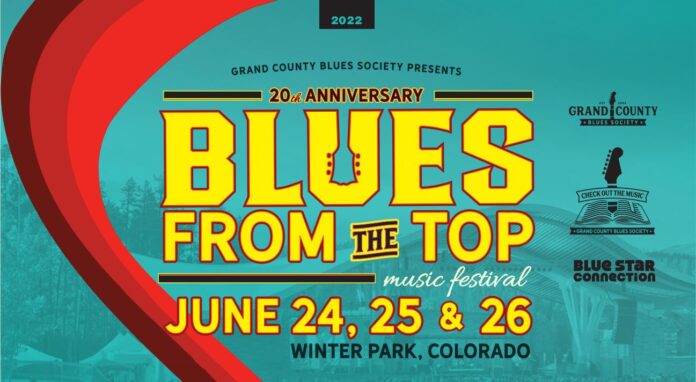 Man, am I exhausted! And I mean that in the best possible way. I just returned from three days of covering the 2022 Blues From The Top Festival in Winter Park. To call the event exceptional doesn't do it justice. But for now, that's what we'll go with.
This year marked the 20th anniversary of the event, and to celebrate, they did it up in style. With eleven acts over a three-day span, it was a feast for the eyes and ears of anyone who favors any variant of good old-fashioned American blues music.
Never been to the Blues From The Top Festival? C'mon now. What in the world has kept you away? Take my word for it, you have missed one of Colorado's premier summer events. Hopefully after reading this article, and the two additional ones to follow, you'll put it on your "must" list for 2023.
Since I pretty much cover individual acts, figuring out how to structure this review has presented me with an interesting challenge. I've decided to post three articles. The first one (this one) will focus on the overall event, with capsule coverage of the acts performing on Friday evening. The second and third articles will focus on the events of days two and three – Saturday and Sunday.
The primary locale for Blues From The Top is the Rendezvous Event Center in the heart of downtown Winter Park. I say "primary" because while all of the headline acts perform at the outdoor stage there, the event includes numerous other associated activities, including late shows at various venues around town, food and merchandise vendors, and performances on the Keeping The Blues Alive Youth Stage.
The location of the Rendezvous Event Center is perfect. It's within easy walking distance of lodging, restaurants, and shops, and is easily accessible by public transportation. When I attend the event, I stay at the Best Western Alpenglo, about a five-minute walk from the center. There's a terrific BBQ joint called Smokehouse BBQ just across the street from the hotel, to which I feel compelled to give a shout out to. Great food, cold beer, and a friendly Colorado vibe that I truly enjoy.
While I'm giving shout outs, I need to mention Maria Chavez.  Maria is the President of the Grand County Blues Society, the organization that sponsors the festival.  She's also the Festival Producer, and is responsible for talent booking.  Maria does all of this in her "spare time", because like many of us, she also has this thing called a day job. Maria was extremely gracious and accommodating in setting me up to cover this year's event, which I want to publicly acknowledge.
On to Friday's events, which kicked off with Southern Avenue, followed by Gov't Mule.  After a brief shower just before the gates opened at 5:00 pm, the skies cleared for a chilly but beautiful summer evening.  At 6:00 pm sharp, Southern Avenue stepped on stage, and were introduced by Kai Turner from Strictly Blues radio.
Southern Avenue is a five-piece soul, roots, and blues band from Memphis, TN. Formed in 2015, the band has released three albums, of which two have landed spots in the Billboard top blues album charts, at positions 5 and 6.
The band is made up of Tierinii Jackson on lead vocals, Ori Naftaly on guitar, Jeremy Powell on keys, Tikyra Jackson on drums/vocals, and Evan Sarver on bass.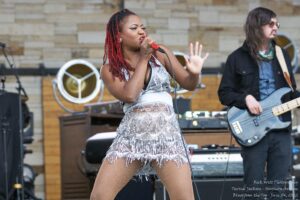 This is a band I wasn't familiar with before I started doing my pre-event research. After seeing them perform live, all I can say is WOW!  What a way to start off the festival.  Sisters Tierinii and Tikyra generate enough energy to drive a freight train.  Their vocals are outstanding, with Tierinii covering lead and Tikyra providing excellent support.  Guitarist Naftaly, a native of Israel who relocated to Memphis in 2013, is an exceptional guitar player.  Bassist Sarver was relatively low-key, except when the spotlight turned to him for a strong solo opportunity.  And Powell, the definition of cool in a dark suit, tie, and hat with a bright pink shirt, killed it on the keys.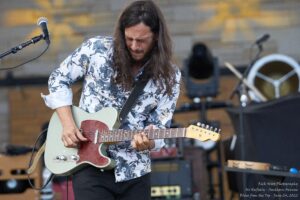 Their one-hour opening set was as high octane as anything I've seen recently, leaving the opening night crowd completely pumped up and primed for the rest of the festival.
If you want to put a smile on your face, check out the video for their song "Push Now" on the band's official website (https://www.southernavenuemusic.com/).
Gov't Mule took the stage right on time at 7:30, and proceeded to do what they are known for – jamming non-stop for two hours.
Known to their hard-core fanbase simply as "Mule", Warren Haynes and crew have been cranking out southern-flavored blues-rock for 27 years.  Over that span, they have released ten studio albums and another ten live albums.  The current Mule lineup consists of original members Haynes on lead guitar and vocals and Matt Abts on drums, joined by Jorgen Carlsson on bass and Danny Louis on keys and second guitar.  Louis has been with the band since 2004, and Carlsson since 2008.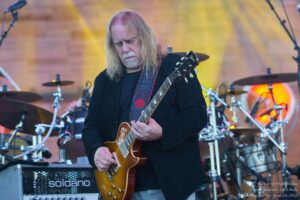 While Mule is definitely a group, make no mistake about it – Haynes is the face of that group.  He's one of the most respected and accomplished blues-rock guitar players in the world today.  That being said, and given that the quartet has been together for so long, this is an extremely tight group.  You have to be when you're known as a "jam" band, which by definition means each member of the group is expected to venture into extended solo territory.  There's a particular kind of chemistry necessary to make that kind of thing work.  And Mule has that chemistry down.
Moving seamlessly from song to song, Mule had the crowd in the palm of their collective hand from the moment Kai Turner introduced them.  I was particularly impressed with Louis, who started on keys but periodically moved to guitar, and even picked up the trumpet.  Abts is simply a machine on the drums, and Carlsson lays down an extremely creative bass line.  And Haynes… well, what can you say about Warren Haynes that hasn't already been said?  He's the man the crowd came to see, and he gave them everything they were hoping for.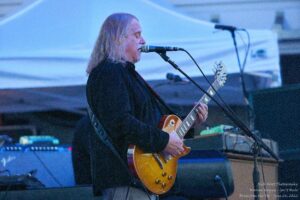 The bottom line is that the opening evening of the festival was exceptionally strong, creating much anticipation for what was to follow on Saturday and Sunday.  We'll take a look at those two days in my next pair of posts.
Click here for Part 2>>>Blues From The Top, Part 2 | Denver Entertainment Hub
Article and photos by Rick Witt