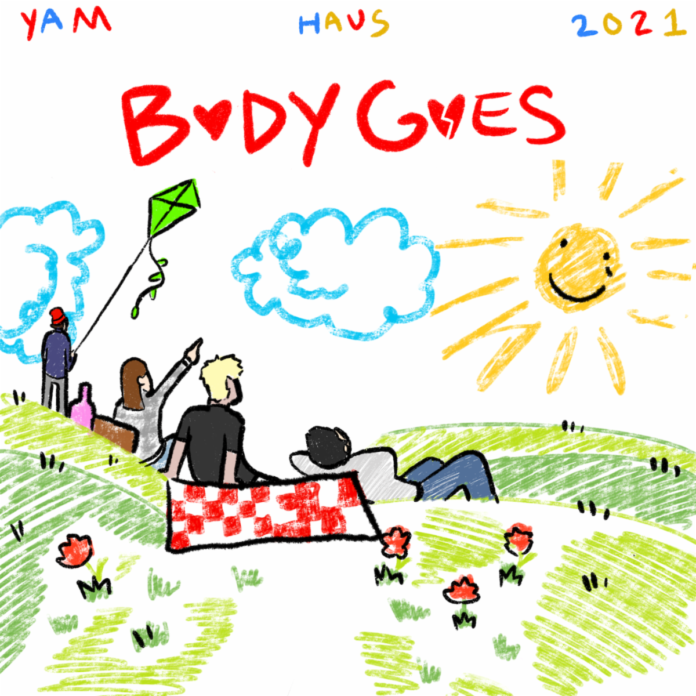 Yam Haus
Releases New Single "body goes"
PRESS HERE to Listen
Headlining Hometown Show
December 17 at the Palace Theatre, St. Paul, MN
Currently Supporting Blue October through December 5
Indie-pop foursome Yam Haus have released their latest sparkling single "body goes" – PRESS HERE to listen. Like their previous single, "Give Me The Keys" which was released in mid-September, "body goes" captures the shimmering combination of glitter-polished pop sounds and the endearing Midwest charm that helped the band build a solid and devoted following.
"'body goes' was 100% a group effort from start to finish," lead singer Lars Pruitt says of the new single. He adds, "It is a song we wrote together with Gabe Simon and Dani Poppit in Nashville, TN. Gabe said, 'do you guys wanna write a love song?' and our guitar player Seth said 'I could say a million things about love, I don't want to.' Gabe said, 'that's a song.' Dani added the crazy slide guitar idea to the group and initially sang that and we were like yes that makes it a lot weirder of a song which we felt it needed. For me, on a personal level it's pretty much about me acknowledging how happy I am to be in a super solid relationship with my significant other."
Out of the gate, their 2018 breakout single "West Coast" caught traction and notched north of 1 million streams, positioning their full-length debut album Stargazer as a valuable asset that led to shows with the likes of Kacey Musgraves, Tori Kelly, Adam Lambert, Bishop Briggs, Andy Grammar, AWOLNATION, JOHNNYSWIM, lovelytheband, and more. Their single "The Thrill" gathered nearly 1 million Spotify streams and paved the way for The Band Is Gonna Make It EP in 2020. After independently amassing nearly 15 million total views and streams, playing to sold-out crowds, and building a fervent fanbase, they continue to release new music in 2021 with producer Mark Needham [The Killers, Imagine Dragons]. At the same time, their hilarious vlogs have amassed nearly 10 million YouTube views.
Yam Haus is currently showcasing their stadium-sized ambition as they support Blue October on their North American tour. General on-sale tickets are currently available. The remaining routing of the tour can be found below. For more details on the Blue October Tour, please visit the band's website.
Following the completion of the Blue October tour, they'll headline a hometown show at Palace Theatre in Saint Paul on December 17.
Supporting Blue October:
Nov. 4 – Dallas, TX @ House of Blues Dallas
Nov. 5 – Dallas, TX @ House of Blues Dallas
Nov. 7 – Tulsa, OK @ Tulsa Theater
Nov. 10 – Midland, TX @ Wagner Noel Performing Arts Center
Nov. 11 – Albuquerque, NM @ Sunshine Theater
Nov. 12 – Denver, CO @ Fillmore Auditorium
Nov. 13 – Salt Lake City, UT @ The Complex
Nov. 14 – Great Falls, MT @ The Newberry
Nov. 16 – Portland, OR @ Roseland Theater
Nov. 17 – Seattle, WA @ The Showbox
Nov. 19 – Spokane, WA @ Knitting Factory Concert House
Nov. 20 – Boise, ID @ Knitting Factory Concert House
Nov. 23 – Bakersfield, CA @ Fox Theater
Nov. 24 – San Francisco, CA @ Great American Music Hall
Nov. 26 – Reno, NV @ Whitney Peak Hotel
Nov. 27 – Sacramento, CA @ Ace of Spades
Nov. 28 – Sacramento, CA @ Ace of Spades
Dec 1. – Las Vegas, NV @ Brooklyn Bowl Las Vegas
Dec. 2 – Phoenix, AZ @ The Van Buren
Dec. 3 – Los Angeles, CA @ The Belasco Theater
Dec. 4 – San Diego, CA @ The Observatory North Park
Dec. 5 – Anaheim, CA @ House of Blues Anaheim
Yam Haus Headlining:
Dec. 17 – St. Paul, MN @ Palace Theatre
FOLLOW YAM HAUS: